Behold the Salt & Wind Emergency Travel Kit — aka how we do roadside assistance!
With this Emergency Travel Kit, you'll be prepared for pretty much any major travel troubles, from chapped lips to a bad snack attack.
Pick up a cute pouch (have it monogrammed if you're feeling fancy), pack it well, and stash it away for your next trip—or gift it to your favorite jet setter.
Carrying Case
The starting point? A great bag: leather, monogrammed, and large enough to fit all the essentials—but chic enough to double as a going-out clutch. Mark & Graham's version hits the target.
Everyday Leather Zip Pouch at markandgraham.com
Photos: Casey Feehan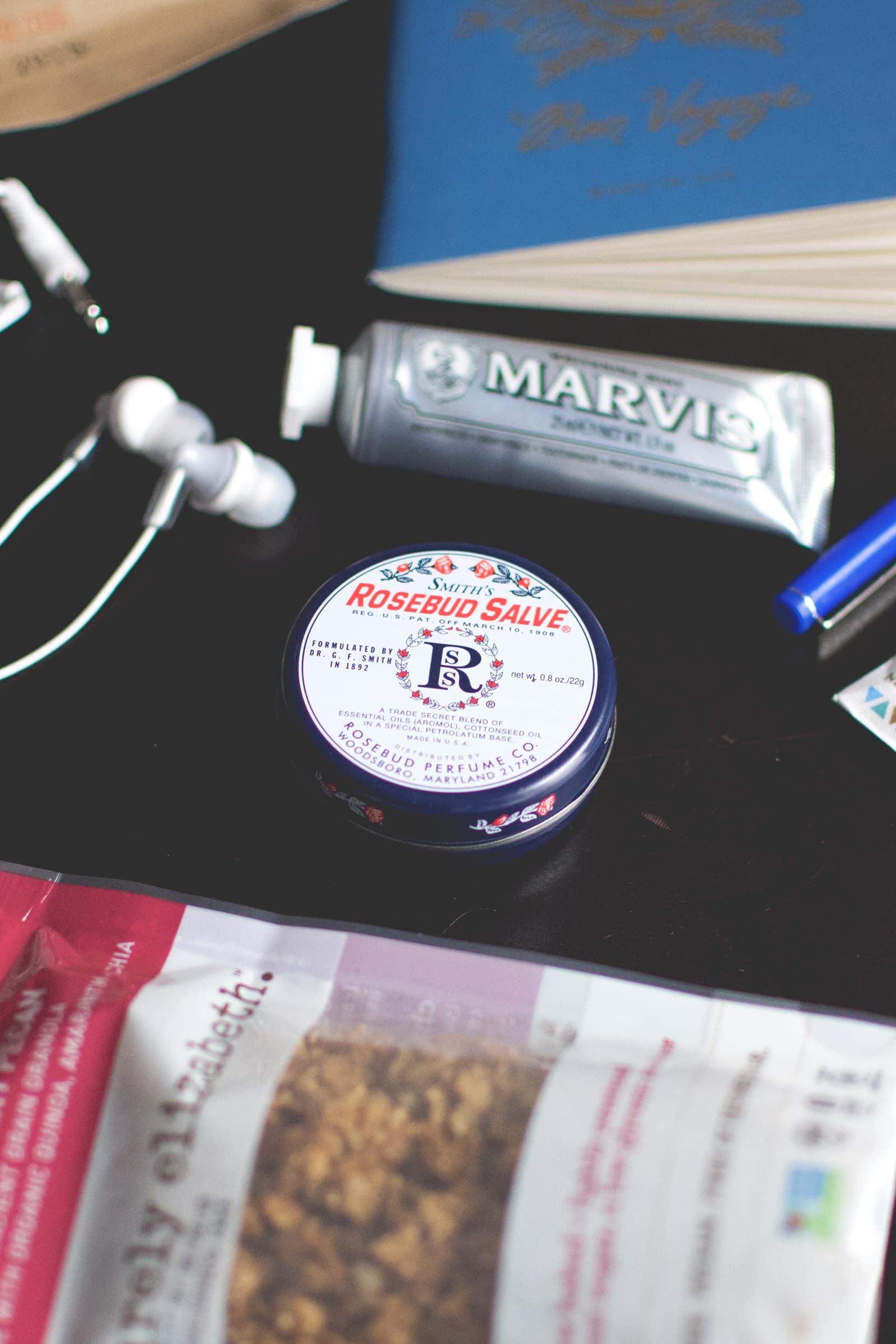 Lip Balm
It's hard to stray from this classic. We'd say we get it for the charming vintage packaging if we didn't know what a great multi-tasker it was, too.
Smith's Rosebud Salve at sephora.com
Eye Mask
Be that impossibly fresh person stepping off the red-eye. The combination of sleep+moisture is key here, with an eye mask that not only hydrates but lets you get some proper shut-eye while you're up in the sky.
Sephora Instant Depuffing Eye Mask at sephora.com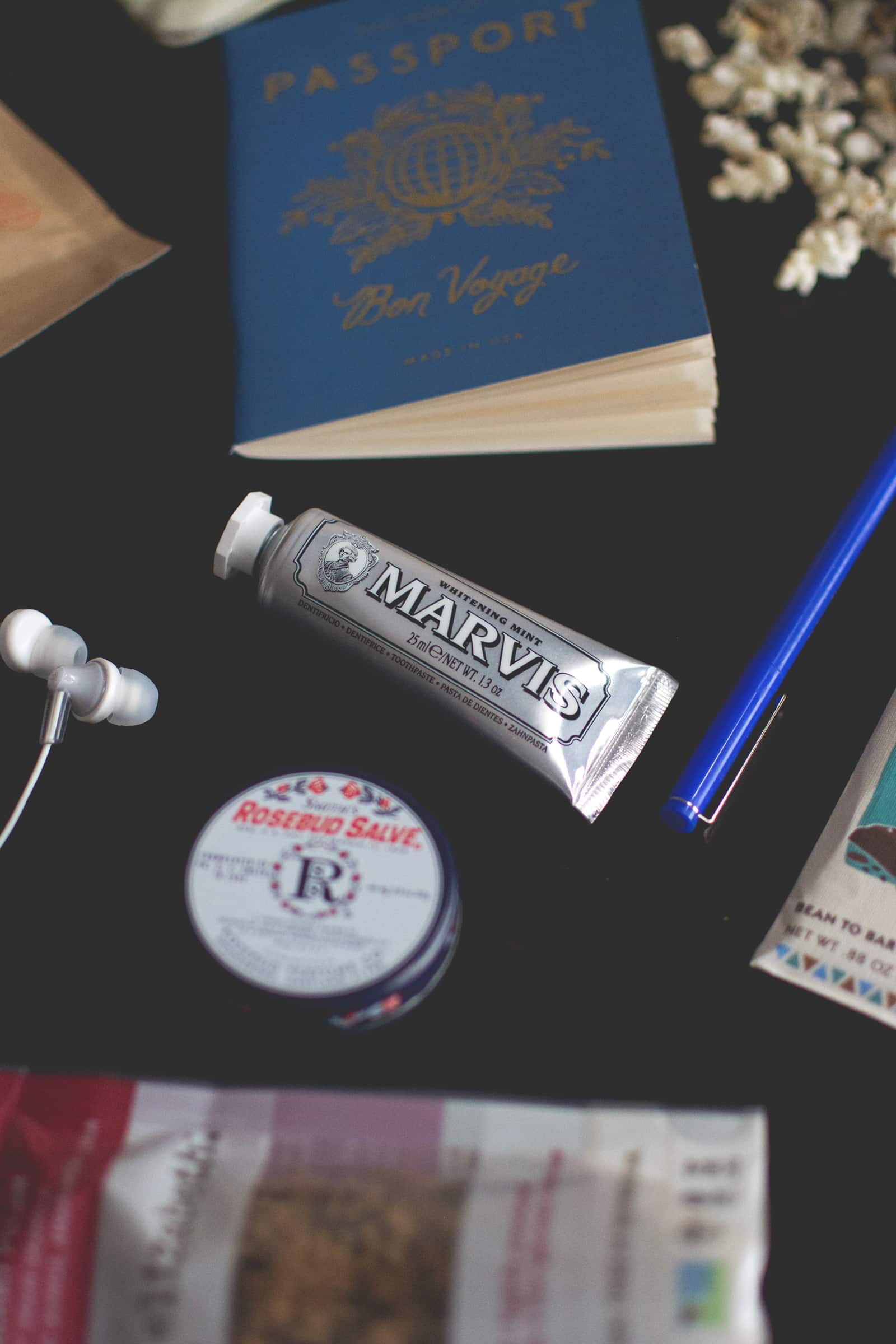 Toothpaste
Luxury toothpaste? The old travel-size standbys are fine but trust us, Marvis is a real treat. Made in Italy, the brand is a cult favorite (yes, such a thing exists for toothpaste), and the packaging makes for a slick souvenir, too.
Marvis Toothpaste at amazon.com
Headphones
The best of the inexpensive bunch, these in-ear headphones have amazing sound, but you won't shed too many tears if you accidentally leave them on the plane.
Panasonic RPTCM125K In-Ear Headphones at amazon.com
Notebook
These passport-inspired notebooks are too perfect for any adventurer to pass up. Just be sure to remember to take your real passport along, too!
Pair of Passport Pocket Notebooks at riflepaperco.com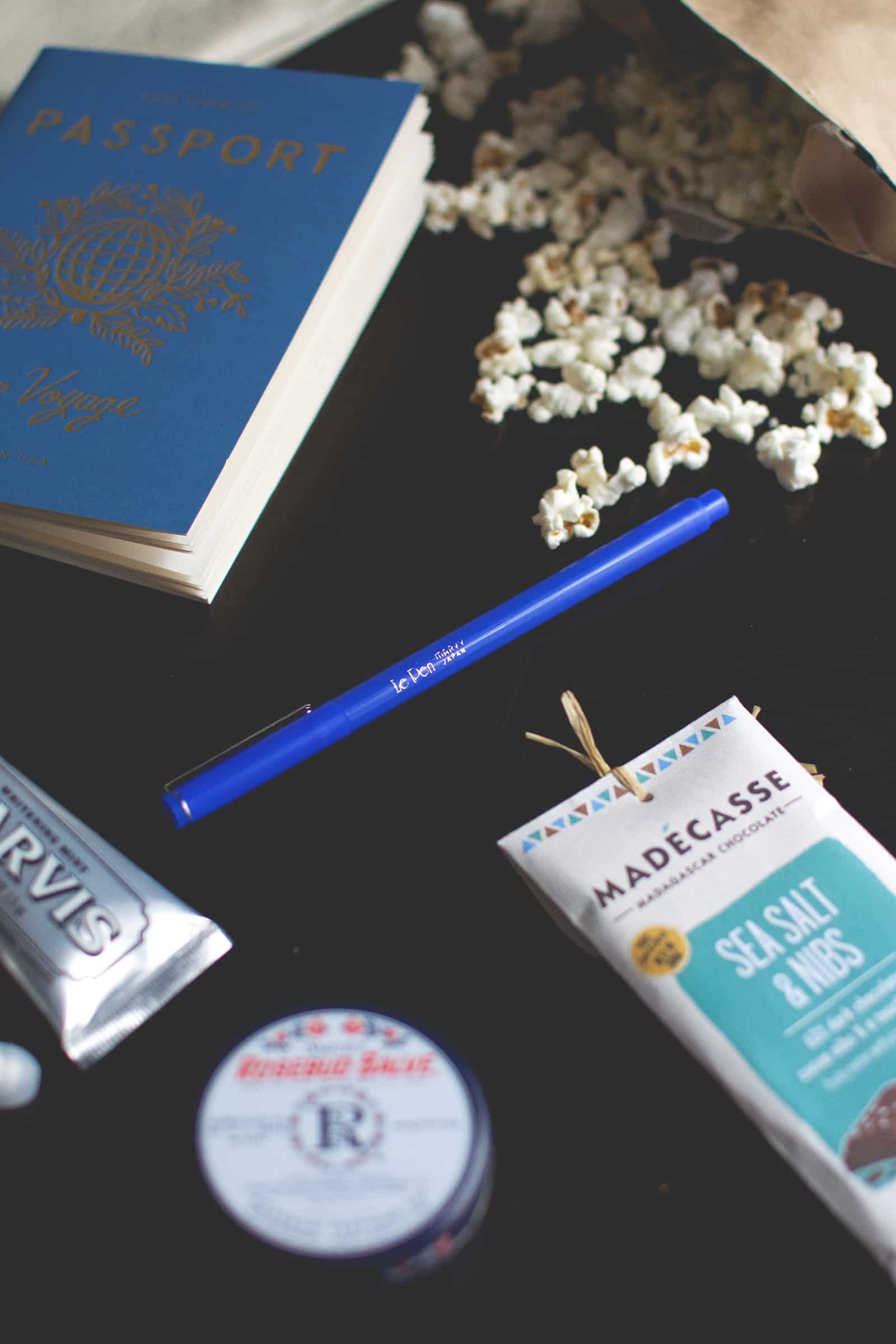 Pen
Super sleek, smudge-proof, and smooth, Le Pen comes in 18 colors so you can plan, jot down and draw up your journeys in style.
Le Pen – Marvy Uchida at uchida.com
Popcorn
Pipcorn's mini, hull-less kernels are also all-natural, vegan, gluten-free, and GMO-free, popped in small batches, and—oh yeah—completely crave-worthy. The kettle corn flavor is a fave; toss a handful in a sandwich bag for a virtually guiltless on-the-go snack.
Pipcorn online and at Whole Foods stores
Granola
This beloved granola now comes in smaller-sized travel packs, making them a no-brainer to stash in your kit in case of a forgotten breakfast, too-long flight, or the midday munchies.
Purely Elizabeth Ancient Grain Granola Minis at purelyelizabeth.com
Jerky
Not the bad-for-you junk food it used to be, jerky is actually a traveler's best friend: it's loaded with protein, easy to carry, and doesn't go bad. Here's the tastiest jerky—made from filet mignon—we've come across.
Three Jerks Jerky at threejerksjerky.com
Chocolate
Because we're nothing if not chocolate fiends—we don't get on a plane without a bar, or three. And this brand makes regular appearances in our pouch.
Madecasse Madegascar Chocolate at madecasse.com
Connect With Salt & Wind Travel
More on Salt & Wind Travel