Say hello to your new spring cocktail obsession: Peach Raspberry Rosé Bellinis. They're a modern twist on the classic Bellini Cocktail (peach puree and Prosecco) and perfect for spring entertaining from Easter to Mother's Day. 
When it comes to chic cred, the Bellini has it in spades. The drink hails from Venice, Italy where the Harry's Bar founder, Giuseppe Cipriani first concocted it long ago. Harry's Bar is one of those classic bars where movers and shakers along from Hemingway to Capote frequented and it's a must-visit bar for aperitivo. The Bellini cocktail pretty much reigns at old-school glam and one sip of it makes me feel like I'm hopping a water taxi in Venice.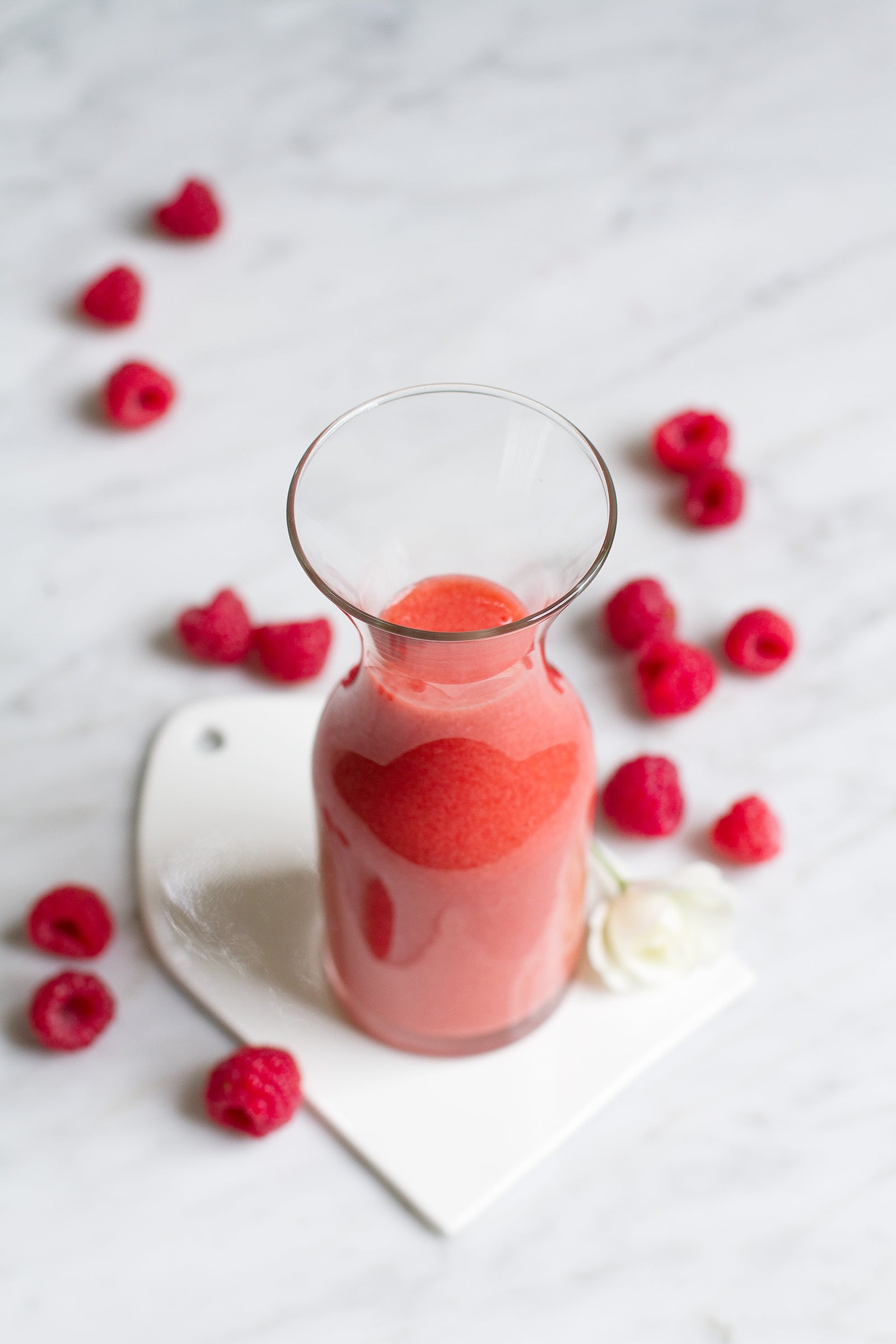 Here's the great news: the Bellini Cocktail is by no means complicated. It all comes down to fresh, quality ingredients: make your own peach puree (it takes a second, I swear) and mix it with some bubbles and you're set. 
So, this spring, I'm updating the classic Bellini by adding in some raspberries and a dash of rosewater. This version has a few additions because why the heck not? The pairing of peaches and raspberries is retro chic: it makes me think of classic dinners where Peach Melba sundaes were the standard. So, here I whirred together some peaches and raspberries for a sweet, tart gorgeous vibrant puree. 
But the secret? Add in a dash for rosewater or orange blossom water for an exotic floral note. You by no means have to add it in but it's pretty great. Both rosewater and orange blossom can be bought online and I use a dash of either in anything from this Sparkling Rose Water Lemonade (no, really, you have to try it) to Lassi to and these Strawberry Mascarpone Tarts and even cheesecake batters. 
Once you've make the puree all you need is a chilled bottle of bubbly to mix it up, a few friends, and a pair of huge sunglasses to make like you're a VIP in Venice. Just don't be surprised if the paparazzi start snapping your photo.
Go stock up on all your cooking essentials, then head into the kitchen, make this, and share it with us by tagging @saltandwind and #swsociety on social!
Peach Melba Raspberry Rosé Bellini Cocktail Recipe
A modern twist on classic Bellini Cocktails thanks to the addition of peaches and rosewater. Perfect for serving in pitchers for your next party! So make sure to keep this Peach Melba Raspberry Rosé Bellini Cocktail recipe for your next celebration.
Ingredients
For The Bellini Puree:
2

cups

sliced, peeled, firm ripe peaches

or frozen peaches (defrosted if frozen)

1

cup

fresh raspberries

plus more for garnish (optional)

1/4

cup

cold water

1

to 3 tablespoons

honey

1/2

teaspoon

freshly squeezed lemon juice

1/2

teaspoon

rose water

or orange blossom water (optional)
For Serving The Bellini Cocktails:
1

(750 ml) chilled bottle

Cremant D'Alsace Brut Rosé

or Prosecco

rose petals

for garnish (optional)
Instructions
Make The Bellini Puree: Combine the 2 cups of peaches, the 1 cup of raspberries, the 1/4 cup water, 1 tablespoon of the honey, the 1/2 teaspoon of lemon juice, and the rosewater or orange blossom water, if using. in a blender Blend until very smooth, about 1 minute.

Taste the mixture and add more honey — up to 3 tablespoons total — if desired. FYI, the honey will help bring out the flavors of the fruit so don't be shy to use it! Also, if you make it too sweet, simply add enough lemon juice to balance it out. It's a bit of an art seeing as raspberries and peaches vary in sweetness!

Pass the mixture through a fine mesh strainer at least once to remove any raspberry seeds. If you have time, pass it through the sieve a few more times (this will make sure the puree combines nicely with the sparkling wine). 

TIP: Puree can be made up to one day in advance. Store refrigerated in an airtight container. Makes enough puree for 6 cocktails.

Make The Raspberry Peach Bellini Cocktails: To serve a group: place the puree in a pitcher and add the chilled bottle of sparkling wine. Stir to mix the puree and wine well. Divide bellini mixture among serving glasses, garnish each glass with a few raspberries, and/or a rose petal, if using. 

To make an individual bellini cocktail, put 2 ounces of the puree in a Champagne flute then top with 4 ounces of the wine and stir to combined. Garnish and serve immediately.
PERSONAL NOTES
Nutrition
Serving:
1
cocktail
Calories:
33
kcal
Carbohydrates:
8
g
Protein:
1
g
Fat:
0.3
g
Saturated Fat:
0.01
g
Polyunsaturated Fat:
0.1
g
Monounsaturated Fat:
0.05
g
Sodium:
7
mg
Potassium:
93
mg
Fiber:
2
g
Sugar:
5
g
Vitamin A:
174
IU
Vitamin C:
8
mg
Calcium:
7
mg
Iron:
0.3
mg