If tacos and pizza are the most widely recognized street foods from Mexico and Italy, well, shawarma is probably the best known street food from the Middle East.
Well, this is shawarma light — and by the way I mean "light" in a lot of ways. First of all, it is a healthy shawarma recipe, it's also faster and easier than traditional shawarma. And, well, if you put it in mini pita bread then you can serve these little mini shawarma as an appetizer for your next party.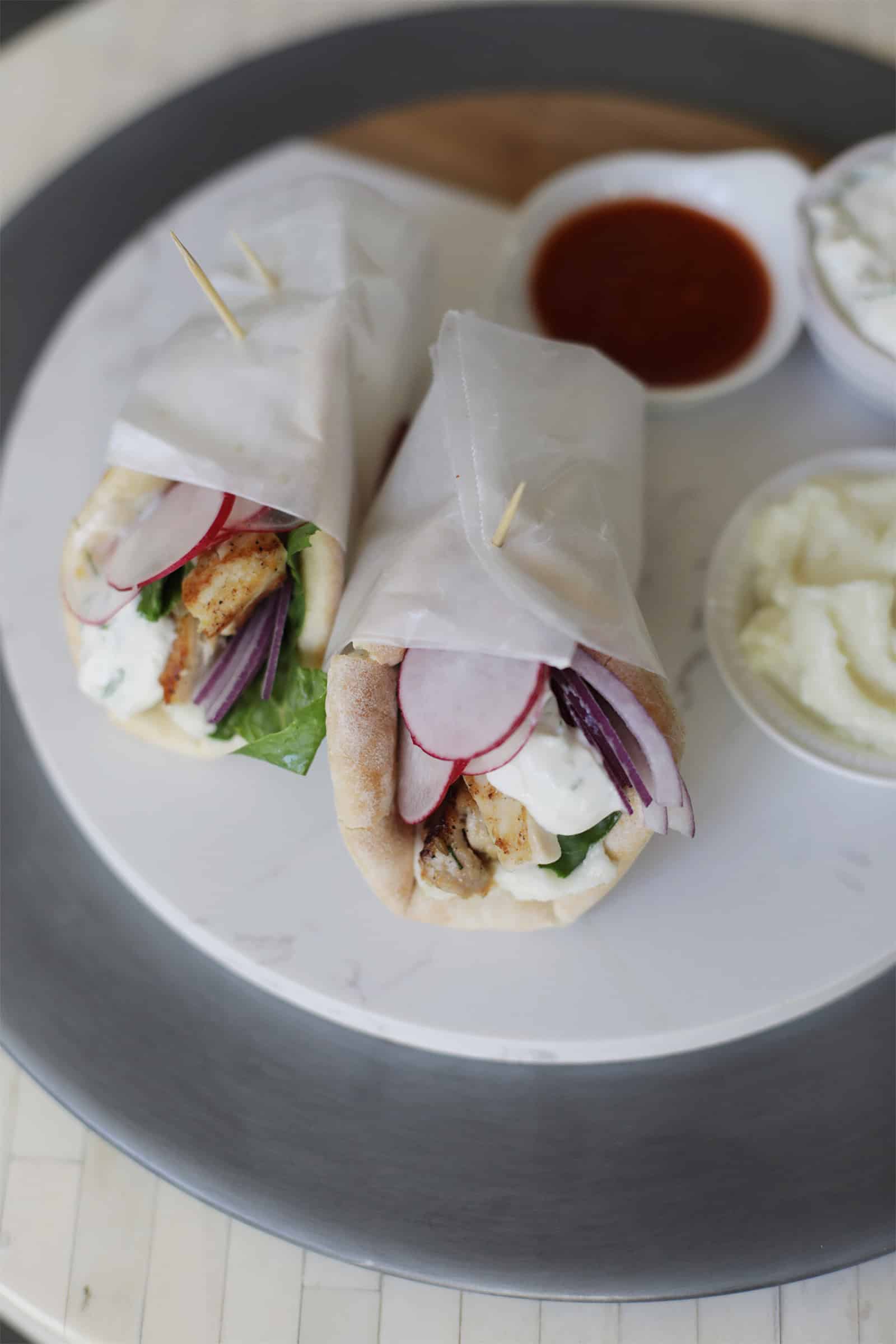 What Is Classic Shawarma?
From the sidewalks of New York to the alleys of downtown Beirut, you can find shawarma across the globe these days, but classic shawarma is something that takes time and skill.
Just to cover our bases, let's go over the basics, shall we? Shawarma (pronounced "sha-wahr-mah") is a Middle Eastern street food consisting of long marinated then slowly spit roasted meat (often lamb). 
It's a dish that is seen through the Levantine from Lebanon to Syria but its origin dates back to the Ottoman Empire when the precursor to the doner kebab came about. 
To make shawarma, a meat (often lamb, beef, veal, or chicken) is coated in a vinegar or yogurt-based marinade and left to marinate for anywhere from a few hours to a few days. The pieces of meat are then stacked on the spit and slowly roasted.  
As you can see, true shawarma can be time-consuming, requiring a long list of spices, and a seriously patient cook. That's great and all, but I'm embarrassingly short on patience and, surprise, surprise, I don't have a spit at home. 
Similar Dishes To Shawarma
So roasted meat on a spit may sound like a few other dishes you know because, well, there is a whole family of this type of dish. Like we said above, you have the predecessor of shawarma in Turkey that's known as doner kebab; over in Greece, you have gyro; and, yes, al pastor in Mexico is related to shawarma too. 
Tips To Make Shawarma At Home
Enter this grilled shawarma that can be made at home in a fraction of the time. Full disclosure, this is a different animal from classic shawarma because, well, it's really hard to mimic the slow cooking broiling effect of that vertical spit. However, this recipe comes close. 
The secrets are the yogurt marinade which helps keep things tender, using chicken thighs so that the meat doesn't dry out, and grilling it so it gets a bit of that flame-licked flavor from the grill. 
If you don't have access to a grill, you can even cook this in a cast iron pan and then finish it under the broiler to give it a little crispiness.
Sauces To Serve With This Chicken Shawarma
Look, we made these as mini chicken shawarma because we're really into the idea of serving these as part of a spread of mini bites and tapas at our next gathering. But there's nothing holding you back from doing what you want with this recipe. 
Make it more traditional by serving full portions in a regular sized pita or serve it as a plate meal along with rice, vegetables, and flatbread. Or do as they do in Lebanon serve it with the seriously delicious garlic sauce known as toum (make this at least once!), pickles, and rice or fries. 
For an even healthier take, serve it as part of a Middle Eastern inspired grain bowl along with, say, quinoa tabbouleh, hummus, and shredded carrots. Or serve it on top of a salad consisting of radishes, pickled carrots, garbanzo beans, toasted sesame seeds, and shredded cabbage.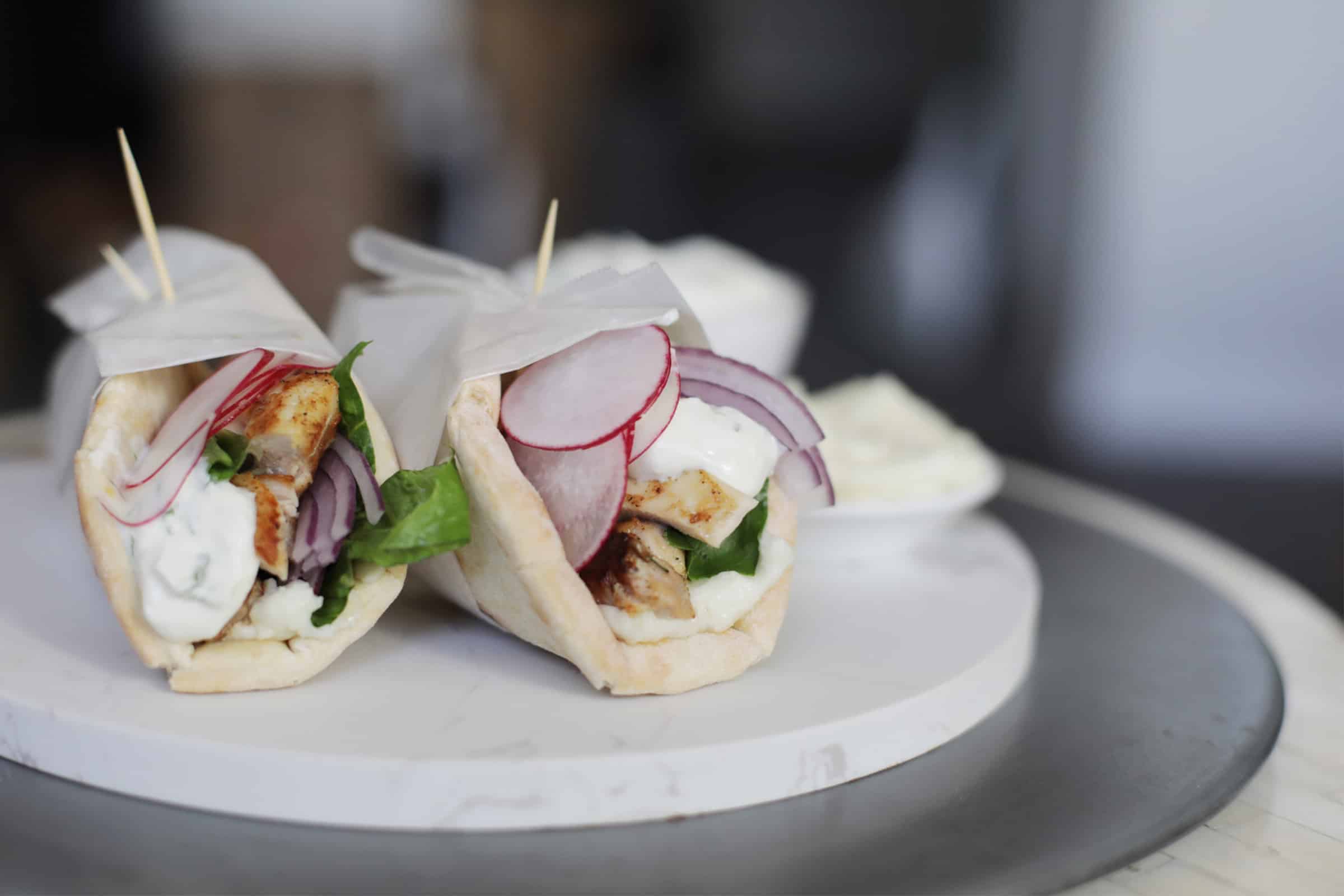 How To Garnish The Chicken Shawarma
We pretty much insist you have a sauce that you smear on the pita when you serve this. That could bed hummus or tahini, it could be that insanely garlicky (but good!) sauce known as toum, the yogurt sauce below, or even zhug! 
Go stock up on all your cooking essentials, then head into the kitchen, make this, and share it with us by tagging @saltandwind and #swsociety on social!
PIN IT FOR LATER!
Want to cook this recipe at a later date? Pin it to your Pinterest account so you can access it when you need some cooking inspiration!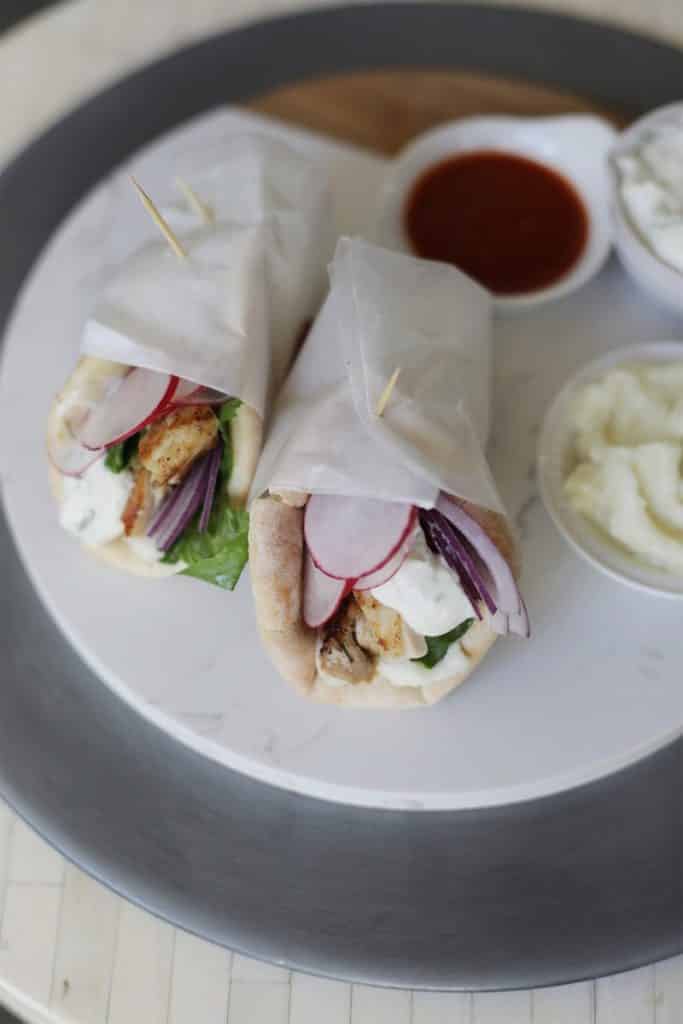 Mini Chicken Shawarma Recipe
An easy and healthy recipe for chicken shawarma made by marinating in a garlicky yogurt sauce, and made mini, that is why we called them the Mini Chicken Shawarma recipe.
Ingredients
For The Marinade:
1/4

cup

Plain whole milk yogurt

2

tablespoons

extra-virgin olive oil

1

tablespoon

freshly squeezed lemon juice

4

medium

garlic cloves

crushed

1

teaspoon

kosher salt

plus more to taste

3/4

teaspoon

ground cumin

1/2

teaspoon

ground coriander

1/2

teaspoon

allspice

or cinnamon

1/2

teaspoon

Freshly ground black pepper

or white pepper

2

pounds

boneless, skinless chicken thighs

(preferably thighs – can use tenders), fat trimmed off and cut into 1-inch wide strips
For The Yogurt Sauce:
3/4

cup

Plain whole milk yogurt

2

tablespoons

freshly squeezed lemon juice

1

tablespoon

tahini

1

garlic clove

2

tablespoons

fresh dill

or parsley, minced
For Serving:
8

to 12

whole wheat pita

radishes

sliced paper thin

1/2

red onion

quartered and sliced paper thin

2

Persian cucumber

sliced paper thin

sweet 100s tomatoes or cherry tomatoes

halved

romaine lettuce hearts

shredded
Instructions
Marinate The Chicken: Mix the 3 tablespoons plain whole milk yogurt, the 2 tablespoons olive oil, the juice of 1/2 lemon (about 1 tablespoon), the 4 crushed garlic cloves, the 1 teaspoon kosher salt, the 3/4 teaspoon ground coriander, the 1/2 teaspoon ground cumin, and the 1/2 teaspoon freshly ground black pepper or white pepper in a large, nonreactive dish until well combined. 

Add the trimmed chicken thighs and turn to coat in the mixture. Set aside to marinate at room temperature for 30 minutes; meanwhile, prepare the sauces and garnishes.

Make The Yogurt Sauce: Combine the 3/4 cup whole milk plain yogurt (plus 2 tablespoons water if using Greek yogurt), the juice from 1 lemon (about 2 tablespoons), the 1 tablespoon tahini (optional), the 1 minced garlic clove, the 2 tablespoons finely chopped fresh Italian parsley or dill, and the pinch of kosher salt in a small bowl and mix to combine. Taste and season with more salt, as desired.

Grill The Chicken Shawarma: Heat a gas or charcoal grill to high (about 400°F) and rub the grill with a towel dipped in vegetable oil. Remove the chicken from the marinade and let any excess marinade drip off.

Place the chicken on the grill and cook uncovered, turning rarely, until it's charred and the juices are running clear, about 10 minutes total.

Serve The Pita: To serve, thinly slice the chicken thinly across the grain. Meanwhile, heat the pita bread by warming in a low (250°F) oven or briefly microwaving.

Spread a spoonful of either sauce on the pita, add a bit of the thinly sliced chicken, top with any garnishes you'd like, and serve. 
PERSONAL NOTES
Nutrition
Serving:
1
g
Calories:
195
kcal
Carbohydrates:
4
g
Protein:
23
g
Fat:
10
g
Saturated Fat:
2
g
Polyunsaturated Fat:
2
g
Monounsaturated Fat:
5
g
Trans Fat:
0.02
g
Cholesterol:
109
mg
Sodium:
402
mg
Potassium:
353
mg
Fiber:
1
g
Sugar:
1
g
Vitamin A:
63
IU
Vitamin C:
4
mg
Calcium:
34
mg
Iron:
1
mg