Do you know what's been missing around here? A classic but not boring, freaking amazing hummus recipe.
So I set out to crack the code and achieve hummus perfection. After spending almost a month in the Middle East over the last few years and cooking in kitchens in Lebanon, Jordan, and Israel, I've majorly upped my hummus game.
Yes, this takes a long time to make but, after you do it a few times, it becomes clockwork. And seriously it's so much better than store-bought that the only problem is you'll never want to eat any other hummus ever again.
Our Most Perfect Classic Hummus recipe is here! Head this way for all of our tips for how to make this the best possible hummus you've ever made.
Now, go stock up on all your cooking essentials, then head into the kitchen, make this, and share it with us by tagging @saltandwind and #swsociety on social!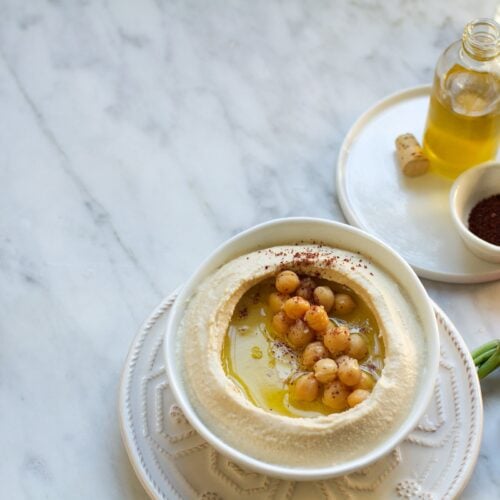 Classic Hummus Recipe
You know what's been missing around here? A classic hummus recipe. As in a recipe that is simple, not boring, and freaking amazing. This is that recipe. Our Most Perfect Classic Hummus recipe.
Ingredients
12

ounces

peeled dried chickpeas

1

tablespoon

baking soda

1

teaspoon

kosher salt

plus more for the cooking liquid

1/3

cup

tahini

Juice

of 1

lemon

2

garlic cloves

roughly chopped

1/2

to 2 cups

cooking liquid

Extra-virgin olive oil

for garnish

Ground sumac

for garnish (optional)

Finely chopped fresh flat-leaf Italian parsley

for garnish (optional)
Instructions
To Soak The Garbanzo Beans: Rinse the chickpeas really well and pick out anything that is not a chickpea! Place rinsed chickpeas in a large bowl, cover a few inches with cold water, and add the baking soda. Cover and set aside to soak at least 8 hours or overnight. (If your kitchen is warm, place beans in the refrigerator.)TIP: You don't have to soak the beans overnight -- you can just start cooking them but they will take longer to cook. We like to soak beans because the end result is a superior texture, the beans hold their shape better, and they're easier to digest! And, if you don't have time for a long soak, you can do a quick soak or use high-quality canned cooked chickpeas but the texture won't be as creamy. Rinse really well before using.

To Cook The Garbanzo Beans: Drain and rinse the beans really well then place in a large pot and cover by a couple of inches with fresh water. If you want, add some aromatics (see Tip) then bring to a boil and reduce heat to low so chickpeas are at a simmer.

Cook, skimming the surface of the liquid occasionally to remove any foam, until chickpeas are soft enough that you can easily smush them between your fingers and the peel easily comes off but they still hold their shape, about 1 1/2 to 2 hours (older chickpeas will take longer to cook). 

TIP: It's not necessarily traditional but try adding some aromatics to really flavor the chickpeas and the cooking liquid. I usually add in some combo of a couple garlic cloves, an onion peel, some dried chiles, or a pinch of cumin or coriander seeds.

Remove chickpeas from the heat, add a large pinch of salt and set aside to cool. Reserving the cooking liquid, strain the chickpeas and discard any aromatics you used. Rinse off the chickpeas again and, if they aren't already peeled, peel them. Real talk: You don't have to do this step but peeled chickpeas yield a much smoother final hummus. 

TIP: You can buy already peeled dried chickpeas but they can be pricey. Otherwise, start with unpeeled dried chickpeas and then peel them by hand — it takes some time but it's all in the name of super smooth and silky hummus perfection!

To Make The Hummus: Place the tahini, lemon juice, and salt in a food processor or high performance blender and process until the tahini is smooth. Add 5 cups of the chickpeas (save the remaining chickpeas for another use) scrape down the side and process until the chickpeas are evenly broken up. Add 1/2 cup of the cooking liquid, scrape down the sides again and process until the hummus is light, whipped, and very smooth, about 2 to 3 minutes. Add more cooking liquid as needed (you want it to be slightly thinned out - it'll look like mashed potatoes - as it will thicken as it rests).TIP: If you have a high performance blender, this is the time to pull it out because it will make it super smooth and whipped. Of course, if you want more texture, blend for less time accordingly. Oh, and this is when you want to use the best quality tahini you can find — it should taste like sesame and be a little sweet and not too bitter

Transfer to a serving bowl, cover well and refrigerate at least 30 minutes so the hummus can thicken slightly and the flavors can meld. I like to serve it pretty traditionally so topped with a spoonful of chickpeas, really good olive oil, and some sumac and parsley, if desired. Yields 3 cups hummus.
PERSONAL NOTES
Nutrition
Serving:
1
serving
Calories:
108
kcal
Carbohydrates:
14
g
Protein:
5
g
Fat:
4
g
Saturated Fat:
1
g
Polyunsaturated Fat:
2
g
Monounsaturated Fat:
1
g
Sodium:
357
mg
Potassium:
211
mg
Fiber:
4
g
Sugar:
2
g
Vitamin A:
18
IU
Vitamin C:
1
mg
Calcium:
30
mg
Iron:
2
mg