I've got a confession: It took me multiple trips to Italy to finally visit Bologna. I long overlooked the capital of the Emilia-Romagna region, but after visiting I'm now wondering what took me so long.
What I'd heard about Bologna before was it is the Italian city for foodies to visit. Ever dreamed of fresh, plump tortellini, salty Parmigiano Reggiano, or thinly sliced mortadella? What about a heaping plate of lasagna or pasta with bolognese sauce? Then Bologna is the place to be. Because of the wide variety and high quality of cuisine there, the city has even gained the nickname La Grassa or "the fat one."
But Bologna also has more to offer than just amazing food. It's home to the oldest university in Europe, hence the nickname La Dotta or "the educated one," and the roof of every building has a sun-kissed ruby hue, giving it the nickname La Rossa or "the red one" — making it a beauty to behold, especially at sunset.
Why You Should Travel To Bologna
A few more reasons you should travel to Bologna? It's a classic Italian day trip by train from the nearby cities of Verona, Venice, or Florence — and Bologna has a distinct vibe all its own. You can beat the crowds of more popular cities, wander underneath the city's endless romantic porticos, and see the leaning towers of Bologna (which beat out Pisa if you ask us!).
Amazing food, rich history, picturesque scenery — you'll quickly understand why more and more people have started adding Bologna to their Italy itineraries. On my most recent trip to Italy, I spent four days in Bologna and I wished I could have stayed longer because there are so many things to do in Bologna. But, even if you only have 24 hours in Bologna, you can still experience quite a bit!
What To Do In 24 Hours In Bologna
Even with a short amount of time, you can experience much of what Bologna has to offer just by exploring on foot. Bologna's historic city center rests inside a ring-shaped boulevard that's large enough to avoid the handful of ultra-busy touristy streets, but small enough that you don't need to hop on a bus. Here is what to see and do in one day in order to experience some of the best Bologna's city center.
MORNING
Get Amazing Views: Terrazza di San Petronio
As soon as you set foot in Bologna's main piazza, you'll notice the prominent and famed Basilica di San Petronio. In the 1500s the pope pulled funding from the Basilica di San Petronio for the Archiginnasio of Bologna instead, which explains the unique façade of the church — it's actually unfinished! The lower half features a red and white marble while the upper half is comprised of deep red bricks.
Look up and you might also notice its rooftop terraces, the Terrazza di San Petronio. You will definitely want to head there to get an incredibly view of the city. Standing on the terrace you'll get your bearings for the day as you look out over the distinct Bologna skyline with the many historical towers, miles of fiery red roofs, and rolling hills in the distance.
Shop The Local Boutiques: Via San Felice
Even if you're not a huge shopper, make time to stroll Via San Felice along the few blocks from Porta San Felice to Via Guglielmo Marconi. Acting like the western artery of the historic city center of Bologna, Via San Felice is a local spot. As in, you're unlikely to see another tourist and you won't see any of the global fashion brands you typically find in the heart of town.
Here the boutiques sell one-of-a-kind trendy clothing, handmade leather shoes, and chic home goods. There are many quaint coffee shops and enotecas here as well (like Forno Brisa or Porcomondo Salumi e Vino), which make for ideal pit stops.
AFTERNOON
Eat While You Art: MAMbo
Bologna has heaps of museums, but Museo d'Arte Moderna di Bologna, or MAMbo for short, houses modern and contemporary art, which will give you a deeper understanding of Italy since the 1940s. There is a mix of mediums here, from photographs to sculptures to film, so you can fully enjoy the exhibits without spending hours here. Afterward, head next door to the museum's restaurant Ex Forno, which is a hip place to grab some food or a glass of wine before exploring the city more.
Get Some Seriously Good Gelato: Gelateria Galliera 49
As a self-proclaimed gelato snob, I can profess that the scoops here were so delicious, I finished my first gelato only to promptly get in line for a second serving. When I'm on the hunt for gelato, I want something that is preferably made on-site and is artigianale to get the best flavors. I also like to see the gelato before it's scooped — if the colors are unrealistically vibrant (think a lime green for the pistachio) or the containers of it appear tantalizingly fluffy in the cases, then it's likely gelato which came from a powder mix so I keep on walking. Lucky for me, this place checked off every box on my list.
All the ingredients at Gelateria Galliera 49 are organic and local (many coming from the nearby Alpine region of South Tyrol where some of the country's best produce is grown) and it shows — the gelatos don't have showy, bright colors from dyes and the texture is dense and compact. Though I was pleasantly surprised to find granita on their menu, a dessert more common in the south of Italy, gelato flavors like pistachio and stracciatella definitely don't disappoint.
Rent A Bike And Pedal Through The Park: Giardini Margherita
Biking is my favorite mode of transportation and a great way to explore a new place so I always try to get on a bike in any city I visit. Bologna is a perfect place to hop on a bike as many locals crisscross the town on a bici.
Rent a bike from Bike Rental Bologna and cruise on down to the southeast edge of the city's circle where you can mingle with locals in Giardini Margherita. You'll find ample bike paths with lovely scenery, from rows of lush, green trees to photogenic fountains, and bonus: you'll get in some light exercise before outstanding food in the evening.
EVENING
Enjoy A Spectacular Aperitivo: Café Pastry Gamberini
I love a good aperitivo and this one brought me to tears it was so spectacular. As an aperitivo buffet, I enjoyed both quality and quantity — no greasy dips or dried out dishes here! Everything tasted fresh, items were replenished regularly, and the variety of food offered was large enough I returned a second time during my trip and still felt excited to eat there.
Definitely come here hungry because their buffet overflows with innovative finger sandwiches, mini pizzas made with mouthwatering mozzarella, and fresh vegetables. The food tastes outstanding, and this cozy cafe has a warm, welcoming staff. Before you leave, peek their pastries to end on a sweet note.
Eat Traditional Local Food: Ristorante Da Cesari
Bologna is for foodies and you'll definitely want to indulge in some (or all) of their famed local dishes. And while it may be hard to select only one restaurant which is a must-visit in Bologna, I'm going to do it: Ristorante Da Cesari.
My experience here was heavenly, from the sophisticated vibe to the kind servers to, of course, the food. They have a seasonal menu, but my favorite dish came from their mainstay menu — ravioli which balanced buttery, cheesy decadence with the sweet spice of fresh pumpkins. You can also cross out a lot of items on your Bologna food bucket list here, including mortadella, pasta with Bolognese sauce, and tortellini in beef broth.
Get A Chic Sleep: Hotel Porta San Mamolo
Everything I envision about a boutique Italian hotel, I found at Hotel Porta San Mamolo in Bologna — a charming garden where they serve a hearty breakfast, elegant art pieces, and a window which opens up to orangey, sunkissed buildings. Book a room with a terrace for the ultimate spot to end a day with a glass of wine in hand in Bologna, Italy.
If you're looking for an Italian city that has an authentic vibe and all the history, beauty, and yes, mouthwatering food you could want, then look no further than Bologna, Italy. And the best time to visit is now, before everyone catches on to this gem of a destination. Chances are, your first visit there won't be your last, and even after only one day you'll likely start planning a return trip to discover more of the city's delights.
Have you visited Bologna? What are your recommendations for the city? Share your tips in the comment section below!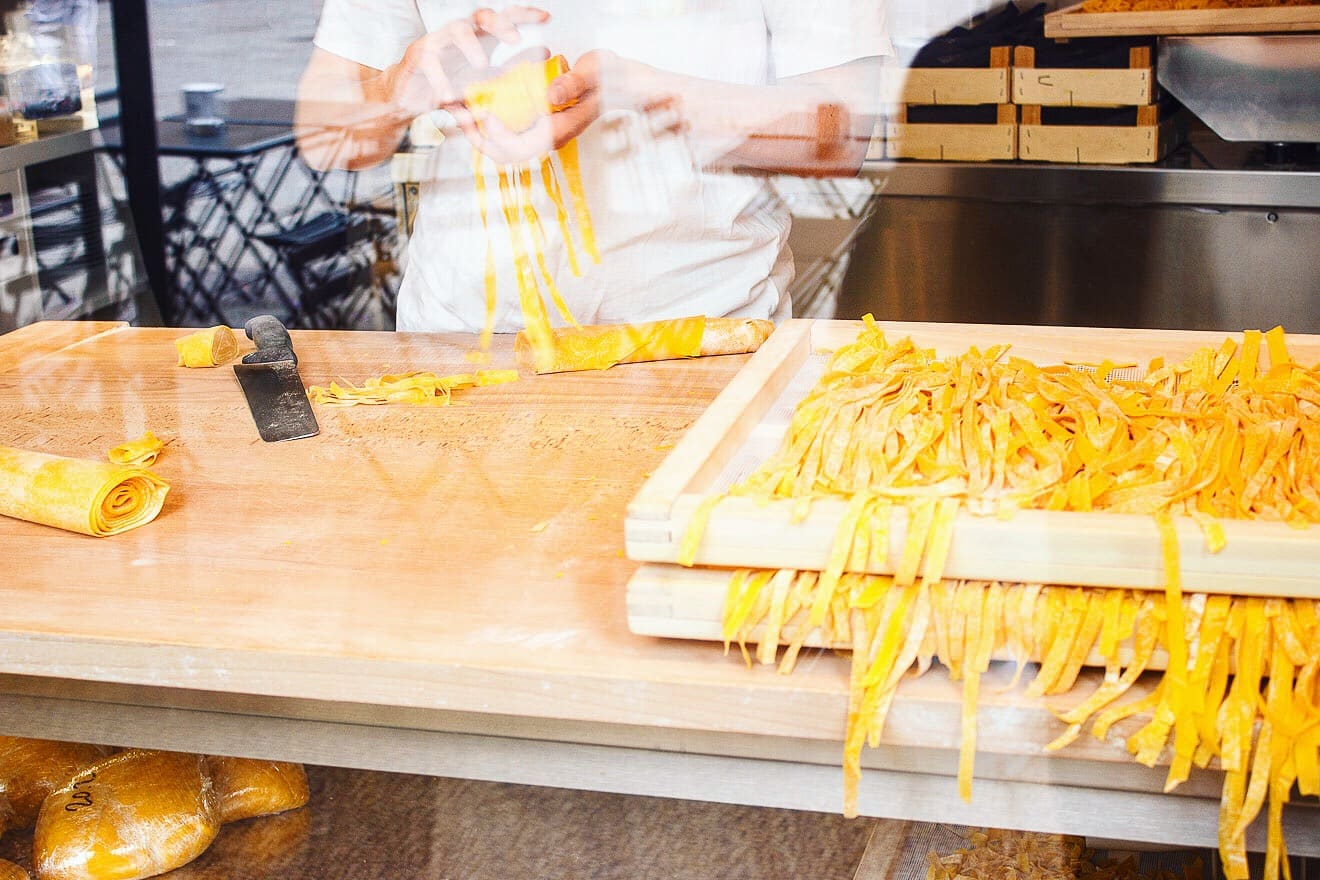 More Italy On Salt & Wind Travel