While sometimes forgotten by the troves of travelers to Italy, Bologna is beautiful, charming, and delicious.
As the capital of Emilia-Romagna and the reigning culinary queen of Italy, Bologna has earned the nicknamed La Grassa or "The Fat." And it has plenty of recognizable foods to relish.
Enjoying typical Bolognese cuisine isn't just for tourists. The locals enjoy the classics too. This list embodies the best of the best for pasta, cheese, meats, wine, and a little gelato.
So here, you have it: what you must eat when you travel to Bologna: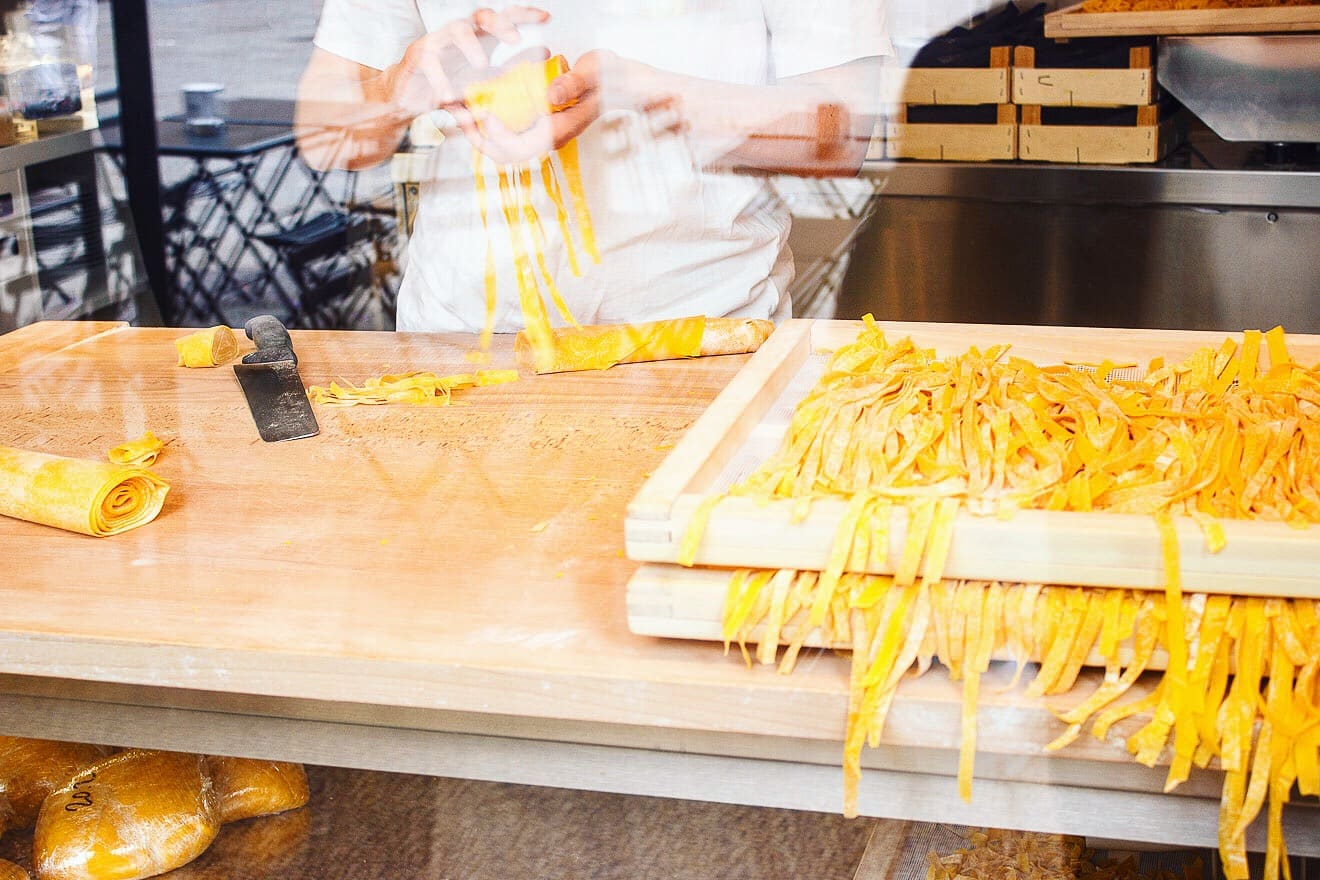 Tagliatelle alla Bolognese
Genuine ragu alla bolognese is different from the Bolognese (or meat) sauce we know of in the states. This traditional ragu alla bolognese sauce is slow-cooked. It involves onion, celery, and carrot, different types of minced or finely chopped meat, white wine, milk, and a tiny amount of tomato concentrate. Traditionally ragu alla bolognese is paired with tagliatelle, a flat, ribbon-like egg pasta. My favorite tagliatelle alla bolognese in the city is from Trattoria Mariposa.
Tortellini en Brodo
Depending on who you ask, the ring-shaped (or belly button-shaped) stuffed pasta, known as tortellini, was born in Bologna. Traditionally, Bolognese people eat it in a bowl of broth and topped with a lot of Parmigiano-Reggiano. The best tortellini en brodo in the city is from Trattoria Anna Maria. They have been making their prized tortellini by hand for over thirty years.
Lasagne Verde alla Bolognese
When you travel to Bologna, you don't want to merely look for lasagna but, more specifically, lasagna Verde. It is a layered pasta dish made with sheets of spinach pasta, cheese, and ragu alla bolognese. When done well, lasagna Verde isn't too cheesy or saucy – just simply layered and satiating. You can find this classic pasta dish anywhere in town, so it is always a good bet.
Tortelloni Burro e Salvia
Snag the traditional dish of tortelloni burro e salvia at pretty much any trattoria in town or at my favorite contemporary eatery, Bottega Portici. More significant than the better-known tortellini pasta, tortelloni is classically served with butter and sage. Does it get more comforting than this?
Parmigiano-Reggiano
The "King of Cheeses" in Italy, Parmigiano-Reggiano, was born in the Emilia-Romagna region. Do yourself a favor and eat lots of this in Bologna (even head to visit a creamery!), because it doesn't get better or fresher than straight from the source. My favorite place to get a sample of Parmigiano-Reggiano or buy it by the pound is Tamburini in the ancient market area, Quadrilatero.
Mortadella
Made from pork, spices, and pistachios, mortadella is a distinctly Bolognese charcuterie product. If you are looking for the best salumi in town, with mortadella at the forefront, go to Salumeria Simoni.
Lambrusco
In the states, we're used to Lambrusco being a sweet, dessert-like wine. But in Emilia-Romagna, you can find it in its proper form: a dry, bubbly, slightly sparkling deep red wine. Good Lambrusco wine can be found almost anywhere in Bologna. Most restaurants even serve a house carafe of Lambrusco, which I highly recommend getting.
Gelato
My favorite gelato in the city is from Gelateria Gianni. While not specifically from Bologna, gelato is still done very well here. There are two locations in the city center, and both do it right.
Got any favorite foods that you love to eat when you travel to Bologna? Let us know in the comments below!
---
Connect With Salt & Wind Travel
More Italy On Salt & Wind Travel