No joke, my sister used to eat a pint of Chocolate-Peanut Butter Ice Cream after school everyday in middle school so, when we decided to takeover my sister's backyard for a Friends Who Fete: Ice Cream Social, I knew I had to make this ice cream. This update on the classic has homemade mini Chocolate Almond Butter Cups mixed in (though the Trader Joe's Mini Chocolate Peanut Butter Cups are pretty perfect too) as well as not one but two layers of Almond Butter. Yes, my sister did like the Chocolate Almond Butter Cup and Almond Butter Swirl Ice Cream recipe.
Now, go stock up on all your cooking essentials, then head into the kitchen, make this, and share it with us by tagging @saltandwind and #swsociety on social!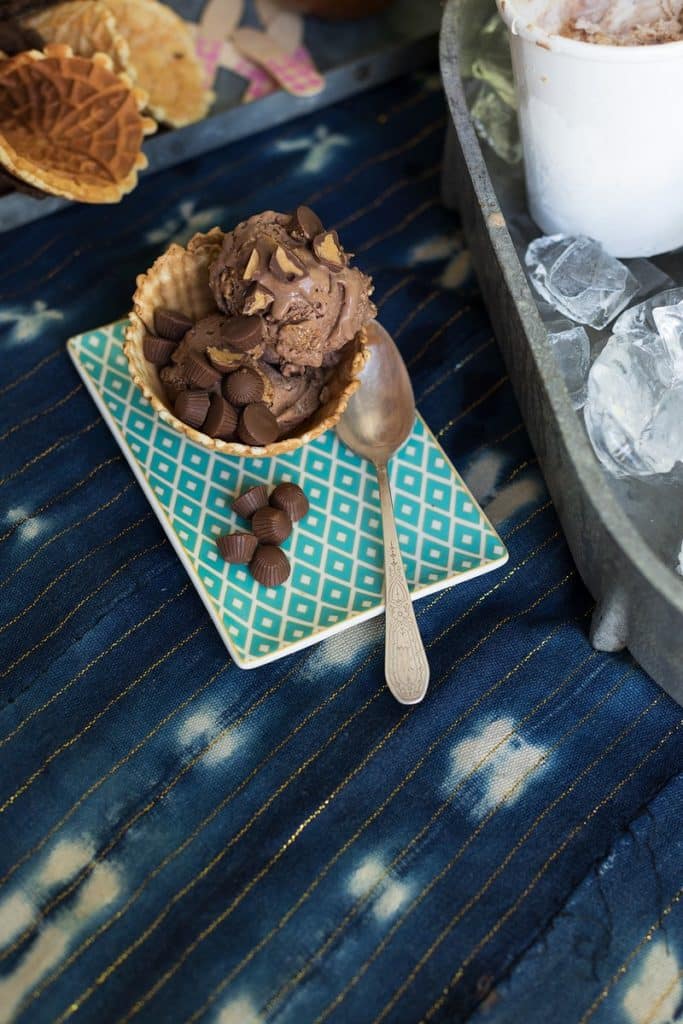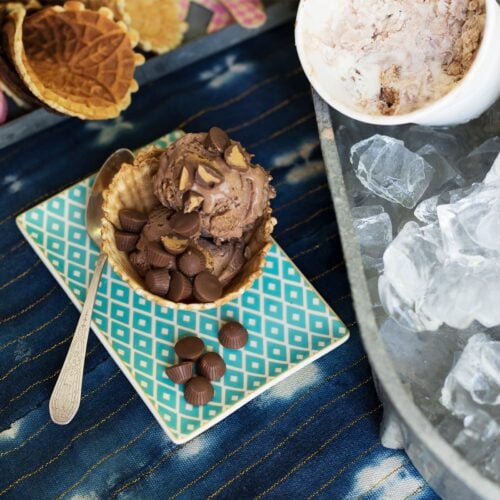 Chocolate Almond Butter Cup and Almond Butter Swirl Ice Cream Recipe
A twist on the classic Chocolate-Peanut Butter Ice Cream made with homemade Mini Chocolate Almond Butter cups and an Almond Butter Swirl. I present to you the Chocolate Almond Butter Cup and Almond Butter Swirl Ice Cream recipe.
Ingredients
2

cups

whole milk

4

teaspoons

cornstarch

1

cup

heavy cream

1

cup

granulated sugar

divided

2

tablespoons

light corn syrup

1/2

teaspoon

kosher salt

4

tablespoons

cream cheese

softened

1/2

cup

unsweetened cocoa powder

1/2

cup

espresso or strong coffee

2

ounces

bittersweet chocolate

1

cup (about 5 ounces)

mini peanut butter cups

or homemade mini almond butter cups

3/4

cup

natural creamy peanut or almond butter

stirred and room temperature
Instructions
Make The Ice Cream: In a bowl, stir together 1/4 cup milk and the cornstarch; set slurry aside. In a 4-quart saucepan, whisk together remaining milk and the cream, 1/2 cup of the sugar, syrup, and salt; bring to a boil over medium-high heat. Cook for 4 minutes; stir in slurry. Return to a boil and cook, stirring, until thickened, about 2 minutes. Place cream cheese in a bowl and pour in 1/4 cup hot milk mixture; whisk until smooth. Then whisk in remaining milk mixture.

Make The Chocolate Sauce: Bring cocoa, brewed coffee, and remaining 1/2 cup sugar to a boil in a 2-quart saucepan over high heat; cook for 30 seconds. Remove from heat and stir in chocolate.

Stir sauce into ice cream base. Pour mixture into a gallon plastic bag; seal, and submerge in a bowl of ice water until chilled. Pour mixture into an ice cream maker; process according to manufacturer's instructions. Just before turning off the ice cream maker, add the mini peanut or almond butter cups and let mix for just a few seconds.

Immediately remove the ice cream from the maker and layer into a 1 pound loaf pan. Layer one third of the ice cream into the loaf pan then add half of the peanut or almond butter and spread to the edges of the pan. Layer with another third of the ice cream and the remaining peanut or almond butter. Top with remaining ice cream, transfer to a storage container, and freeze until set.