When I was traveling in Japan I had some amazing eats ranging from street food like hot gooey takoyaki to late night grilled skewers at izakayas and bowls and bowls of ramen. But, after a while, I was exhausted with the over the top "ultimate" dishes I was in search for and just wanted a good clean meal – enter the chirashi bowl. True to Japanese style, each restaurant had their own spin on the chriashi but they all had the essentials: sushi rice, fresh raw fish, and dainty vegetable garnishes. Of all the dishes we ate in Japan, the chirashi is our favorite food souvenir and they have now become our go to
reset meal
. However, I wanted to make it healthier, and therefore came up with this Brown Rice Chirashi Bowl recipe. Now, go
stock up on all your cooking essentials
, then head into the kitchen, make this, and share it with us by tagging
@saltandwind
and
#swsociety
on social!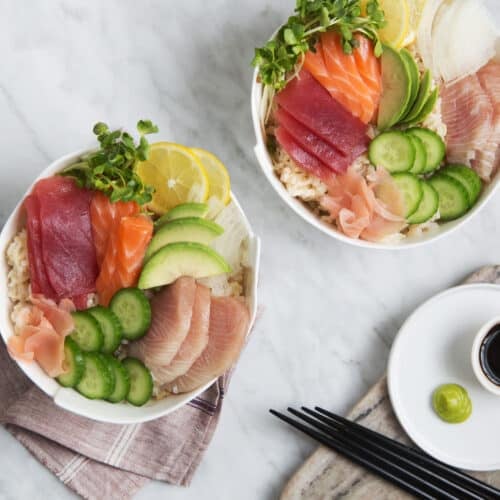 Brown Rice Chirashi Bowl Recipe
When I was traveling in Japan I had some amazing eats—gooey takoyaki, grilled skewers, bowls of ramen. But, after a while, I wanted a good clean meal—enter the chirashi bowl. This is a Brown Rice Chirashi Bowl recipe for a classic Chirashi bowl with brown rice to make it even healthier.
Ingredients
3/4

cup

short grain brown rice

1

1/2 cups

cold water

2

tablespoons

rice wine vinegar

1

tablespoon

unrefined cane sugar

1/2

teaspoon

kosher salt

8

ounces

sushi grade ahi tuna, salmon, or hamachi

sliced 1/4-inch thick on the bias and refrigerated until ready to serve

1

medium

Persian cucumber

sliced into 1/4-inch rounds

1/4

cup

pickled ginger

1/2

cup

daikon sprouts

or pea shoots, trimmed

1/2

medium

lemon

thinly sliced

1/4

sweet onion

thinly sliced

1

small

firm-ripe avocado

halved, pitted, and thinly sliced

Low-sodium soy sauce

for serving

Prepared wasabi

for serving
Instructions
Steam The Rice: In a small pot with a tight fitting lid bring rice and water to a boil. Stir, then reduce heat to low and cook for about 40 minutes or until water is absorbed and rice cooked through.

About 5 to 10 minutes before rice is done bring the vinegar, sugar, and salt to a boil in a small saucepan. Remove from heat and stir to dissolve sugar and salt.

Make Sushi Rice: Once rice is done, transfer to a wide bowl or small sheet pan and pour over the vinegar solution. Using a wooden rice paddle mix the vinegar through the rice using a flipping and chopping motion. This helps to release the hot air and creates a coating on the grains of rice. Continue to mix the rice for 1 to 2 minutes.

Assemble The Chirashi Bowl: Divide the rice between two wide bowls. Layer slices of your fish over lapping each other while putting a slice of lemon and a few onion slices between each piece. Place a little pile of pickled ginger next to the fish. Then create a pile of cucumbers next to the ginger. Fan slices of half an avocado along the other side of the bowl. In the middle of the bowl place a mound of pea shoots. Serve with a side dish of soy sauce and wasabi.  
PERSONAL NOTES