When I traveled to Mexico with Aida last fall I was smitten on our very first meal upon crossing the border.
The Classic Mexican Breakfast Food
The last thing I thought I'd find in Tijuana was Alma Verde, an organic juice bar serving excellent coffee and the most gorgeous plate of chilaquiles I'd ever seen. I mean, yes, chilaquiles are a classic Mexican breakfast food so it was by no means surprising to see them on a breakfast menu.
But these chilaquiles? Well, they were tossed in a beet salsa which made them a gorgeous purple color and the earthy, spicy flavor was totally delicious but totally unexpected.
Baja California Brings Its Own Style
Thinking about it, I should have guessed. Baja California Alta's motto should be "expect the unexpected," because everywhere you turn there's another side to this beautiful, rugged region that is different from the last.
The fact it's on the border with the United States means we often see trends from the U.S. make their way into Baja quickly. But, true to form, they put their own Baja California twist. In the case of these chilaquiles, it's making them healthy-ish by adding in the beets but still keeping it as delicious and decadent as the classic.
I'm itching to get back to Baja, but in the meantime I had to at least recreate those chilaquiles. Because, let's be real: fresh, fried corn tortilla strips, bathed in an earthy, sweet, and subtly spicy beet and sesame seed salsa, with creamy cheese, and topped with a fried egg? That's not something I'm willing to wait for.
Tips For Making Spicy Beet Chilaquiles
Oh, and word to the wise: don't wear anything you wouldn't mind getting stained when making the chilaquiles, or better yet, cover up with an apron. The sauce will spatter when you add it to the oil and beet salsa does not come out easily.
Now, go stock up on all your cooking essentials, then head into the kitchen, make this, and share it with us by tagging @saltandwind and #swsociety on social!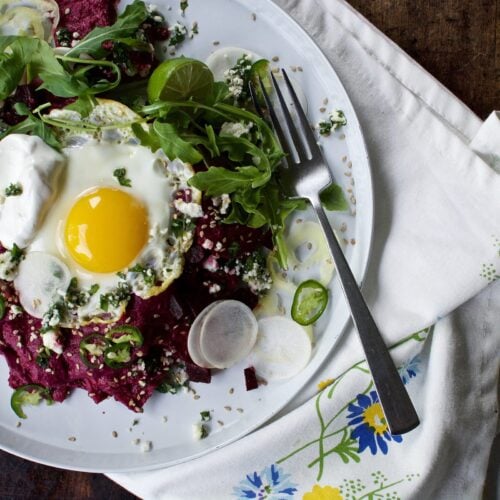 Spicy Beet Chilaquiles Recipe
A twist on the classic Mexican dish, chilaquiles, this recipe is made with toasted tortilla chips that get tossed in a spicy beet sauce. Try this Spicy Beet Chilaquiles recipe version for your next breakfast.
Ingredients
For The Beet Salsa:
1

pound small (about 4)

beets

1/3

cup

toasted sesame seeds

plus more for garnish

2

medium

serrano chiles

stemmed and chopped, plus some thin slices for garnish

2

medium

garlic cloves

1/4

cup

freshly-squeezed lime juice

(from about 4 limes), plus more lime halves for garnish

2

teaspoons

kosher salt

plus more for salting the tortilla squares

3/4

cup crumbled

queso fresco

(can substitute a mild Feta cheese)

2

tablespoons chopped

fresh mint

2

tablespoons chopped

fresh cilantro leaves
For The Chilaquiles:
3/4

cup

canola, grapeseed, or peanut oil

plus more for frying the egg

18

small

corn tortillas

cut into small squares or triangles

6

large

eggs
For Serving:
Crema or sour cream

for garnish

Thinly

sliced

radish

for garnish

Handful

wild baby arugula

for garnish
Instructions
Boil The Beets: Wash and trim the beets. Peel and small dice them and place them in a medium saucepan. Cover with heavily salted water and bring to a boil over high heat. Reduce heat to medium and gently boil until knife tender, about 30 to 40 minutes. Remove from heat and let cool in the water until able to be handled.

Make The Beet Salsa: Transfer all but a few pieces of beet (save a few for garnish) to a blender, saving the water. Add 1 1/4 cups of beet water, chiles, sesame seeds, garlic, lime juice, and salt. Blend on high until smooth, at least 1 minute.

The sauce should easily run off the back of a spoon. Add more beet water if necessary. Taste and add more salt as desired. Combine the queso fresco, mint, and cilantro in a medium bowl and set aside until ready to use.

Make The Chilaquiles: Heat oil in a large frying pan over medium-high heat. Once shimmering, add tortilla pieces, separating them as you add them to the pan (you may need to do this in 2 to 3 batches depending on the size of your pan — don't overcrowd).

Cook, occasionally stirring, until as evenly light golden brown as possible, about 2 to 3 minutes. Remove with tongs to a paper towel-lined baking sheet, sprinkle immediately with salt.

Remove any excess oil, reserving about 2 tablespoons in the pan. Return pan to medium heat and carefully add beet salsa to the hot oil, constantly stirring until sauce is boiling and cooked, about 2 minutes.

Add tortillas back to the sauce, turning to coat. Remove from heat and cover.




Serve The Chilaquiles: Meanwhile, fry the eggs to your desired doneness. Divide chilaquiles between the plates, top with an egg or two, the herbed cheese, and any or all garnishes you'd like. Serve immediately.
PERSONAL NOTES
Nutrition
Serving:
1
serving
Calories:
377
kcal
Carbohydrates:
47
g
Protein:
17
g
Fat:
15
g
Saturated Fat:
5
g
Polyunsaturated Fat:
4
g
Monounsaturated Fat:
5
g
Trans Fat:
0.1
g
Cholesterol:
197
mg
Sodium:
1060
mg
Potassium:
594
mg
Fiber:
9
g
Sugar:
7
g
Vitamin A:
986
IU
Vitamin C:
11
mg
Calcium:
290
mg
Iron:
4
mg