Roman resident, co-author of just-released Tasting Rome, and food expert, Katie Parla is an expert on what and where to eat in Rome.
We met her when Aida worked with her on the Rome episode of Off Menu, and she taught us more about the city than any book could.
I was obsessed with Rome before I ever visited. I loved history and languages and, when my high school Latin club planned a trip to Italy, I signed up. We only spent about 24 hours in Rome, but I was immediately hooked and wanted to know every square inch. I moved to Rome in 2003 and realized it was the city's complexities and peripheral neighborhoods—rather than the superficial beauty of the historic center—that would hold my attention for a lifetime.
For me, Rome is a series of realities bound to the dozens of districts that populate the map. Each neighborhood and its markets and squares are the results of unique and constant evolution. There is no single Rome, and the city experiences changes-—often profoundly—from one district to the next.
Here's what I'd do on my One Perfect Day in Rome:
10:00 AM – A Savory Start at Forno Prelibato
Long before the ubiquitous cornetto (the Italian cousin to the croissant) descended on the Italian capital, the city's denizens reached for savory strips of pizza bianca (a flat, dimpled, crisp-on-the-outside, slightly chewy bread) to satisfy their morning hunger.
I make like a mid-century Roman and order a slice of this savory flatbread at Prelibato, Stefano Preli's bakery in Monteverde Vecchio. It's just a short bike ride from my apartment and gives me the energy I need to start the day!
Courtesy Forno Prelibato
10:35 AM – Delve into industrial archeology at Central Montemartini
Tourists may flock to Rome to see the city's classically beautiful monuments, but I'm a sucker for urban decay and love strolling or biking through the Ostiense district to experience industrial "archeological" sites like abandoned and repurposed factories.
A fine example of the latter is Centrale Montemartini, a collection of ancient sculptures and mosaics set in the recovered ruins of a power station. The crisp white statues, many in an exquisite state of preservation, contrast with the black iron machinery that still populates the space.
11:50 AM – Shop at Nuovo Mercato Testaccio
One of the city's most vibrant food markets opened in 2012 across the street from Rome's former slaughterhouse. Dubbed the Nuovo Mercato di Testaccio, the relatively new space took some getting used to after the long-established Testaccio Market was moved to this modern building.
This marketplace is perfectly adapted to local demands and offers takeaway foods that cater to the area's workers and students. Hearty, homemade food is sold from stalls along Via Beniamino Franklin, while stalls throughout the market sell produce, fish, meat, and even clothing. I never leave the market without snagging a pizzetta from Da Artemio, a bakery at Box 90, and at least some polpette di bollito (simmered meat, deep-fried) at Mordi e Vai. It's also my go-to spot for products like this season's carciofi romaneschi, local globe artichokes.
12:45 PM – Lunch at Roscioli
Part deli and part restaurant, Salumeria Roscioli is known for its vast menu of cheeses, cured meats, and all kinds of pasta. At lunch, I like to focus on items like creamy burrata served with tart semi-sundried tomatoes, savory mortadella topped with grated Parmigiano Reggiano, and Cantabrian anchovies served with French butter on toast.
If I'm ravenous, I follow this up with a plate of pasta—bombolotti all'amatriciana or rigatoni alla gricia (a Pecorino, guanciale, and pepper sauce) are a couple of my favorites. Snagging a table can be tough last minute, so if I don't plan ahead, I'll grab a table at the counter; Roscioli is one of the few places in town that has an actual bar for service.
5:30 PM – Cancel out the carbo-load in Villa Pamphili
No one would ever accuse me of neglecting carbs. Some days I only eat pizza and pasta. It's a tough gig, but I power through. To offset the flour binge that is my life, I go for long runs.
My favorite spot for a calorie-burning jog is the Villa Pamphili, Rome's largest park. It sprawls through the Janiculum and Monteverde districts and is so gigantic with such varied vegetation that sometimes it feels like I'm running through an English meadow, a Tuscan garden, or a Roman pine grove.
Photo via Gerdy Ling from Flickr
7:30 PM – Hang with friends in Pigneto
Occupying a wedge of the city east of the Aurelian Walls—the bit flanked by the Via Prenestina and the Via Casilina—the Pigneto district is one of several Roman zones that has undergone a transformation recently.
Thanks to affordable rents, Pigneto has a vibrant art scene, both inside and outdoors. The area has become a palate for street artists whose murals (legal and otherwise) enliven dozens of building facades.
9:30 PM – Dine At The Perfect Trator: Cesare al Casaletto
Rome has hundreds of trattorias, casual eateries serving classic local dishes, but only a handful of these manage to serve well-sourced, flawlessly executed dishes. Cesare al Casaletto is on of these rare venues.
From start to finish, the menu is the greatest hits of the Cucina Romana: fried starters, guanciale fat-drenched pasta, and gently simmered meats. And as if all that wasn't great enough, Cesare also has one of the most extensive—and affordable—natural wine lists in town!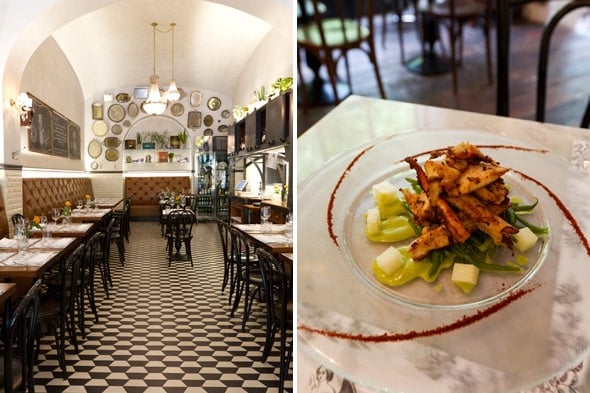 11:45 PM – Nightcap at Caffè Propaganda
Rome's nascent cocktail scene was born thanks, in part, to the creativity and dedication of Irish-Italian mixologist Patrick Pistolesi. At Caffè Propaganda, Patrick and his colleagues mix and shake drinks that celebrate Italian flavors, especially bitter, vinous, and herbal ones.
Cocktails like Bellissimo Aperitivo, a blend of vermouth, sherry, and Fernet-Branca, evoke flavors of the past while tasting delicious in the present.
Get A Taste Of Rome
To dive deeper into all that is Rome, check out Katie's just-released book, Tasting Rome. To give you a little taste of the book, she's shared a recipe for Trattoria Da Ceseare Al Casaletto's addictive Cacio e Pepe recipe.
Connect With Salt & Wind Travel
More Italy On Salt & Wind Travel