It's the little things, like no traffic, that make things better. And just as they improve your commute, so do they make a difference in the kitchen. There are sauces that may seem "little" but you know they are home runs. This Green Harissa Sauce is one such recipe.
Wait, What is Harissa?
You likely have heard of harissa or eaten it but it's most likely been red in color, right? That classic harissa hails from North Africa.
It's a sometimes smoky, usually spicy chile paste that's a key piece of many North African and Middle Eastern dishes. Most commonly, it's made with dried chiles (some mild, others hot) that are rehydrated and then pureed with garlic, spices, and olive oil to make harissa paste. 
Like pesto or mole, harissa sauce can vary from place to place and from cook to cook. You might see fresh chiles or citrus juice or vinegar added.
But one thing is for sure, there are a lot of great options for red harissa on the shelves so we most often buy it from the store. On the other hand, green harissa is something we always like homemade. 
So What Is Green Harissa Sauce? 
Green harissa sauce also is a spicy chile sauce but there are also herbs, lemon juice, and olive oi. Some people compare it to the Middle Eastern hot sauce known as zhug but that isn't quite accurate.
You see, zhug is peppers and spices blended with olive oil. Meanwhile, green harissa has herbs and greens and citrus added, which add a whole other dimension. 
Green Harissa Uses
We first came across green harissa when chef Hoss Zare made it at Flytrap in San Francisco and we started to use it as part of a roasted squash recipe. But we've since paired it with everything and anything. It looks like a pesto but tastes like amazing-ness and is our secret (well, not so secret anymore) go-to sauce for any and everything.
We like that it has a vibrant green quality (in color and flavor) to anything it's paired with and it's something we turn to in the middle of the winter months when we need a little brightness in our cooking.
A few ways to serve it are:
Served with lamb chops or with roast chicken
With classic roasted potatoes
Swirled into vegetable soup
Spooned over carrot risotto 
Toss it with warmed smashed olives for a quick app
Spread it on your favorite steak sandwich or burger
Go stock up on all your cooking essentials then head into the kitchen, make this, and share it with us by tagging @saltandwind and #swsociety on social!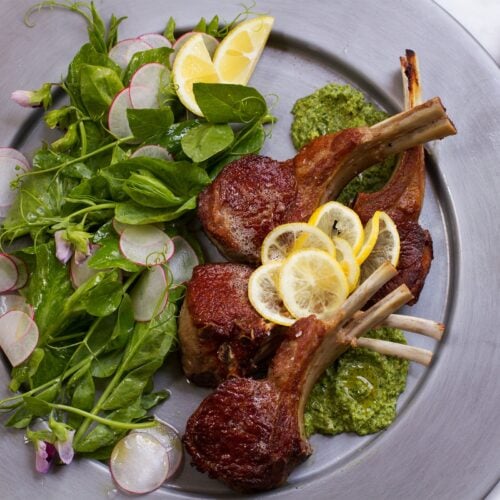 Green Harissa Sauce Recipe
This green harissa sauce recipe is our go-to for spring entertaining though it's just as deliciouis year round. We use the harissa sauce anywhere from as a sauce for a roast, with lamb chops (as we've done here), and even on a sandwich.
Ingredients
For The Green Harissa Sauce:
1

medium

jalapeño

(use more to make it more spicy)

1 1/2

cups

baby spinach, kale, or chard

3/4

cup

packed fresh Italian parsley leaves and stems

(or a mix of parsley and cilantro)

1/2

cup

toasted walnut halves

1/4

cup

low-sodium vegetable broth, chicken broth, or water

2

medium

garlic cloves

smashed

1 1/2

teaspoons

freshly squeezed lemon juice

1/2

teaspoon

ground cumin

1/2

teaspoon

lemon zest

4

tablespoons

olive oil

divided

kosher salt

Freshly ground black pepper
For The Lamb Chops:
12

(1 1/4-inch-thick)

lamb rib chops

about 2 1/2 pounds total
Instructions
Make The Green Harissa Sauce: Turn a gas burner on medium heat and char the jalapeño, turning frequently, until blackened and slightly collapsed.

Transfer the jalapeños to a cutting board to cool slightly. Once cool enough, trim off the stems from the jalapeños and remove the seeds and ribs.

Combine the jalapeños with all the harissa ingredients except 2 tablespoons of the olive oil in a food processor or blender and blend, scraping down the sides as needed, until smooth. Taste and add salt and pepper as desired.

Transfer to a bowl and add remaining 2 tablespoons of olive oil and stir to help loosen the sauce. (Can be made up to 2 days ahead — store refrigerated in an airtight container.)

Cook The Lamb Chops: Meanwhile, season the lamb chops generously with salt and pepper and coat well in olive oil.

Set a grill pan or large skillet over high heat. Add the lamb chops and cook them until lightly seared, about 3 minutes each side for medium rare (125°F).

Rest the chops for a few minutes before serving with the green harissa on hte side.
PERSONAL NOTES
Nutrition
Serving:
6
servings
Calories:
156
kcal
Carbohydrates:
3
g
Protein:
2
g
Fat:
16
g
Saturated Fat:
2
g
Polyunsaturated Fat:
6
g
Monounsaturated Fat:
8
g
Sodium:
11
mg
Potassium:
126
mg
Fiber:
1
g
Sugar:
1
g
Vitamin A:
1186
IU
Vitamin C:
19
mg
Calcium:
38
mg
Iron:
1
mg