Before even stepping foot in Rome, I already envisioned myself strolling down the quaint, quiet streets flanked by weary, sun-kissed buildings.
I'd grab a seat at a little local wine bar run by an elderly couple, and I'd listen to the clack of footsteps on stone, to the zipping Vespas, and to Italian flowing from the mouths of passers-by.
Of course, these experiences are the ones everyone wants to have in Rome, but they're not always so easy to find. As the most visited city in Italy, you have to work your way out of the popular touristy areas to find these tucked-away gems.
Get To Know Rione Monti
But luckily you don't have to look far; in fact, one of the chicest neighborhoods in Rome is right between the Colosseum and Trevi Fountain. Rione Monti ("Monti" for short) is a spot in the Eternal City which truly feels eternal — a place where the city's rich history gets a breath of new life from modern day Romans — and it is my all-time favorite neighborhood in Rome.
The first time I visited Italy's capital, a guide advised I stroll through the Monti neighborhood. "You will love it," she insisted. "It's one of the most adorable neighborhoods in the entire city." I have to agree — Monti has all the quintessential Italian sights you could want, like ivy-covered buildings, boutiques selling stylish clothing, and cozy enotecas for a lazy afternoon aperitivo, all without the heaps of tourists.
History of Monti
As one of the city's oldest neighborhoods, Monti didn't always look like this. It used to be a seedy hub of brothels in ancient times and has since transitioned to what it is today — a sophisticated 'hood with trendy hangouts, boutiques, and restaurants, all juxtaposed with crooked cobblestones and a popular piazza dating back to the 1500s.
Monti Neighborhood Guide
Every time I travel to Italy, Monti keeps calling me back to explore its enchanting streets, and here are some of the can't-miss spots in the local Roman neighborhood.
Go Shopping
Nearly every Saturday and Sunday from 10 AM to 8 PM, you can wander into this open warehouse and find a delightful mix of handmade goods. There's an array of jewelry and clothing as well as other handcrafted items like ceramic bowls and lighting structures, all from local artisans. If you want to peruse for souvenirs on a weekend afternoon, you're certain to score some unique finds here.
LOL ROMA has a few locations mere blocks from each other in the Monti neighborhood, and each features a different choice of collections. They all, however, combine the best of fashion, art, and design, both locally and worldwide. You'll find racks of youthful yet elegant clothes, but the accessories here are my favorite (think finely crafted leather bags and one-of-a-kind bracelets, rings, and necklaces).
Open since 2009, Rigodritto is the spot for home accessories that double as conversation starters. Everything they sell is designed and made right in Rome with high-quality materials and some of the city's finest craftsmen. Every time I visit Monti I make sure to check out their collection of gorgeous table lamps made with real leaves and flowers.
I had to do a double take when I first walked into this shop because these aren't the typical items you see for sale in local Rome. Focusing on Nordic design, Elena Kihlman's store is a welcome breath of fresh Finnish air in Monti. She uses Italian materials for her own products (check out her latest bags in the store), and she also sells accessories, decor, toys, and home goods from other Scandinavian designers.
If you want all things vintage, head to this gem on Via del Boschetto. Everything here is carefully selected and in excellent condition, and it's a nice mix of designer items from Versace or Gucci, but choice label-less ones, too.
Wandering around you'll quickly notice that Monti brims with vintage stores, but Blue Goose (on the same street as Flamingo) is one to make sure is on your list. It's a tiny space packed with a little bit of everything, from women's clothing to shoes to jewelry. Their style is a bit more feminine, so expect to see lots of sweet dresses and skirts on the racks.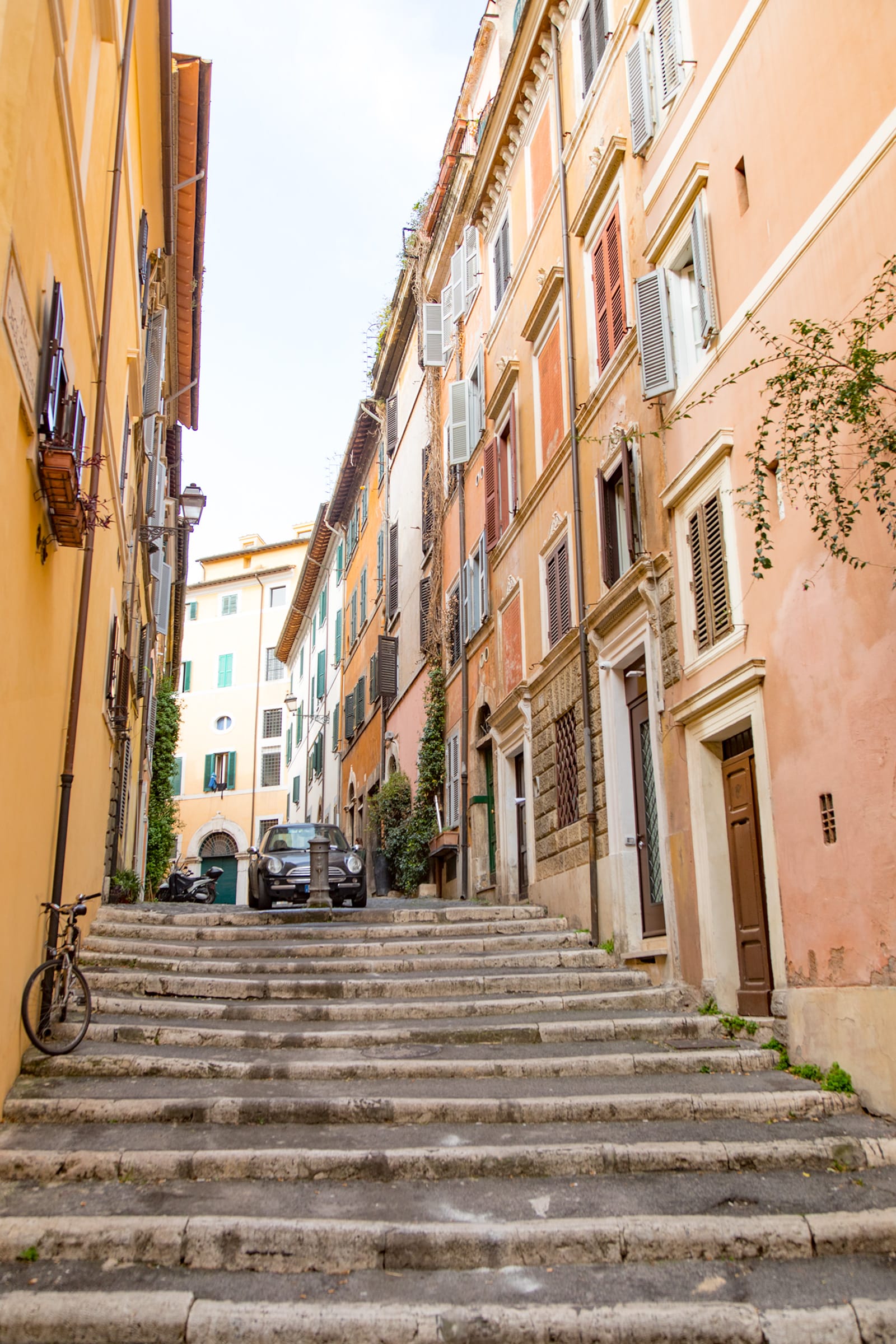 Grab A Bite
Unless you arrive right when they open, expect a wait at Le Tavernelle (hot tip: they do take reservations). This is the place where you go for a traditional Italian meal, with a seemingly endless amount of courses and a solid choice for table wine all at a reasonable price. It's a mix of locals and tourists, and despite the constant crowd the staff will happily welcome you. My go-to dish here is the tagliolini al limone when it's in season, and you can never go wrong with their cacio e pepe.
You could come to this restaurant every day for a week straight and never have the same meal. Their rotating specials utilize the best ingredients found at the market, and they often put an exciting spin on traditional Italian fare—ricotta ravioli with mint or polenta gnocchi, for example. The decor is super hip, although I personally prefer snagging an outdoor table at the entrance to the restaurant when I can.
I love pizza and pasta, but sometimes I feel weighed down by all the carbs and cheese I'm consuming. This little bistro has juices, salads, soups, and grain bowls all made with the freshest of ingredients when the craving for something lighter strikes. It's easy to grab something and go, or you can sit and enjoy it in their seating area where they also sell gardening supplies and houseplants.
This is the ultimate stop for chocolate lovers. Whether you want chocolate bars, pastries, or some insanely rich gelato, Grezzo satisfies with their range of entirely raw, organic, vegan, gluten-free and dairy free items.
I've always felt like gelato should be its own separate meal, and the innovative, fun flavors at this popular gelateria may very easily convince you of the same. You can find a few Fatamorgana gelaterie throughout Rome (and even stateside in Los Angeles) but their Monti location is where it all started. Just like any good gelateria, Fatamorgana has different offerings depending on the season, but expect options like pumpkin, cookies and cream, or blueberry cheesecake, along with staples like pistachio. The best part? They've also got lactose- and gluten-free options for those with dietary restrictions.
Caffeinate
You'll probably never feel more Italian than when you elbow your way up to the counter of a tiny coffee shop and order a morning cappuccino or caffèlatte, especially in a place like this. At Er Caffettiere you'll likely discover more locals than tourists. The food here is delicious, and if you need a small bite, order a cornetto alla crema (or croissant with cream) — theirs are, perfectly soft and indulgent.
Get a Drink
I'll admit La Bottega del Caffè is a bit overpriced for what it is, thanks to a prime location in Piazza della Madonna dei Monti. But this is such a relaxing place to sit outside and enjoy an afternoon wine while people-watching that I don't mind the extra cost. If you'd rather sit around the fountain and be a local for a day, pop into the convenience store next door and purchase a glass of wine in a to-go cup.
This busy bar is on Monti's main drag, Via Urbana, and it's one of my top picks for an aperitivo — their Aperol Spritz is exactly how it was intended to be made! It's also worth making the effort to get a table on the weekend evenings. They have live music (typically jazz) on Fridays, Saturdays, and Sundays which adds to the ambiance of their quaint outdoor patio.
The furniture is as eclectic as the crowd in this place which is part wine bar, part tea room, and part bookstore. Aside from occasional events like book readings, they promote local artists with the rotating pieces which hang in each room. Adding to the artsy vibe is a piano which guests are welcome to play.
Trade in your glass of vino for a caipirinha. I stumbled into this Japanese Brazilian fusion bar and restaurant one evening while exploring the neighborhood and loved the funky interior and innovative cocktail list—a welcome break from wine bars for a night. They have a few locations throughout Italy and the UK, and each one has a unique take on tropical, festive decor. Temakinho has a lengthy list of sushi if you're craving something to eat as well.
Detours
For some pampering, Hotel Artemide's spa is an absolute oasis—their amenities include a sauna, hot tub, and Turkish bath, and the space is small so they keep the number of guests to a minimum. After getting a Bora Bora Sand Scrub there, I think I practically floated out of my treatment room.
One of the truly magical things about Rome is getting to see crumbling buildings standing proudly amidst the city bustle, and while I am constantly amazed by the Colosseum I enjoy the other ruins of Rome just as much. Trajan's Market, located in the westernmost corner of Monti, gives you the chance to dive even deeper into Roman history. Built during the reign of Trajan, the ruins of this market a nd its shops are presumed to be the world's first official shopping center.
Escaping the masses of tourists in Rome's city center may feel impossible, but there are lovely neighborhoods tucked in between some of the most popular sites. What is your favorite corner of Rome to escape the bustle when you travel to Italy? Tell us in the comments below!
Have Us Plan Your Italy Trip
Did you know we're also a boutique travel agency that specializes in Italy travel planning? If you're looking to plan one of the best trips to Italy, our Italy trip planner services are here to help you plan your perfect itinerary.
---
Photo Credit: All photos by Kristen Kellogg