Around here we believe a proper road trip is where you spend a lot of time getting from point A to B. Like that time we did a leisurely road trip from Los Angeles to Austin.
Yes, we drove just over 1,800 miles over 6 days and it could have been done faster. But then we would have missed out on getting to know each stop along the way.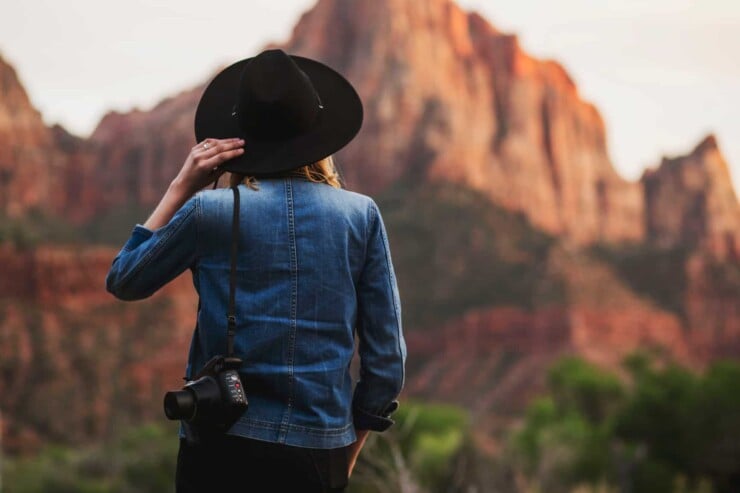 How To Road Trip From Los Angeles To Austin
This road trip itinerary is about 20 hours worth of driving in total, but plan to break that up so you have plenty of time to enjoy each stop. If you do it in 5 to 6 days you'll drive anywhere from 300 to 600 miles a day. This road trip from Los Angeles to Austin a fair bit of driving so travel with a few friends in order to rotate drivers throughout the journey.
Make sure you cover the basics by having a spacious car, keeping an emergency kit on hand, having adequate water, and having a valid AAA membership so that you're prepared for the worst. But also bring along a great playlist, road trip snacks, and lots of reading material so you're prepared to make it the best.
Itinerary California To Texas
Here is the day-by-day itinerary for our road trip from Los Angeles to Austin.
DAY 1: Los Angeles to Palm Springs (~100 miles)
Road trips are like diets: you gotta ease into them, so you don't get hangry or harried. So drive just over 90 miles from Los Angeles to Palm Springs on Day 1 and make the most of the rest of your day.
We usually go to Palm Springs for a whole weekend, so trust that there's more than enough to do for an overnight. On this stop, we spent the afternoon hunting down Date Shakes, spending time in the spa, and plotting out remaining road trip ideas.
DAY 2: Palm Springs To Sedona (~400 miles)
Wake up early and do a sunrise hike in Palm Springs or book it at dawn to Sedona in time for sunset — either way, plan out Day 2 because this drive will take up most of your day. Go off the beaten path and take Route 62 so you can pass through Joshua Tree and Twentynine Palms to grab a quick bite.
Stop by Natural Sisters Cafe in Joshua Tree for something healthy or detour to Pioneertown for some frontier vibes and American food at Pappy + Harriets. If not, take it from me that there aren't many places to stop for a bite after you leave Twentynine Palms, so pack road snacks (or make your own!) or before you leave Palm Springs.
After passing through Twentynine Palms, head north through Havasu to take Interstate 40 because it overlaps with Route 66 at this point. This Northern route takes you through the forests of Flagstaff and then drops you onto Route 89A past the stunning sienna cliffs of Sedona. Between the posh resorts, the stunning views, and the alternative energy vortexes, it's no wonder why Sedona is on many bucket lists for the best road trip destinations.
But, I'm not gonna lie: Sedona can get touristy in the spring and fall, so, to have some peace of mind, I'd recommend staying at a less central (albeit pricier hotel) like the Amara Resort or Mii Amo. Also, from here on out, know that most of the food is super Southwest or Tex-Mex, so don't fight it — just embrace it.
Detour: If you want to drive less this day, you could instead take Interstate 10 due east and go to Scottsdale for the night instead. Check our links below for all our Scottsdale road trip ideas and recs if that's the way you go!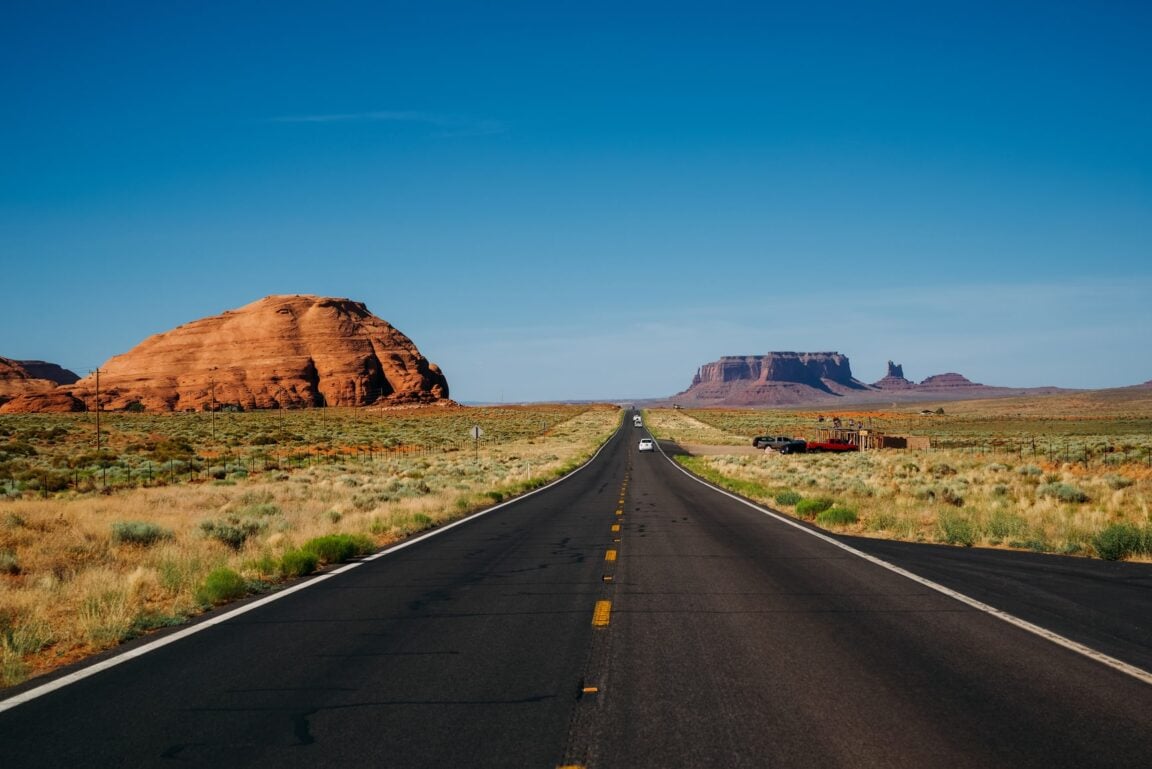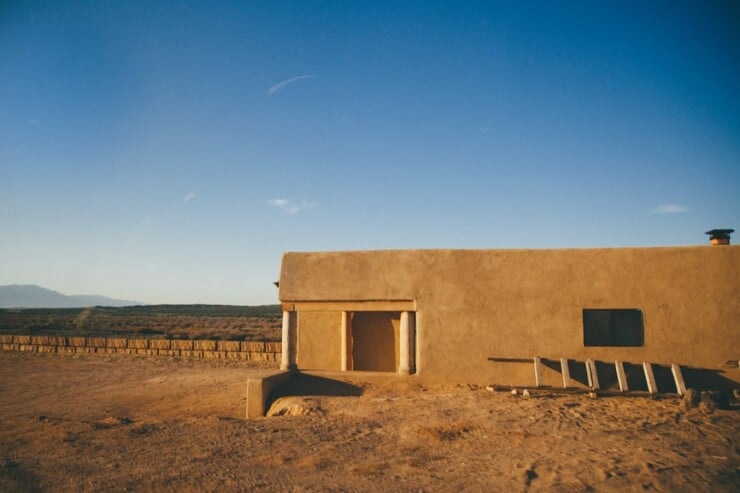 DAY 3: Sedona to Santa Fe (~400 miles)
Speaking of super Southwest, the drive along Interstate 40 from Sedona to Santa Fe is full of mesas, buttes, and all that other scenery you associate with this region.
To break up the drive, stop at the truck stop just at the Arizona-New Mexico state line. This truck stop's diner-cum-convenience store is straight out of the 1950s, including a bouffant-clad cashier and throwback candy-like Clark bars and Charleston Chews — which may have taken residence on that shelf before any of us were born.
Most of New Mexico is magical, but Taos and Santa Fe (the people, the vistas, the light, the food) are exceptional road trip stops. Aim to make it to Santa Fe by the afternoon, so you have enough time to enjoy it.
You could stay on the plaza at the Hotel St Francis because it's super central; or, if you have more time, there are plenty of resorts (hello, Hacienda at Hotel Santa Fe and Rosewood Anasazi) if you want to escape.
DAY 4: Santa Fe to Marfa (~450 miles)
You can't really say you went to Santa Fe until you have a full-on Southwest breakfast. Many people swear by Tia Sophia's and The Pantry, but we loved the all-out nature of both the food and décor at Café Pasqual's.
The décor in Pasqual's is thoroughly New Mexican — papier-mâché trucks and dried chiles hanging around. The Café Pasqual's menu is an eclectic mix of New Mexican food, so we had the waiter bring us the three most popular dishes: papas fritas, chile Relleno, and huevos motuleños. If breakfast burritos are more your speed, head to Tia Sophia's, which is the alleged birthplace of that very dish!
Eat enough so you're full enough to last you for hours and caffeinated enough you don't slip into a food coma because the drive to Marfa is long. Don't fret if you don't know Marfa – it's a small town in the Texas desert that became a minimalist and modern art mecca thanks to the longtime presence of Donald Judd and his foundation. It is in the middle of absolutely nowhere and feels like a miniature, warm-weather take on San Francisco.
Suffice it to say, it's a mix of everything — a bit rustic, a bit quirky, a dash of old Texas, and a bit contemporary, and that's why it's a place you have to visit at least once. If you're wondering why you'd want to spend the night here, it's one part, "trust me," but mostly it's because you'll want to stay up and see if you can spot the Marfa lights. If you decide to spend the night, stay at the Thunderbird Hotel or, for some yurt living, at the El Cosmico.
 Day 5: Marfa to San Antonio (~400 miles)
We're going to go on record and say the world's largest collection of tumbleweeds is on the stretch between Marfa and San Antonio. Or maybe that's just the impression because that's all you see for most of the 400 miles. So gas up, eat up, and get a good playlist together before you start this drive.
San Antonio is the perfect first city stop in Texas because it's so Texas — high humidity, high hair, and a whole lotta Tex Mex — and yet it's often overlooked. If you haven't been there, people will tell you to stay on Riverwalk — and it is worth a quick glimpse, but it's a bit like Disneyland-in-Texas level cheesiness if you ask us — so make time to check out the rest of town. Head to Southtown (as in the south of downtown) for classics like local-style tacos, cocktails, or coffee (scroll down for all our picks).
And before you leave town, visit the Pearl if you want to dork out food-lover style and check out everything from the Culinary Institute of America's San Antonio branch to great restaurants and a fabulous farmers market (if you're there on Saturdays and Sundays).
Day 6: San Antonio to Austin (~80 miles)
If you take Highway 130 (and you should), you can zip up to Austin in two shakes (or whatever it is they say in Texas) because, with an 85 mph speed limit, it's the fastest road in the state.
If you have time, take a couple of days in Austin because it's an amazing place, especially if you're into food. From barbecue to farm-to-table, there's too much to list here, but there's a reason we consider it one of the best road trip destinations for those living on the west coast. Check below for recommendations.
Where To Eat And Stay
Palm Springs
Scottsdale
Sedona
Santa Fe
Marfa
San Antonio
Austin
Have Us Plan Your Road Trip
Did you know we're also a boutique travel agency specializing in vacation planning? If you're looking to plan a trip, our trip planner services are here to help you plan your perfect itinerary.
---
Photo credits: Girl with a hat by Evan Dalen; Palm Springs hills by Laura Austin; open road by Leandro Crespi; adobe building by Drew Schrimsher; landscape by Suzanne Clements; cactus photo by Latisha Carlson; road closed by Tommaso Tuzj; old building photo by Hillary Fox; rock by Paul Edmondson; Austin by Tod Kapke; rearview mirror by Jeremy Pawlowski