We could dedicate this whole website to Italian pasta and still not have adequate space to cover all things Italian pasta dough.
Every region of the country has its own style and the ingredients used vary from the north (where they use more eggs) to the south (where they traditionally make an egg-less dough). And let's not get started on the flours and all the tricks (read our Pasta Making Tips Guide if you want more tips).
Let's leave it at this: if you've never made homemade Italian pasta dough before, this is a great place to start. The combination of flours and lots of eggs make this dough sturdy, easy to work with, very forgiving, and–most importantly–tastes good!
We turn this basic pasta dough recipe into sheets for lasagna, cut it into handkerchief shapes for our pesto pasta recipes, fill it for ravioli, and twist it for more delicate shaped pasta like casoncelli.
The bottom line is it's a reliable pasta dough that'll make you confident in your pasta skills, even if you're only just starting to hone them!
11 Tips For How To Make Homemade Italian Pasta Dough
Before you jump into making this pasta dough, make sure you heed these essential tips: 
Use Good Quality Ingredients
Quality ingredients means you can get quality results so opt for the best flour and eggs you can find. Also, start by measuring everything out so you can get to it. 
Give Yourself Plenty Of Space
While we have made homemade pasta with just a few square feet of room, ideally you have a large, clean counter that allows you space to roll out the dough and to set it aside to rest. 
Start With Less Flour
Good pasta dough is usually somewhere between 48 to 55% water (by weight) and that level of hydration makes for a tender pasta. Generally, start by making a wetter dough because it's easier to add more flour than it is to add water. However, be sparing with the flour because you don't want the final pasta to be caked in flour! 
Different Climates (And Weather) Need Different Amounts Of Liquid
The old adage is that Italian grandmothers make pasta by using 1 egg for every fistful of flour, which generally works out to about 100 grams of flour for every 1 large egg.
That is a great starting point; however, the climate of where you live and the age of the flour you're using will mean you need more liquid ingredients (say in an arid climate like Palm Springs) or a touch more flour (in a humid spot like Hawaii). Keep a spritz bottle of water nearby as well as a small pile of flour so you can adjust the levels as needed. 
The Ideal Pasta Dough Is Wet Enough But Not Too Much!
You're aiming for a pasta dough that's dry enough that it doesn't glop onto your hands but wet enough that it doesn't crack when it's kneaded. That said when you first pull the ingredients together into a ball and knead it, the dough will stick to your hands.
Don't add any water or flour until you've kneaded a few minutes and the dough is a cohesive ball. At that point, the liquid will have incorporated into and hydrated the flour enough that you can add more flour or water as desired.
Knead The Dough A Long Time
The longer you knead the pasta, the better the gluten and the easier it'll be to roll out later. We recommend you knead it at least 10 minutes at the start — it will be good to go once the surface is no longer sticky, uniform in color, and smooth with just a few tiny dimples on the surface. 
We should note that a lot of recipes shortcut this step by calling for a food processor but we're against that technique. It tends to result in a tougher dough and, when you account for the time it takes to clean the food processor, really only saves a couple of minutes. 
Rest The Dough Even Longer
The two ways you're developing the gluten in order to make the pasta structure is the same as with other doughs, kneading and resting. Make sure to rest it at least 30 minutes before shaping but you can also let it rest up to two days before rolling it out. 
Roll It Out By Machine Or By Hand
We grew up making pasta with the help of the classic Imperia Pasta Machine. If you're going to make pasta a lot, you might want to invest it in (or even get the KitchenAid Pasta Attachment for your stand mixer).
However, you can also roll it out by hand with the help of a rolling pin or even a wine bottle. For tips on that, watch this video by Chef Evan Funke.
Freeze To Hold The Pasta Shape
You can cover the fresh pasta with a kitchen towel and leave it at room temperature if you're going to cook it that day. Otherwise, freeze it on a baking sheet then, once frozen, transfer it to an airtight container for up to a month. This helps it stay fresh and hold its shape when it cooks!
Don't Cook Fresh Pasta To Al Dente
Fresh pasta cannot be cooked to al dente by nature of the fact it's already pretty soft when it's made. So, don't try to cook it al dente — instead, cook it just a couple of minutes in the water then transfer it to a pan with the sauce you want to serve it with and cook it an additional couple of minutes!
And Don't Drain It From The Cooking Water
Cook the pasta for just 1 to 3 minutes in heavily salted water but, when it's ready, don't drain it in a colander or it might stick together. Instead, pull the pasta from the water with tongs or use a slotted spoon and place it directly in the sauce you want to serve it with!
Okay, now it's time to stock up your pantry with all the essential ingredients, then try your hand at making this, and then share your creation with us by tagging @saltandwind and #swsociety on social!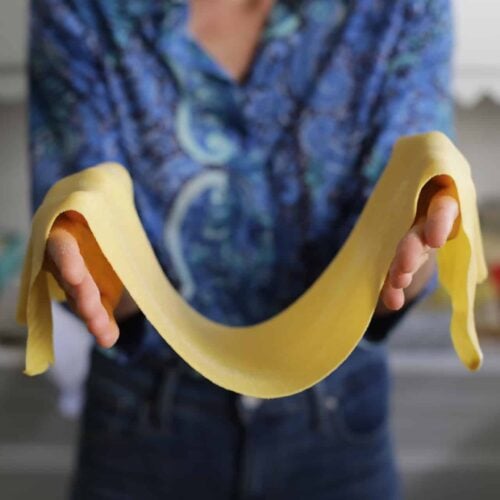 Basic Italian Pasta Dough Recipe
We could dedicate this whole website to Italian pasta and still not have adequate space to cover all things Italian pasta. But let's start at the very beginning with this easy, reliable, Basic Italian Pasta Dough recipe that you can use to make everything from ravioli to tagliatelle.
Ingredients
1

cup (5 1/2 ounces, about 150 grams)

00 flour

can substitute all-purpose flour

1

cup (5 1/2 ounces, about 150 grams)

semolina flour

can substitute all-purpose flour

3

large eggs

room temperature

2

tablespoons

extra-virgin olive oil

Splash

cold water

Pinch

kosher salt
Instructions
For The Pasta Dough: Combine the flours and a pinch of salt on a clean work surface or in a large bowl and mix until they're well combined. Whisk together the eggs, olive oil, and water, make a well in the center of the flours, and pour in the liquid mixture.

Use a fork to whisk the egg mixture as you would for scrambled eggs and bring a little flour in with each move until the majority of the flour is in the egg mixture. 

Using your clean hands, mix the remaining flour into the liquid mixture and begin to form it into a ball. Start to knead and turn the dough until it is a ball (this will take a couple of minutes).

If, after a couple of minutes, the mixture is dry or crumbly, add a splash of water and knead. The dough should be thoroughly moist and evenly hydrated but not sticky or overly damp. (You can also make the pasta dough in a food processor -- head to this recipe for that technique). Once the dough is in a ball form, knead it for 8 to 10 minutes until it is smooth and there are no cracks. Wrap in plastic wrap and set aside to rest for at least 30 minutes before using. You can use it to make sheets of pasta dough (below) and then use the sheets to make shapes (like Casoncelli or Ravioli), or form the dough into a handmade shape like these cavatelli!

To Roll The Pasta Dough Into Sheets: When it comes to the pasta, you have two options for how to roll it out -- by machine or by hand. If you're going to make pasta often, consider investing in a classic Imperia Pasta Machine (or even get the KitchenAid Pasta Attachment for your stand mixer) and then follow the instructions here. However, you can also roll it out by hand with the help of a rolling pin or even a wine bottle. For tips on that, watch this video by Chef Evan Funke.

Secure a tabletop pasta machine to a counter or fit the Pasta Roller attachment onto the KitchenAid Stand Mixer. Cut dough into six pieces (they need to fit in the Pasta Roller). Press each piece into a rectangle shape. (Cover the pieces you aren't using with a kitchen towel so they don't dry out.) 

Pull the roller adjustment knob straight out and turn to the widest setting, setting 1. Release the knob, making certain the pin on the roller housing engages the opening on the back of the adjustment knob, allowing the knob to fit flush against the roller housing.

Turn Stand Mixer to setting 2. Feed flattened lightly floured dough into rollers to knead. Fold dough in thirds like an envelope, flatten, lightly flour, and roll again. Repeat until the dough is smooth and pliable and covers the width of the roller. Lightly dust pasta with flour while rolling and cutting to aid in drying and separation.

Feed dough through rollers to further flatten the sheet of dough. Change the roller to setting 3, and repeat the rolling process. Continue to increase roller setting until you reach setting 8. Do not fold the dough during this step. Cut dough as needed to make it wieldy. Once the dough is rolled to setting 8, dust it lightly with flour then you can use it as desired to make lasagna or noodles.

If you want to cut it into noodles, let the sheets of rolled pasta rest for 10 to 30 minutes before cutting them. Otherwise, spread the pasta on a floured baking sheet, cover it with a kitchen towel, and set it aside.

At this point, you can boil it or freeze it for future use. Yields 1 pound pasta.
PERSONAL NOTES
Nutrition
Serving:
1
serving
Calories:
269
kcal
Carbohydrates:
44
g
Protein:
9
g
Fat:
6
g
Saturated Fat:
1
g
Polyunsaturated Fat:
1
g
Monounsaturated Fat:
3
g
Trans Fat:
0.01
g
Cholesterol:
61
mg
Sodium:
24
mg
Potassium:
109
mg
Fiber:
2
g
Sugar:
0.1
g
Vitamin A:
89
IU
Calcium:
19
mg
Iron:
3
mg