There's nothing quite like the vibrant green color of fresh spinach pasta. It's the pasta that makes traditional Lasagne alla Bolognese signature look and it's a tender, silky pasta that works well with a variety of lighter pasta sauces from vodka sauce to pesto. This recipe is a bit more advanced than basic pasta but so worth the effort.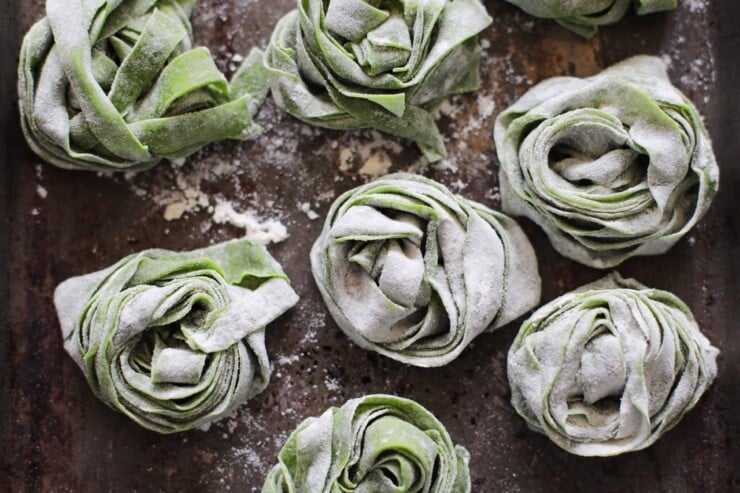 Four Key Tips For Making Homemade Spinach Pasta
Start With Our Basic Egg Pasta Recipe
If you've never made fresh homemade Italian pasta this one might be a bit of a challenge because it's a wetter and more delicate dough. Instead, we'd recommend you make the Salt & Wind Travel Basic Italian Egg Pasta Recipe (or even buy fresh lasagna sheets from your grocery store). The reason? The addition of pureed spinach means this is a wetter and slightly harder-to-work-with dough.
Follow Our Homemade Pasta Tips 
If you have made pasta before, we encourage you to try this out because the result is sublimely delicate pasta! You'll just want to heed all of our homemade pasta-making tips and keep in mind that you may need more flour than you've used in other pasta recipes because this dough can be rather wet.
Squeeze Out Excess Water 
Speaking of, the wetness of the dough is determined not only by the climate of where you live but also by the spinach puree. You'll want to squeeze out as much of the excess water from blanching the spinach as you can to keep it from being too wet.
Food Processor vs Blender
Also, it depends on how you puree the spinach. If you puree it in a food processor or standard blender it will likely have some green flecks that don't totally break down but it will result in a less wet dough. If, however, you want the dough a vibrant green, you'll want to puree it in a high-performance blender like a Vitamix but this will break the spinach dough further and the dough will be wetter. 
PIN IT FOR LATER!
Want to cook this recipe at a later date? Pin it to your Pinterest account so you can access it when you need some cooking inspiration!
Go stock up on all your cooking essentials, then head into the kitchen, make this, and share it with us by tagging @saltandwind and #swsociety on social!