The classic Negroni cocktail has been around for more than a century – as in it just celebrated its 100th in 2019 – and it's one of our favorite cocktails of ever.
The mix of equal parts of sweet red vermouth, Campari, and gin means it is a balance of sweet, bitter, and herbal. Translation: it's an extremely food-friendly cocktail.
But even the best things are worthy of a riff every now and then. In the case of a Negroni one riff, we turn to often is the white Negroni.
Who Created The White Negroni?
The White Negroni was said to have been created by London mixologist, Wayne Collins, back in the early 2000s and he stirred together bitter Suze liqueur, the French aperitif Lillet, and gin. That version is a modern classic but we don't find it to be particularly food-friendly.
Enter our take on the white Negroni made with dry white vermouth, Cocchi Bianco aperitif, and a London style (read: herbaceous and juniper-y) gin. The result is a cocktail that lives on the taste spectrum between a refreshing Gin & Tonic and a Vermouth & Soda.
Yes, those are both the go-to cocktails for tapas in Spain because they're both very food-friendly. As such this Citrusy White Negroni Cocktail recipe is refreshing, balanced, and pretty much begging to be served with your next meal.
A Word About The Liquors
Dry White Vermouth: An aromatic fortified wine made by infusing a grape spirit base with a host of aromatics like flowers, herbs, and bark, you'll come across both dry and sweet vermouth. Dry vermouth (aka white vermouth) is less sweet than red (aka sweet) vermouth. We use Dolin White Vermouth in this cocktail.
Cocchi Americano: Like a less intense and less bitter take on spirits like Campari yet more bitter than Lillet, Cocchi Americano is an aperitif wine made with quinine. In other words, it's the key to providing the cocktail's bitter note. If you can't find it, you can use Lillet though the end cocktail will be a little less bitter and sweeter.
London-Style Gin: Classically, you want to use a "dry gin" for a Negroni meaning a gin that doesn't have any added flavorings above and beyond the natural botanicals used in distilling. We like the balanced Sipsmith brand London Dry Gin for this cocktail.
Okay, that's it! Go stock up on all your bar essentials then head into the kitchen, make this, and share it with us by tagging @saltandwind and #swsociety on social!
PIN IT FOR LATER!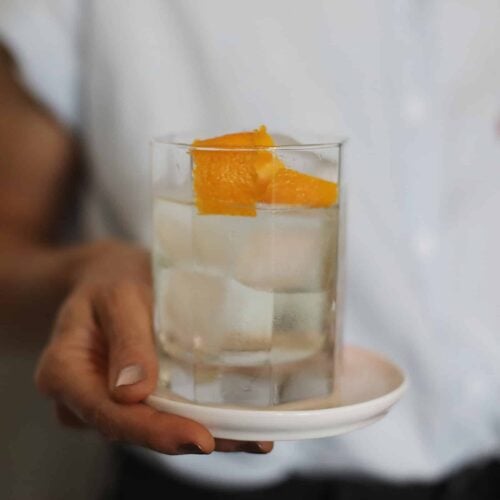 Citrusy White Negroni Cocktail Recipe
A twist on the classic Negroni cocktail this one is made with all white liquors including Cocchi Americano, gin, and dry vermouth, that is why we called it the Citrusy White Negroni Cocktail, and here is the recipe.
Ingredients
Large ice cubes

1

1/2 ounces

White Vermouth

1

1/2 ounces

Cocchi Americano

1

1/2 ounces

London Dry Gin

3

dashes

orange bitters

orange twist

for garnish
Instructions
Make The Cocktail: Fill a cocktail mixing glass two-thirds of the way with ice, then add all the liquor. Stir with a bar spoon until the mixing glass is chilled, about 15 to 20 seconds. Place a Hawthorne strainer on the mixing glass, then strain the cocktail into a rocks glass filled with ice.

Serve The Cocktail: Top with an orange twist or a slice of orange, and serve. 
PERSONAL NOTES
Nutrition
Serving:
1
g
Calories:
18
kcal
Carbohydrates:
1
g
Sodium:
0.01
mg
Potassium:
0.02
mg
Sugar:
0.4
g