Okay, true, maybe it's a stretch categorizing this Baked Chicken Parmesan Recipe as a super healthy dish, but it's waaay healthier than the classic Chicken Parmesan.
Not that I got anything against a traditional Chicken Parm! I just had more than my quota during college when I'd hit up the famous upstate New York food truck Louie's Lunch on the regular.
Healthier Baked Chicken Parmesan Recipe
Here one of the most beloved Italian-American dishes — Chicken Parm — gets a healthy twist thanks to being baked, and the addition of pesto makes it even more flavorful.
So, these days I use more egg whites than eggs, and oven bake it but, I'm sorry, I just can't cut out the cheese – I am Italian-American after all!
Oh, and my favorite part? This is actually a twice sauced Chicken Parm as it's topped with both tomato sauce and pesto. Try this Baked Chicken Parmesan recipe once and then tell me: it's habit-forming, isn't it? Of course, if you just want one or the other for the sauces — that's a-ok too. 
True, this is by no means a classic Italian recipe, so you'd never come across it when you travel to Italy; however, there's something to be said for these Italian-American dishes that are all parts delicious and comforting!
Tips For Baked Chicken Parmesan Recipe
Here are a few key tips for making this dish: 
Use Panko For Crunch: You could use homemade breadcrumbs or the Italian-style breadcrumbs but we are biggest fans of using Panko-style breadcrumbs. Buy gluten free ones if you want this dish to be gluten-free.
Fat Is Your Friend: We say it so much around here that we should probably tattoo it on ourselves but, yes, fat is your friend to help carry flavor and keep things juicy, which is why there is oil or some other form of fat (i.e. whole eggs or cheese) in various parts of the recipe.
Let The Coating Sit: Let the chicken sit with the coating on for at least 15 minutes before you cook it. This will help it adhere and stay on better.
Cook Just Until The Juices Run Clear: Sure, we gave you a precise temperature to cook this Baked Chicken Parmesan to but really you don't need a thermometer to tell it's ready. Simply insert a knife in the thickest part of the chicken then pull the knife out. If the juices run clear, your chicken is done. If not, it needs to cook longer.
Go stock up on all your cooking essentials, then head into the kitchen, make this, and share it with us by tagging @saltandwind and #swsociety on social!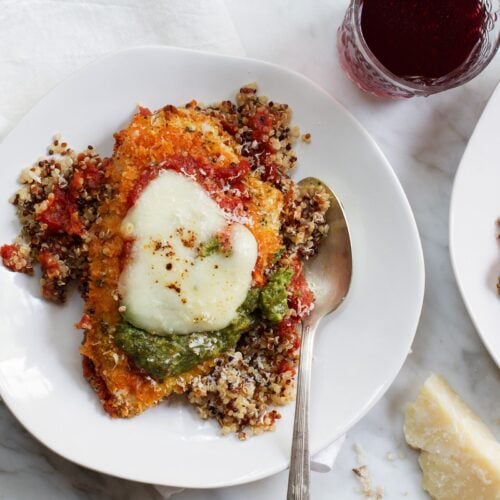 Baked Pesto Chicken Parmesan Recipe
One of our favorite Italian-American dishes--chicken parmesan--gets a healthy twist thanks to being baked and the addition of pesto makes it even more flavorful!
Ingredients
2

boneless, skinless fresh chicken breasts
For The Breading:
1/2

cup

all purpose or white whole wheat flour

kosher salt

Freshly ground black pepper

2

large

egg whites

1

large

egg

1/3

cup

finely grated Parmesan cheese

plus more for garnish

2

cups

Panko breadcrumbs

3

tablespoons

finely chopped fresh flat-leaf Italian parsley

2

tablespoons

extra-virgin olive oil
For The Toppings:
4

cups

marinara sauce

or your favorite tomato sauce

1/4

cup

pesto

4

thin slices

low-moisture mozzarella cheese

3

cups

cooked quinoa
Instructions
Trim The Chicken: Heat the oven to 400°F and arrange the rack in the middle. Cut each chicken breast in half horizontally. Set a cooling rack on a foil-lined rimmed baking sheet; set aside. Prepare The Coatings: Combine flour, 1/2 teaspoon of the salt, and 1/4 teaspoon of the pepper in a shallow bowl, mix until well combined; set aside. Combine Panko with the parsley, olive oil, 1/2 teaspoon of salt in a separate shallow bowl, toss until evenly combined, and set aside. Whisk together egg whites, egg, and cheese in a shallow bowl until evenly combined; set aside.

Coat The Chicken: Dredge a piece in the flour mixture and shake off excess. Then dip into egg mixture, let excess drip off, and finally roll in the breadcrumbs, pressing to adhere as necessary. Place chicken piece on baking sheet and repeat with remaining chicken. Bake The Chicken: Bake until coating is golden and crispy, juices of chicken run clear when poked, and internal temperature is 160°F, about 20 to 25 minutes. 

Melt The Cheese: Remove from oven, turn on the broiler. Spread a few spoonfuls of tomato sauce on the top of each chicken breast, then add one spoonful of pesto, so the top of each piece of chicken has half pesto and half tomato sauce.

Top with a thin slice of mozzarella and broil until cheese is bubbly, watching closely to make sure it doesn't burn.

Serve over a bed of quinoa and additional tomato sauce, and add some grated Parmesan just before serving. 
PERSONAL NOTES
Nutrition
Serving:
1
serving
Calories:
477
kcal
Carbohydrates:
47
g
Protein:
28
g
Fat:
20
g
Saturated Fat:
5
g
Polyunsaturated Fat:
2
g
Monounsaturated Fat:
7
g
Trans Fat:
0.01
g
Cholesterol:
90
mg
Sodium:
1779
mg
Potassium:
1082
mg
Fiber:
7
g
Sugar:
11
g
Vitamin A:
1782
IU
Vitamin C:
22
mg
Calcium:
245
mg
Iron:
5
mg