When in comes to what to eat in Zurich, it totally surprised me. Yes, there is lots of cheese, chocolate, and wine, but I didn't really think much beyond that. I'd been to other parts of Switzerland, but never to a city like Zurich: a place that's distinctly Swiss but has a touch of the culture of the neighboring countries.
What I did know is that after almost a week in this gorgeous city by the lake, I had no problem determining my favorite foods.
9 Foods To Eat In Zurich
These are foods you have to try when you visit Zurich:
Champagne Truffles: Teuscher
It's true there are Teuscher stores outside Switzerland (New York! Beverly Hills!) but there's something about going into the store in its home country that makes for a way more interesting experience, don't you think?
Admittedly, Teuscher can be a bit kitschy when it comes to how they decorate their chocolate but they're super classic when it comes to truffles. And the queen of their truffles are the Champagne truffles (I mean, they're made with Dom Perignon). I'm partial to the rose Champagne truffles but they're all delicious.
Luxemburgerli Macarons: Sprungli
Another of the great chocolate houses of Switzerland, Confiserie Sprüngli has some amazing pralines and truffles too. But they're really known for their macarons known as Luxemburgerli (think of mini macarons that are lighter and airier).
There are a ton of flavors but the ones with acid or salt (like the citrus flavors or salted caramel) were the ones we felt were most balanced. 
What To Eat In Zurich FAQs
What are some must-try foods in Zurich?
Some must-try foods in Zurich include Champagne Truffles from Teuscher, Luxemburgerli Macarons from Sprungli, Hot Chocolate from Conditorei Schober, Bircher Muesli available all over Zurich, Rosti from Hiltl, Geschnetzeltes from Hotel Ambassador, Caffe Freddo from Bovelli Caffe, and Fondue from Zunfthaus.
What is the significance of Champagne Truffles in Zurich?
Champagne Truffles are a specialty of Teuscher, a renowned chocolate store in Zurich. These truffles are made with Dom Perignon and are a classic treat to try when visiting the city.
What is Luxemburgerli Macarons and where can I try them in Zurich?
Luxemburgerli Macarons are a specialty of Confiserie Sprüngli, another great chocolate house in Switzerland. They are mini macarons that are lighter and airier than the typical macarons.
Hot Chocolate: Conditorei Schober
You pretty much can't go wrong at Conditorei Schober, a century-old patisserie and cafe that looks like a confection wonderland.
There are breads, pastries, and chocolate covering everything from strudel to macarons and croissants. We had brunch there one morning, feasting on chocolate croissants, eggs benedict, and both iced and hot chocolates. It's hard to go wrong here but the hot chocolate was a show stopper – with rich chocolate and whipped cream so thick it was like mousse!
Bircher Muesli: All Over
Yes, you can have muesli elsewhere but you'll want to try it in its hometown of Zurich. Sure, the history of this dish is a bit sterile — a doctor created the oat, fruit, nut mix for patients in his Zurich sanatorium — but don't let that deter you. It's available at most cafes where it's not just served at breakfast but truly all day. 
Rosti: Hiltl
Hiltl has some serious street cred seeing as it's on record in the Guinness Book of Records as being the oldest continuously operated vegetarian restaurant anywhere. I'm talking worldwide.
They have a buffet that rivals the best buffets in Vegas except that every one of the hundreds of dishes is vegetarian. Their veggie burger and veggie tartare are most must try but I was partial to their Swiss-style potato pancakes or rösti. Buttery, crisp on the outside, and as light on the inside, I liked it so much that I ordered it twice!
Geschnetzeltes: Hotel Ambassador
If there's only one dish you order in Zurich, have it be Geschnetzeltes, a dish so local to Zurich that it's part of the city's identity.
Almost like stroganoff and veal Marsala met and then got Swiss citizenship, Geschnetzeltes are pieces of veal (sweetbreads, kidneys, etc) cooked in a creamy mushroom-white wine sauce.
There are super old-school places to try it like Zeughauskeller but my favorite was the slightly more sophisticated version served at the Cafe Carme at the Hotel Ambassador (served with nothing less than a side of rosti)!
Caffe Freddo: Bovelli Caffe
Okay, this only applies if you're there during the warmer months, but, if you like coffee, try the Caffe Freddo at Bovelli Cafe. Like a Shakerato and a Mocha, I liked it so much that I made my own recipe for Caffe Freddo.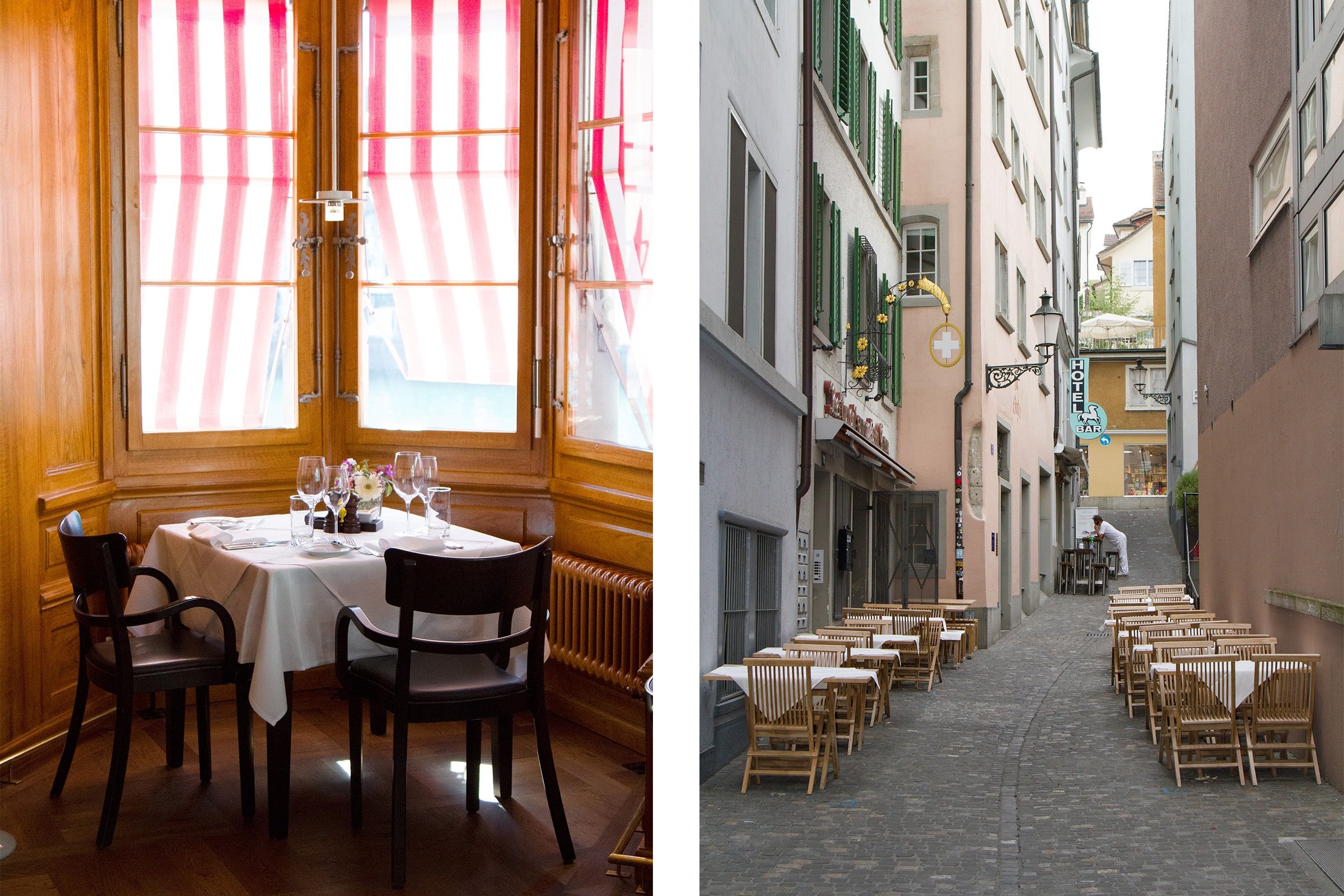 Fondue: Zunfthaus
One thing I really missed out on was fondue as it's really only served in the colder months. And, one of the classic ways to try it is by dining at one of the city's ancient guilds or Zunfthaus, many of which have restaurants.
At the Zunfthaus zur Zimmerleuten they have classic Swiss cuisine and their fondue is supposed to be noteworthy. If you'd prefer something a little more modern, head to Quai 61, a sprawling lakeside restaurant that serves local wine, fondue, and raclette on their rooftop!
Local Wine: All Over  
The big white wine here is Chasselas and it's great with fondue. Because I was there in the summer, we were drinking a lot of local rose and white wines and were particularly happy with the wine selection at Fischers Fritz and its sister restaurant, Milchbar (which has great coffee and Gin and Tonics, by the way).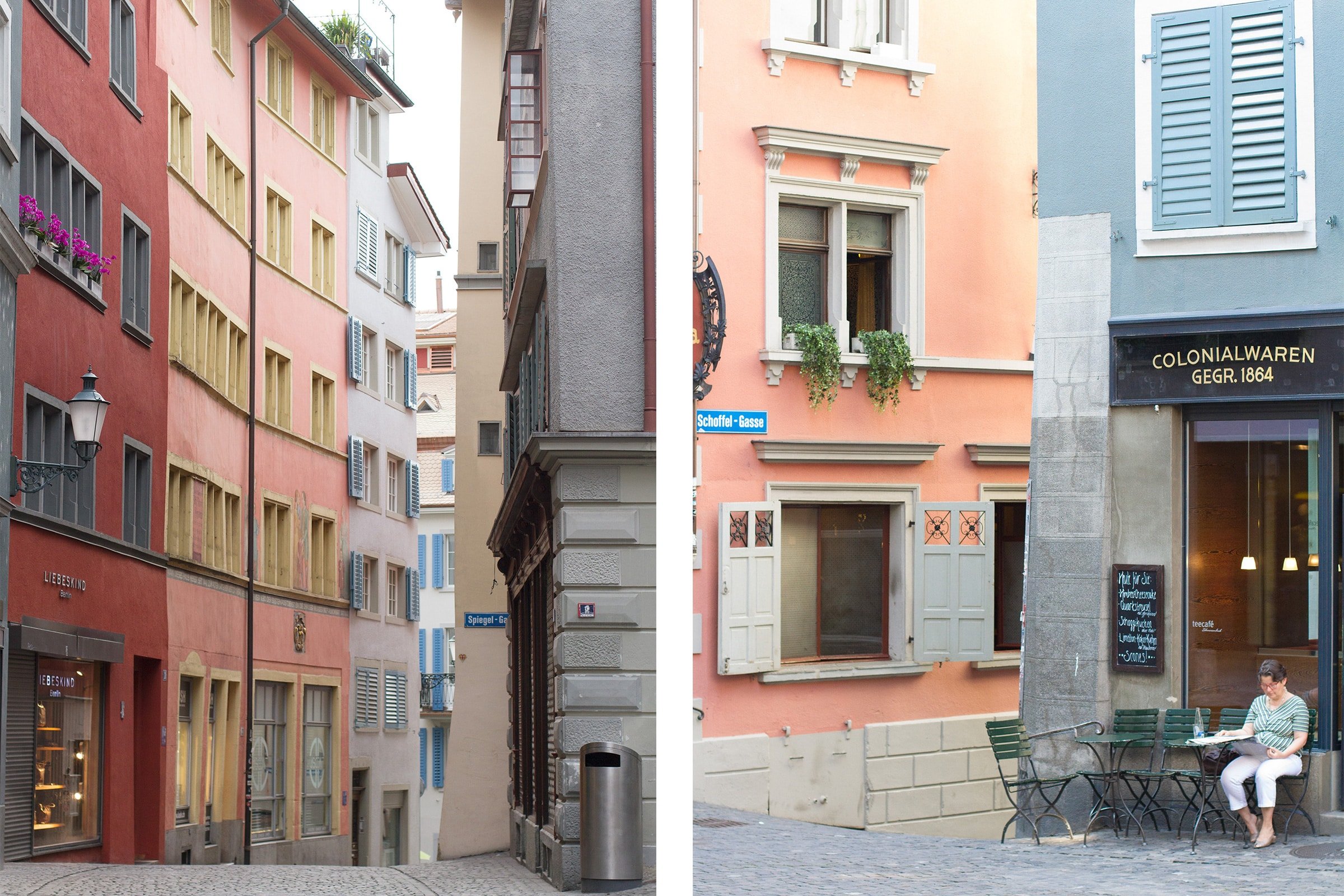 Got any other spots you loved in Switzerland? Let us know in the comments below!
Have Us Plan Your Next Trip
Did you know we're also a boutique travel agency specializing in vacation planning? If you're looking to plan a trip, our trip planner services are here to help you plan your perfect itinerary.
---
 Sponsored Post: This post was sponsored by Zurich Tourism but all content, ideas, and words are our own. Thanks for supporting these sponsors who allow us to keep Salt & Wind Travel up and running.