May we introduce you to your new favorite coffee drink? It's the Caffe Shakerato or a classic Italian iced coffee recipe.
The irony, of course, is that it's practically unknown here in the United States but it's actually ubiquitous in Italy. 
What Is A Caffe Shakerato?
There are a few things you should know about the Italian drink, Caffe Shakerato: first, it's pronounced "shake" with a "-rate" then an "o" at the end. (You know, it's one of those bastardizations of an English word that makes for an awesome word in a foreign language.)
It's a drink that sort of shows up out of nowhere once the weather gets warm. You'll be in a cafe and all of a sudden cold coffee starts showing up in Martini (sometimes wine or champagne) glasses as if they hibernate at anything less than 80°F.
I first tried Caffe Shakerato during the dog days of Italian summer. Florence was in the triple digits and the only way I could walk outside was if I jumped from shadow to shadow. I took refuge in the chichi hotel bar of the Hotel Savoy and, before I could order, the waiter asked me if I wanted a Caffe Shakerato. Truth be told, I said yes because the name sounded cool though I had no idea what it actually was.
What arrived was an espresso shot shaken with sugar and ice and served strained, which resulted in this sweet, thick espresso foam that I couldn't get enough of. The genius of the shakerato is that it's so simple but well-executed, like so many other good Italian recipes. My only complaint is that it's usually served super sugary so I always ask for it with minimal or no sugar.
Go stock up on all your cooking essentials then head into the kitchen, make this, and share it with us by tagging @saltandwind and #swsociety on social!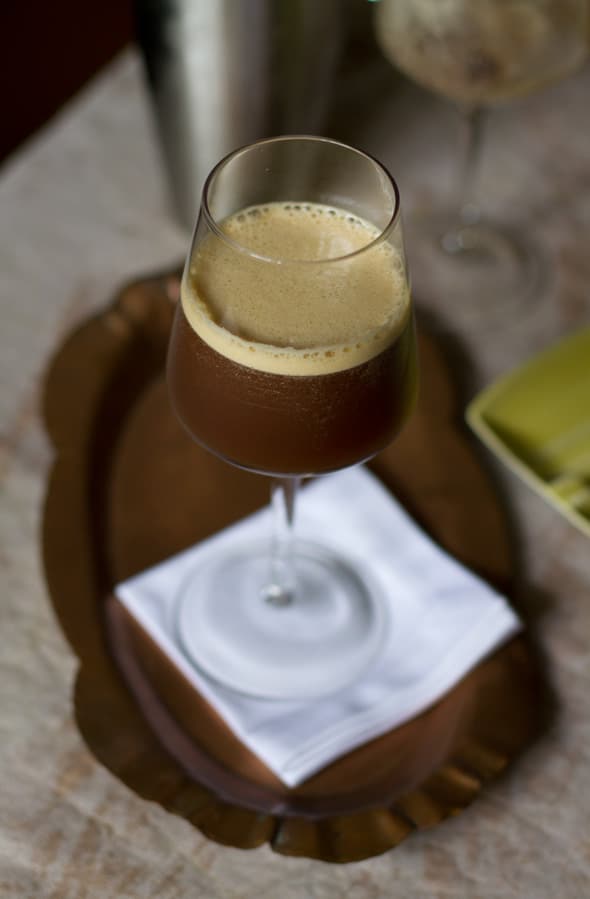 Caffe Shakerato | Classic Italian Iced Espresso Recipe
A recipe for the refreshing iced, slightly sweet espresso drink known as a Caffe Shakerato or Classic Italian Iced Espresso Recipe.
Ingredients
ice

2

shots

freshly brewed espresso

1

teaspoon

unrefined cane sugar
Instructions
Chill The Glass: Fill a wine glass halfway with ice and water and set aside to chill while you make the shakerato.

Shake The Coffee: Meanwhile, in the base of a cocktail shaker, mix together espresso and sugar until sugar is dissolved. Fill shaker with ice, close, and shake seriously hard until shaker is frosted and mixture has created a sort of espresso foam, about 20 seconds. Strain into the chilled wine glass and serve.
PERSONAL NOTES
Nutrition
Serving:
1
drink
Calories:
21
kcal
Carbohydrates:
5
g
Protein:
1
g
Fat:
1
g
Saturated Fat:
1
g
Polyunsaturated Fat:
1
g
Sodium:
8
mg
Potassium:
69
mg
Sugar:
4
g
Vitamin C:
1
mg
Calcium:
1
mg
Iron:
1
mg