It was if the skies were weeping there was so much rain falling and yet, not even 24 hours prior on the island of Hawai'i, I had been crossing fields of lava rock in heat so dry I could've baked flatbread.
After taking my Hyundai rental car to its limit by off-roading over a pothole-ridden, washed out road, I trekked by foot to access a hidden Big Island beach. It's not exactly hidden as it is a state park, but I would have zipped past the highway exit had my friend not given us detailed directions.
Happy to have found my own slice of paradise, I decided to bury myself in the sand and soak up the sun on the isolated beach. I fell asleep under a tree with the waves lapping at my feet and, for the first time all year, I felt like I was on vacation. Not even 10 minutes later, I was awoke to the sound of somebody eating behind me.
When I turned around, I saw it wasn't somebody but some thing that was eating because a group of goats were snacking just a few feet away. I had completely missed them when I arrived but realized they had set up camp in the abandoned diving cottage a few yards behind them.
I took a few photos of them enjoying the rocky terrain and, true to their nature, eating every green thing in site. Though they weren't hostile it was clear that I was on their turf so I headed out leaving them to their arid fields and rocky coastline.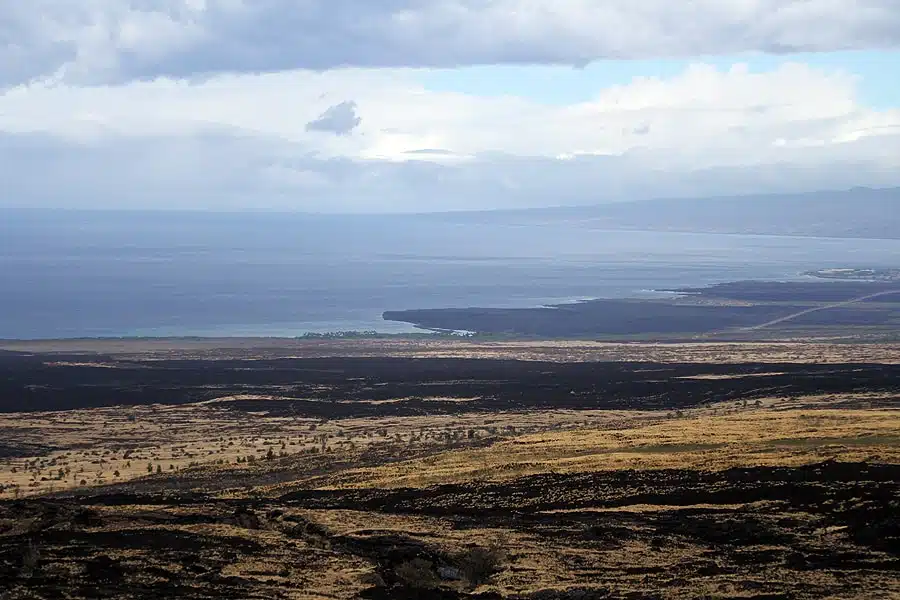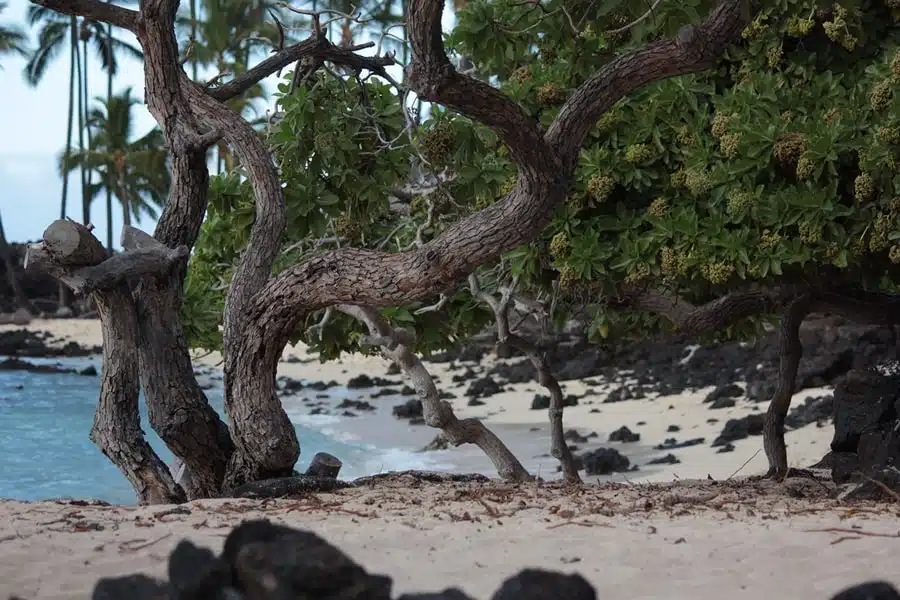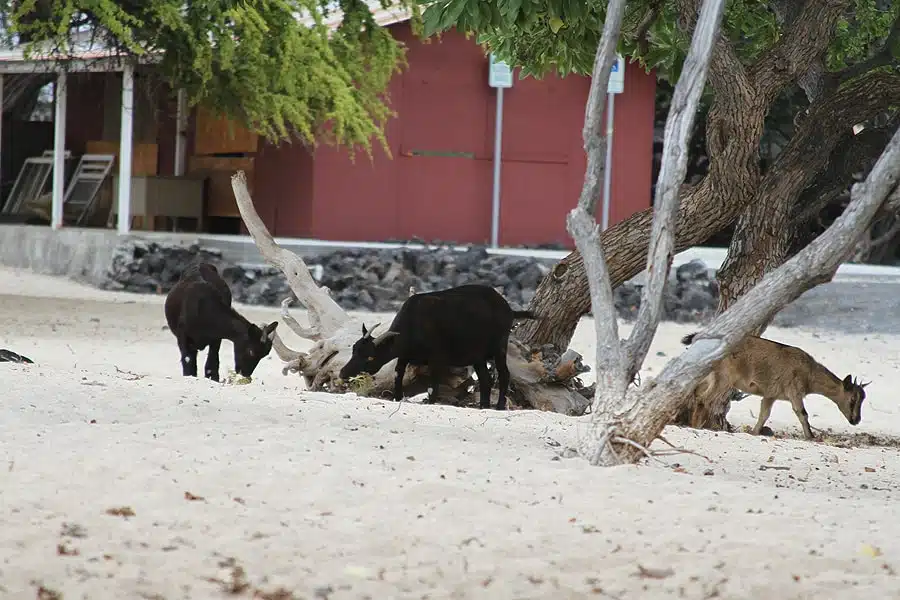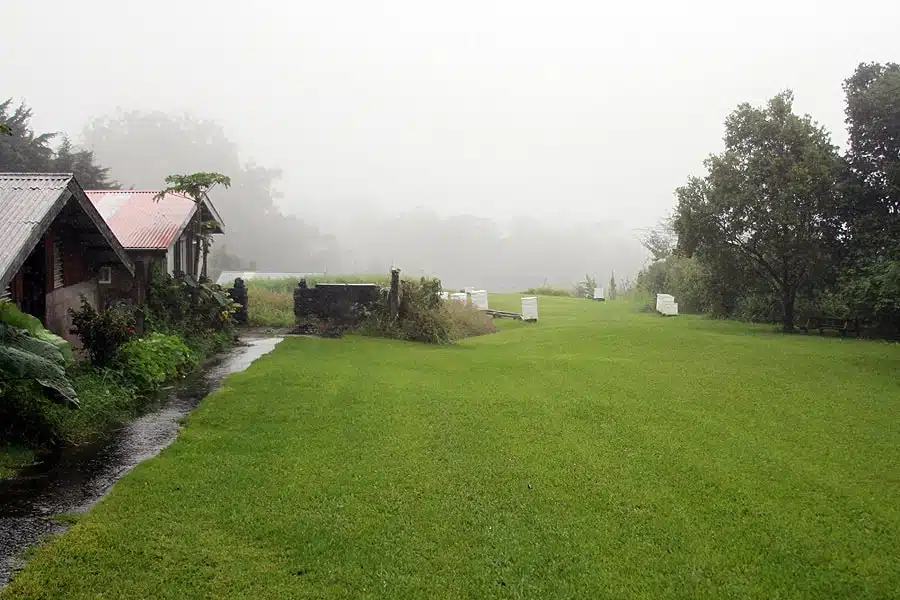 But here I was in the Kamuela area of thee Island of Hawai'i, in the pouring rain, trying to find the entrance to the Rare Hawaiian Honey Company. With no cell reception, a spinning pinwheel on my GPS, and so much rain I could barely make out the street numbers, I was quickly losing hope.
And then, like magic, I saw the red entrance sign and found myself at the farm that is both home to the company's founder, Richard Spiegel, and the honey company's headquarters.
As soon as I knew I'd be visiting Big Island, a field trip to Rare Hawaiian Island Honey became top priority. I first had their raw white honey almost a decade ago and remember having my mind totally blown.
Unlike any honey I'd seen up to that point, it had a milky color, a creamy texture, and a delicate floral sweetness. I was amazed that I could scoop it up as if it were lemon curd and, for the the first time ever, I found myself eating honey right from the spoon. I've since used it everywhere from scones and muffins to yogurt and ice cream, and even whipped with mascarpone for an easy spread. Years and years and jars of honey later, I decided it was time to meet the man who started it all.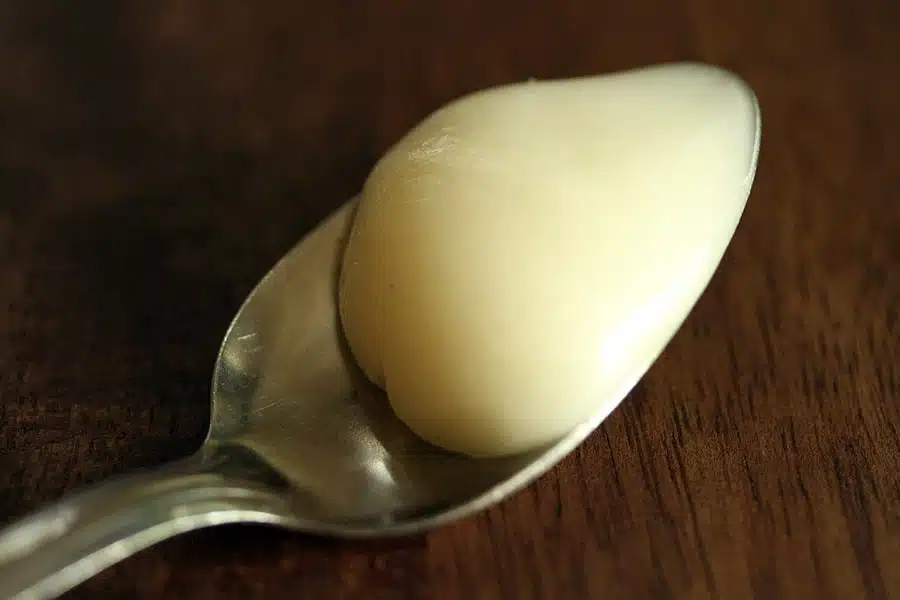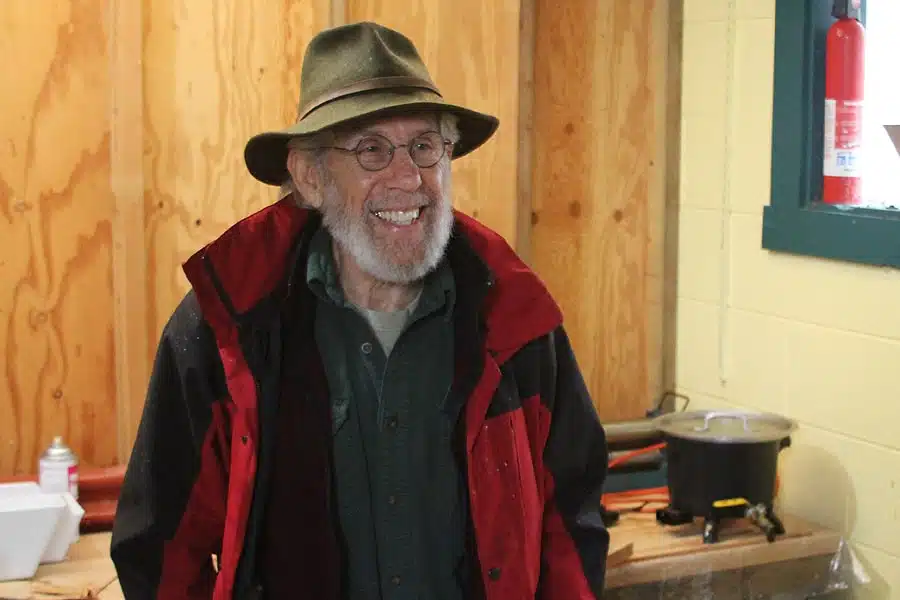 In the true Aloha spirit, Richard warmly welcomed me and stopped everything he was doing to share his story. After more than 20 years harvesting honey, it was more than apparent that he loves what he does and that he's very passionate. I wanted to understand how a lawyer in DC ended up as one of the only people harvesting this Hawaiian honey. Having had the fortune of harvesting honey in the past, I didn't feel the need to see the bees, but wanted to understand the unique story of this raw white honey.
And that's when it hit me: Rare Hawaiian Honey was known for a raw, white honey harvested from kiawe trees (Hawaiian mesquite) yet there was not a single kiawe tree to be found. Richard explained that the kiawe was on the leeward, arid side of the island near Kona (where I had my goat run-in).
The kiawe tree thrived in that climate because, at its essence, it's a desert-dwelling plant. Some people curse the kiawe tree because it's a non-native plant that grows like a weed. The reality is that this plant really has a relatively limited impact because it only grows in arid, sea level areas, which is not a large part of Hawaii.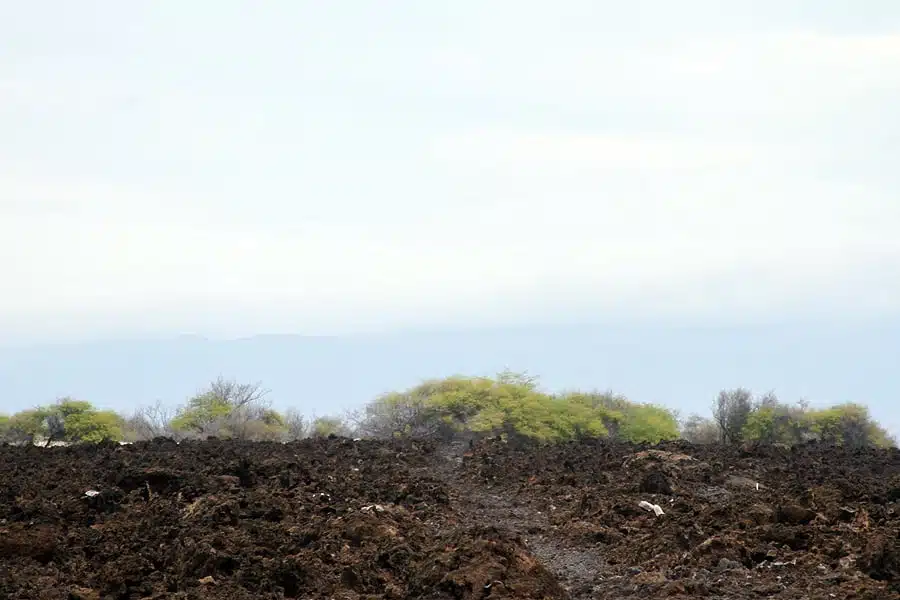 The plant is unique because it has extremely persistent, deep roots that can access water in areas where other plants die. On the leeward side of Hawaii, the kiawe drills through the lava rock and taps into aquifers of brackish water. A true oasis in the desert, these kiawe forests prevent deforestation and attract bees. Lots and lots of bees. It was then I mentioned the cottage-dwelling, kiawe-snacking goats I had come across and Richard lit up. He knew exactly which beach I was talking about as his family had a long history of diving there. And it was just a hop and skip north of there where his bees got busy. On a weekly basis, he and his team visit the bees in their kiawe oasis to carefully harvest what honey they produced.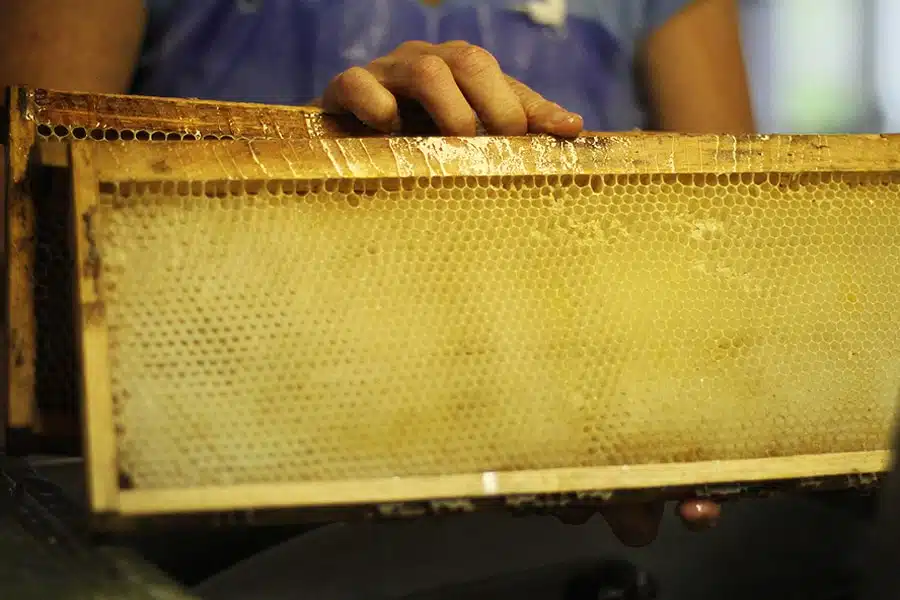 The process for harvesting honey is a bit of a chore – you already have to move slowly and calmly to make sure to not upset the bees — but this honey takes it to a whole other level. If harvested too soon, kiawe honey will begin to ferment – great if you want mead, not so much if you want stable honey – but if you harvest it too late it was crystalize. Speaking of crystallization, that's what's so unique about this honey. When harvested correctly, the honey settles into an uber-teeny network or sugar crystals which give this honey its distinct, creamy, almost silken texture.
But, the honey itself is only part of the story at Rare Hawaiian Honey because they have forged their own path in extraction too. Whereas most honey is extracted using heat, this, being a raw honey, is cold extracted which makes it that much harder. Also, unlike other beekeepers I've met, Richard and his team don't remove the honeycomb when extracting the honey. This is allows the bees to focus on honey production instead of rebuilding their houses after each harvest. A big help considering it takes over 2 million flowers to get one pound of honey.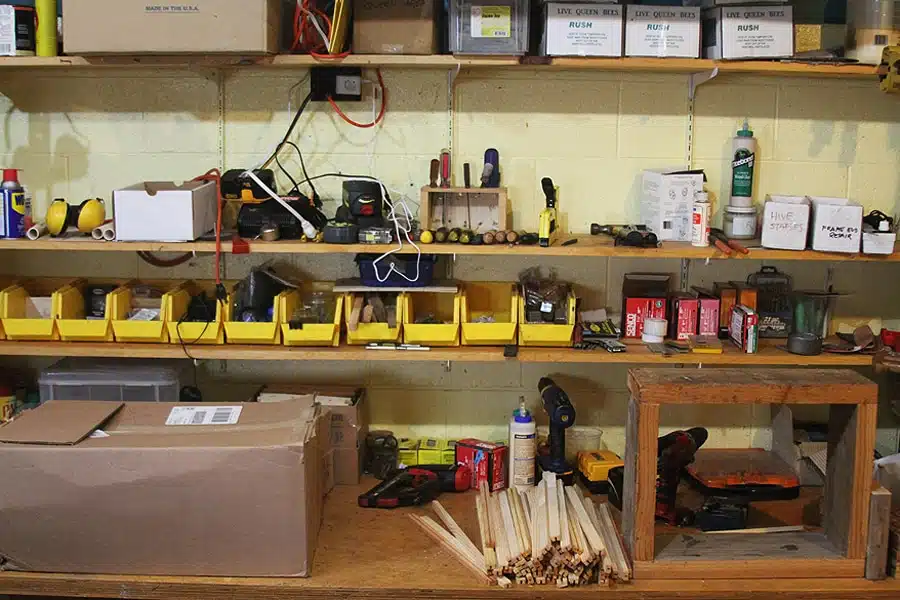 Richard and his team believe in the Hawaiian principle of malama ka 'aina, or to respect and live in harmony with the land. Since the company's inception they've made a commitment to being low-impact and highly sustainable. They go beyond the industry norm and are always looking for new ways to streamline and improve. Richard showed us this experimental workshop where they actively work to make the frames, the hives, and the productions methods as sustainable as possible. Each step through the workshop reveals another step in the hive creation and management process.
What really caught my attention was this device that looked like a honeycomb-textured pasta roller. While other beekeepers line the frames of their hives with synthetic cores, the team at Volcano Island uses this contraption to hand craft all natural wax cores. They melt beeswax on a plank, then peel it off, and run it through this machine, which imprints it with hexagons of the perfect shape and size for honeycomb creation. Suffice it to say their commitment to quality and health extends to the very core of the beehive.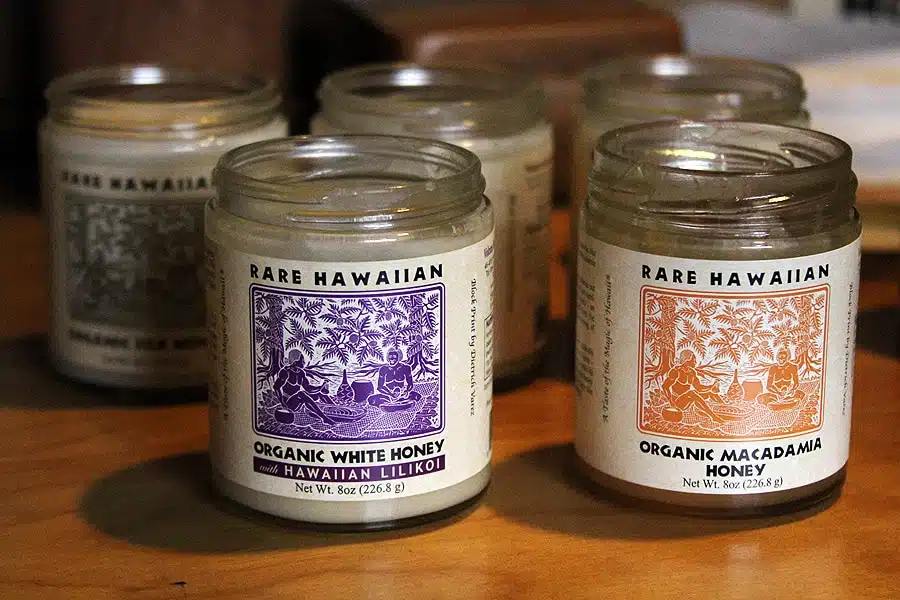 After a few cups of tea, some honey tasting, and some chatter with the gracious staff, it was time to go. I left with one thing stuck in my head: The only difference between a worker bee and a queen bee is the royal jelly that is fed to the bee destined to be a queen.
The high quality of the royal jelly works its magic and with time, a queen is born. It's the perfect analogy for Volcano Island because it's that same quality of input and care that creates this precious, rare honey.
More Hawai'i Food
Learn more about food in Hawai'i:
Have Us Plan Your Hawai'i Trip
Did you know we're also a boutique travel agency that specializes in Hawai'i vacation planning? If you're looking to plan a trip to Hawai'i, our Hawai'i trip planner services are here to help you plan your perfect itinerary.
---
Photo Credit: Kekaha Kai Beach Park photo via Flicker courtesy of troymckaskle
Hawaiian Diacritical Marks: In an effort to be accurate and respectful of the Hawaiian language, we use diacritical marks in our articles on the region. For more about which marks are used in the language and how to find proper spelling, refer to this Hawai'i Magazine article.