Most visitors hear "Mammoth Lakes" and think of skiing, but we locals can attest that the summer months are just as worthy of your attention. Since moving here four years ago, I've been most drawn to hiking at high altitude in Mammoth Lakes, California. 
Within a few miles of town, you'll find trails that provide sweeping views, trails through dense pine forests, and stunning alpine lakes. Here are the top hikes in the area and tips for dealing with the high altitude in Mammoth Lakes, California.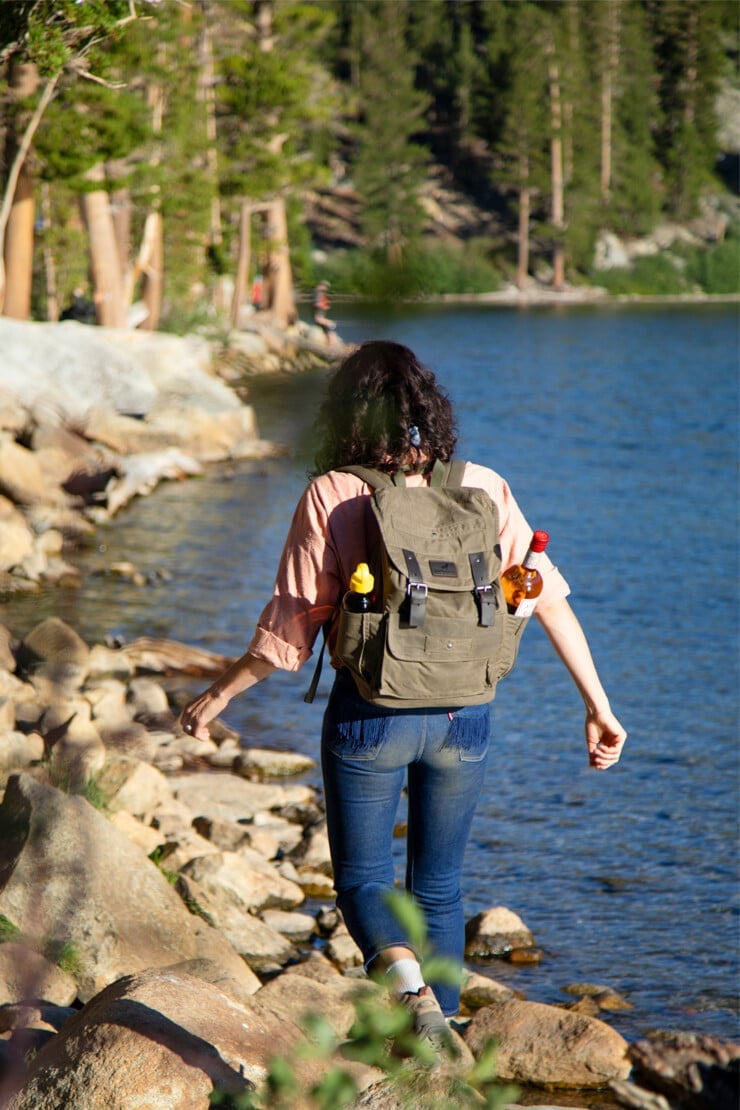 The Town Of Mammoth Lakes
You already know a bit if you've read our Mammoth Lakes travel guide. That it is situated in the Eastern Sierra Mountains in California's Mono County. Or that it started as a mining town and came into its own when local legend Dave McCoy and his wife, Roma, created the Mammoth Mountain Ski Area.
You may recall that the town sits at 7,800 feet in elevation, but you might not know that the Mammoth Mountain elevation is over 11,000 feet. That means you have many outdoor activities at high altitude in Mammoth Lakes, California. 
High Altitude Hiking In Mammoth Lakes
Though you can do all sorts of outdoor activities in the summer months, from kayaking and horseback riding to mountain biking and rock climbing, we're partial to day hikes. The best time to hike really depends on the season and the snow.
Since the Mammoth Mountain Ski Resort has one of the longest ski seasons, generally, the hiking trails are accessible from June through mid-October. We suggest hiking from mid-morning to mid-afternoon because the winds pick up almost every afternoon, and with it, the temperatures drop. Of course, you'll want to follow proper hiking etiquette while you're on the trails. 
From easy hikes you can do as a family to all-day hikes that you'll want to train for, here are the hikes we frequent as Mammoth Lakes locals:
Mammoth Lakes Basin Hikes
While you can hike throughout the Inyo National Forest, the hikes with easy access and a parking lot are those in the Mammoth Lakes Basin. Bike, walk, drive, or take the town shuttle from Main Street up Lake Mary Road to reach these trails: 
Difficulty: Easy Length: 1.4 miles Elevation Gain: Less than 50 feet Type: Loop
This 1.4-mile walk is a paved asphalt path that goes around Twin Lakes (which is actually one lake, FYI). Access the path at the Twin Lakes Vista; from it, you can see the Tamarack Lodge, Twin Lakes, the backside of the ski resort, and, depending on the time of year, a the Twin Falls waterfall. This loop is also a bike lane, so watch for mountain bikers and trail riders. 
Difficulty: Easy Length: 3.9 miles total Type: Loop
Start in the Horseshoe Lake parking lot, then take the dirt trail toward McLeod Lake. The 350-foot elevation gain is almost all at the front of this hike, after which you reach McLeod Lake, where you can circle the perimeter, picnic, or swim. Many locals take their dogs on this hike, so expect to see pups frolicking. 
Difficulty: Medium Length: 3.2 miles total Type: Out & Back
We take our out-of-town friends on this short dirt path hike to help them adjust to the high altitude in Mammoth Lakes, California. Start at the Coldwater Campground parking lot and follows signs for Arrowhead Lake. Like the McLeod Lake loop, this hike ascends just a few hundred feet and is almost entirely in the first 1-2 miles. Head to Arrowhead Lake to cliff jump, fish, or picnic, but it can have a lot of mosquitos, so long sleeves are key.
For more of a challenge, continue past Arrowhead Lake to Skelton Lake or onward to Duck Pass for a challenging half-day hike. This is a popular hike for dog owners and horseback outfitters, so it can get busy.  
Difficulty: Medium Length: 4.1 miles Type: Out & Back
The hike we do most often during summer is from Lake George to Crystal Crag. It checks all the boxes: it has easy parking, is beautiful, you pass through dense forests, and has a relatively big elevation gain (1,381 feet) in a relatively short distance. Stop halfway up for views of Lake George, Lake Mamie, Lake Mary, and the Sherwins. We like this hike because it's beautiful and shaded almost the whole way though it can get busy on the weekends.  
Difficulty: Hard Length: 13 miles Type: Loop
This hike is one we do a few times a summer to prepare for longer backpacking trips. It is an all-day affair (usually around seven hours) and covers over 3,000 feet in elevation, so you'll want to be in good shape. It is technically a loop, but the last mile or two is along the Lakes Basin road to get back to where you started. Instead, we drop a car at Coldwater Campground and then get a ride to Lake George to start.
While you can do the hike in either direction, we recommend starting from Lake George for the best views. The hike tops out above 11,000 feet, so you won't want to do this if you have any mountain sickness symptoms.
Be well stocked for this hike with standard items like water, sunscreen, and layers, as well as hiking poles, a backpack, food, a first aid kit, a GPS device, and an SOS satellite communicator. This hike has little shade, and parts may still have snow in the middle of summer, so be prepared!  While it isn't a super technical hike and doesn't have tons of exposure, it is challenging, and parts have shale that can slide, so it's not great for anyone scared of heights.  
Other Mammoth Lakes Area Hikes
While you could spend weeks exploring all the hikes in the Lakes Basin, there are numerous hikes at high altitude in Mammoth Lakes, California. Here are a few others that are accessible from town:
Difficulty: Easy Length: 4.4 miles Type: Out & Back
Head off of Old Mammoth Road down Sherwin Creek Road to reach the trailhead for this moderate hike. The trail follows switchbacks along Sherwin Creek until it reaches Sherwin Lakes, with a view of the Sherwins. The elevation gain is steady, but the trail is never steep, and the views look back on the town of Mammoth Lakes. While some of the trail is in the shade, others have full sun exposure. Many locals take their dogs on this trail, and it's popular for birding, so you will likely encounter others during this hike. 
Difficulty: Easy Length: 2.5 miles Type: Loop
The easiest hike on this list after the Twin Lakes loop, this hike only covers 180 feet of elevation over 2.5 miles. It follows the perimeter of Convict Lake, which is just south of the Mammoth airport, yet feels a world away. Tucked back in the mountains, this alpine lake is popular with everyone from fishermen to hikers and boaters. Because this is a lower elevation than the Mammoth Lakes Basin, it is often open for hiking weeks before other trails are accessible.
Difficulty: Hard Length: 5.7 miles Type: Out & Back
While most visitors take the gondola to the top of Mammoth Mountain, you can hike or run to it from Twin Lakes. This goes up a steep, gravelly trail that gains 2,372 elevations, so it's rather challenging. The route has almost no shade and can get windy, so layers are key. The payoff is one of the most incredible views of the area. Many people do this hike to prepare for longer through-hikes or ascending Mount Whitney. 
Difficulty: Medium Length: 5.1 miles Type: Out & Back
Along with the Crystal Lake trail, this hike is one that we do most often as it's a medium level of challenge but doable in under 2 hours. We like to take Old Mammoth Road and hike at the trailhead, after which we descend for the first half of the hike and have views of Mammoth Lakes Town and the White Mountains at the Nevada border. This hike has all sorts of variations, so feel free to explore. Also, know that it's a popular mountain biking and trail running route, so watch for trail traffic. 
High Altitude In Mammoth Lakes California
No matter the difficulty rating of these hikes remember that being active at higher elevations is always more difficult than at sea level. Any activity, from skiing to running to hiking, can feel almost impossible if you have altitude illness. But what is altitude sickness, and how do you avoid it? 
What Is Altitude Illness?
The air at higher elevations is thinner, meaning it has less oxygen and humidity. To compensate, your body works harder to access the same amount of oxygen. Maybe you feel out of breath when climbing stairs or heading down a ski run. The bottom line is your body needs more water to overcome that, and if it doesn't have it, you can feel crummy.
According to the CDC, there are actually three levels of altitude illness. The mildest symptoms are similar to those of an alcohol hangover, like a headache, muscle fatigue, insomnia, and shortness of breath. 
Four Tips For Dealing With High Elevation
Luckily, there are a few steps you can take to ward off the effects of high altitude in Mammoth Lakes, California:
Give Yourself Time
Your body needs 24 hours to acclimate before being active. So, if you're going to head out backpacking, mountain biking, or skiing, aim to arrive at altitude a day in advance. Even if you can't make it a full 24 hours ahead, plan to sleep at elevation as it will help. 
Stay Hydrated
Keeping hydrated is the number one thing you can do to prevent altitude sickness. So drink water before you reach the mountains and keep at it once you arrive. Plan also to load up on electrolytes since you'll likely sweat a lot if you're active. Oh, and be sure your bedroom has a humidifier because it will help a lot!
Avoid Alcohol
We know you're on vacation, but the truth is alcohol can hit you hard and fast at elevation. Dial back your drinking, and be sure to drink water too.
Take Some OTC Medicine
A few ibuprofen can do wonders in getting rid of altitude-related headaches.
Move To A Lower Elevation
If none of the above are working, go ahead and move to a lower elevation. Luckily, that is as simple here in Mammoth as driving 40 minutes south to Bishop! While there, you can hike, bike, or even hit up some natural hot springs. 
Other Things To Do Near Mammoth Lakes
That's just a peek into a few of the hikes we frequent here in Mammoth Lakes. The are all sorts of day trips you can do, too, like a visit to Mono Lake, Yosemite National Park, or Devil's Postpile National Monument. Check out our full guide for more tips and our list of favorite restaurants for eating local. 
Have Us Plan Your California Trip
Did you know we're also a boutique travel agency specializing in California vacation planning? If you want to plan a trip to California, our California trip planner services are here to help you plan your perfect itinerary.