Things you can rely on around here: we're always game to talk travel, we love an interesting wine, and when we're hosting a crowd, this Chicken Tinga recipe will make an appearance. 
Why? Because it's the Goldilocks of recipes — not too spicy, not too complicated, not too heavy, but just right. It's as perfect for a DIY taco night as it is a nacho topping or, our personal current favorite, on tostadas with a cool, crunchy radish pico de gallo salsa. 
What Is Chicken Tinga?
Chicken Tinga (aka Tinga De Pollo) is a recipe made up of shredded chicken served in a tomato and chipotle sauce. Chicken tinga hails from Puebla — a Mexican state that lays claim to some of our favorite classic Mexican foods like Mole Poblano and Chiles En Nogada. When you travel to Puebla, you'll come across these dishes a lot, and variations abound. We tend to turn to tinga the most because it's simple to make and can be made on your stovetop or your slow cooker. 
How To Serve Chicken Tinga
This is a recipe that has kinda endless uses. We've put some on a salad with beans, avocado, and crumbled cheese. We've added it to breakfast, from topping chilaquiles to a makeshift morning hash.
We've stuffed it in tacos or even added it to deconstructed burrito bowls (above) and served them on tostadas! As the name says here, this is the Chicken Tinga Tostadas With Radish Pico De Gallo Salsa recipe.
Slow Cooker Chicken Tinga
Yes, you very much can make this recipe in the slow cooker. You could dump all the tinga ingredients (the onions, chipotle, tomatoes, broth, bay leaf, oregano, and chicken) in the cooker and then set it and forget it. But we recommend you sauté the onions first because it'll help add lots more flavor.
Once the ingredients are in the slow cooker, let it cook for about 3 to 4 hours on LOW or 1.5 to 2 hours on HIGH. Then remove the chicken and shred it, blend the sauce (if you want — you can also leave it unblended), stir the chicken and sauce together, and serve!
Make Mini Tostada Bites
Note that this recipe makes 10 tostadas, which is enough for 4 to 6 servings for this dish as a main course. To make them for a cocktail party appetizer, use round tortilla chips or cut 2-inch rounds out of tortillas and toast them. You should be able to get 24 to 30 small bites out of the recipe if you do it that way!
Recipes To Serve With Chicken Tinga
Depending on how you're serving the Chicken Tinga, you might want to serve them with a side or two, be it beans, rice, or veg. Here are some recipes we serve with it on the regular: 
About Radish Pico De Gallo Salsa
Finally, a note about the salsa. Ask yourself if this is classic Pico De Gallo salsa with radishes instead of tomatoes? Well, yes, you're correct! We love using freshly made Pico De Gallo on dishes that need some acid and freshness but the result is underwhelming if you can't get uber-fresh tomatoes. Our solution is to make Pico De Gallo with radishes instead!
The only difference from the classic salsa is that you want to add in a lot of lime juice — to help bring out the floral and less harsh flavors in the radishes — and you'll want to stir in a spoonful of oil to help meld all the flavors.
Oh, and as with classic Pico De Gallo, be sure to serve this salsa within about an hour of when it's made because that's when the flavor and texture are top!
Now, go stock up on all your cooking essentials, then head into the kitchen, make this, and share it with us by tagging @saltandwind and #swsociety on social!
See The Recipe Made Step By Step
Heads up that Aida made this recipe on her IGTV so head there to check it out! And, as always, share your baking creations with us by tagging @saltandwind and #swsociety on social!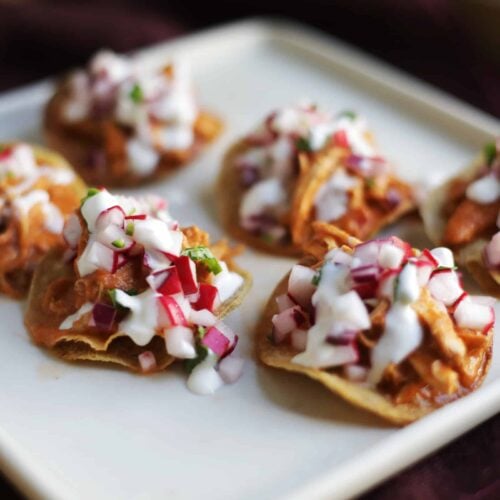 Chicken Tinga Tostadas With Radish Pico De Gallo Salsa Recipe
This is a healthy easy recipe for chicken tinga that gets put on tostadas and topped with a crunchy, fresh radish salsa.
Ingredients
For The Chicken Tinga:
3

tablespoons

extra-virgin olive oil

or avocado oil, divided

2

medium

red onions

divided

Kosher salt and Freshly ground black pepper

1

(15 ounce)

can crushed or pureed tomatoes

3

to 4 canned

chipotles en adobo

plus 1 tablespoon sauce from can

1

teaspoon

dried Mexican oregano

1

medium

bay leaf

1

cup

low-sodium chicken broth or water

2

to 3 pounds

boneless, skinless chicken

trimmed of any excess fat
For The Radish Pico De Gallo:
8

medium

radishes

small dice (about 1 1/2 cups)

1

medium

serrano or Thai chile

minced

1/4

cup

freshly squeezed lime juice

1/3

cup

fresh cilantro leaves

thinly sliced
For Serving:
12

(5 inch)

tostadas

Crema or sour cream

for serving
Instructions
Start The Chicken Tinga: Heat 2 tablespoons of the oil in a large, heavy-bottomed Dutch oven over medium heat. Take 1 1/2 halved red onions (i.e., 3 red onion halves) and thinly slice them into half-moon shapes. Add the onion and salt, add black pepper to the pot, and cook until golden brown and soft, about 10 minutes.

Add the canned tomatoes, the chipotles and adobo sauce, oregano, and bay leaf, and, using a spatula or wooden spoon, scrape up any browned bits on the bottom of the pot. Add the broth and the chicken, stir to coat, and cook, turning every 10 minutes or so until the chicken is easily shredded with a fork, at least 45 minutes.

Shred The Chicken: Remove the chicken from the sauce, place it on a board, and shred it into bite-sized pieces with the help of two forks. Meanwhile, discard the bay leaf and place the remaining sauce ingredients --  tomatoes, broth, chipotles, adobo sauce, and herbs -- in a blender. Puree until smooth, then taste and add more salt or pepper as desired.

Return the sauce to the pot along with the shredded chicken, season with salt and pepper, and simmer over low heat until slightly thickened, about 5 to 10 minutes. 

TIP: Tinga can be made entirely up to three days ahead of time. Store refrigertated in an airtight container and rewarm when ready to use.

Make The Radish Pico De Gallo Salsa: Take the remaining 1/2 red onion and mince it. Combine the minced onions with all the minced radish, serrano chile, and lime juice. Stir in the last 1 tablespoon of oil and season well with salt and pepper. Snip or thinly slice the cilantro, stir it in, and serve immediately. 

Assemble And Serve The Tostadas: Top each tostada with a few spoonfuls of the chicken tinga, top with a spoonful of the salsa, add a drizzle of crema (or sour cream thinned with water until it's pourable), and serve immediately.
PERSONAL NOTES
Nutrition
Serving:
1
g
Calories:
59
kcal
Carbohydrates:
4
g
Protein:
1
g
Fat:
5
g
Saturated Fat:
1
g
Polyunsaturated Fat:
1
g
Monounsaturated Fat:
3
g
Trans Fat:
0.002
g
Cholesterol:
0.2
mg
Sodium:
18
mg
Potassium:
78
mg
Fiber:
1
g
Sugar:
1
g
Vitamin A:
50
IU
Vitamin C:
4
mg
Calcium:
12
mg
Iron:
0.3
mg