These spiced apple hand pies are a culinary panacea.
We know, that sounds like hyperbole but seriously pretty much any and everything is improved by their presence. Road trips are better, breakfast is sweeter, and holidays are that much simpler. 
Yes, these are essentially apple pies, which are as American as can be. But the addition of fresh thyme, cinnamon, and shredded cheese means they ride the line between sweet and savory. Translation: they'd be just as at home on a dunk and slather appetizer platter as they would as for afternoon coffee or dessert.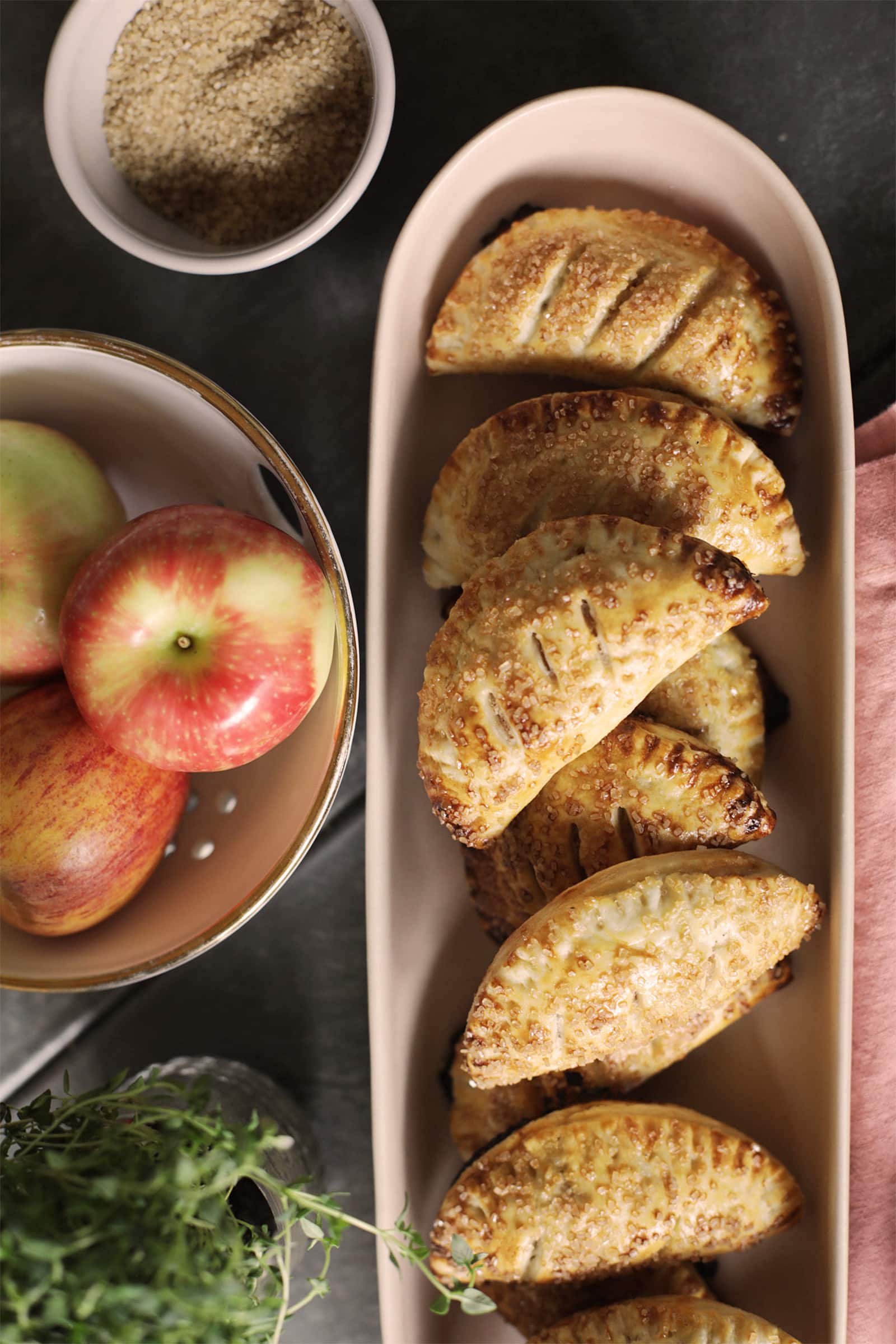 What Are Hand Pies?
Before we go any farther we should talk for a sec about hand pies. While it's said the Greeks were the first ones to have the genius idea to wrap the pastry around all sorts of fillings, the hand pie is a more recent creation.
You can take a look at pretty much any classic cookbook from Britain and you'll see a sort of hand pie (often called pasties) pop up on many a page. But the recipe we call a hand pie here in the States? That comes straight from the South.
A traditional Southern hand pie actually uses a twist on biscuit dough for the crust and the filling is historically something akin to dried fruit. These days you'll see all sorts of twists on that with many people simply making handheld forms of their favorite pie (like we've done here) and coining it a hand pie.
Is This A Traditional Hand Pie Recipe?
So, no, this recipe is not an uber traditional hand pie because it's made with pie dough and the filling is a twist on classic apple pie.
In fact, the origin of this recipe is from a lot of different places yet simultaneously from nowhere. I like sauteéd apples with thyme on my pork chops, apples and aged Gouda as a snack, and classic apple pie in the fall, so I combined them all in these bitty hand pies.  
Tips To Make These Hand Pies
Feel Free To Swap In Your Favorite Crust
The pie crust recipe here is our go-to pie crust because it's very easy to work with and has great flavor. Feel free to do half butter and half lard for an even flakier result. Or even use good quality store-bought crust to make it that much easier.
Opt For Really Good Aged Cheese
No seriously, the apples and the cheese make it so get a good quality cheese. Anything aged and semi-soft to the firm would work here including Parmigiano, Grana, Manchego, Cheddar, Gouda, Jack Cheese, or even Brie.
Choose A Not-Too-Tart Apple
Just a heads up that a super tart apple like a Granny Smith will overwhelm the flavors so opt for something sweeter like a Gala, Fuji, Honeycrisp, or Pink Lady.
Make Them Ahead Of Time
Freeze them up to a month in advance and just pop them in the oven (a few minutes longer than the recipe calls for) whenever sweets are in order.
Variations On This Recipe
Without a doubt, the sweet-savory nature of these hand pies means that it's a bit more of a grown-up dessert than one that kids would like. But you could take this recipe and tweak it to your liking. Here are a few twists we fully endorse:
Pear And Gruyere
Apple, Brie, Honey, Cardamom
Quince Jam (Membrillo), Manchego, Honey
Okay, now go stock up on all your cooking essentials then head into the kitchen, make this, and share it with us by tagging @saltandwind and #swsociety on social!
See The Recipe Made Step By Step
Heads up that Aida made this recipe on her IGTV so head there to check it out!
PIN IT FOR LATER!
Spiced Thyme And Gouda Apple Hand Pies Recipe
An easy recipe for a sweet-savory twist on traditional Apple Pie. The spiced apple hand pies combine fresh thyme, lemon, cinnamon, cheese, and apples for a delicious but unexpected treat.
Ingredients
For The Pie Crust:
3

cups

all-purpose flour

divided, plus additional flour for rolling the dough

3/4

teaspoon

kosher salt

divided

1/2

pound

cold unsalted butter

cut into small pieces, plus 2 tablespoons unsalted butter at room temperature, for filling

6

tablespoons

granulated sugar

divided

1/2

cup

ice water

(may need up to 2/3 cup)
For The Apple Hand Pie Filling:
1

pound

Golden Delicious, Gala, or Pink Lady apples

(about 2 medium)

1

cup

shredded aged Gouda or Cheddar cheese

(about 3 ounces)

1

tablespoon

fresh thyme leaves

finely chopped

2

teaspoons

freshly squeezed lemon juice

1

teaspoon

lemon zest

1/2

teaspoon

pure vanilla extract

1/4

teaspoon

ground cinnamon

2

large

egg whites
For The Wash:
2

tablespoons

heavy cream or milk

for wash

1

large

egg yolk

Turbinado or sanding sugar

for garnish
Instructions
Make The Pie Crust: In a large bowl, mix together the 3 cups of measured flour, 1 tablespoon of the granulated sugar, and 1/2 teaspoon of the salt until well combined. Using clean hands, add the 16 tablespoons of diced cold unsalted butter and toss until the butter is just coated in the flour.

Rub the butter between your thumb and forefingers to incorporate into the flour mixture until the butter is in lima bean-sized and pea-size pieces. When the mixture is squeezed, it should hold together in fist-sized clumps.

Drizzle half of the ice water over the flour mixture and, holding your hand like a claw, rake through the mixture with fingers until just starting to get evenly moistened.

Drizzle in the remaining water 1 tablespoon at a time and comb through the mixture with fingers to moisten. It will go from being a shaggy mess to coming together. The dough is moist enough when it is evenly hydrated but is not wet or sticky when pressed. (Do not overwork the dough or it will become tough.)

While rotating the bowl with one hand, push dough between the second hand's palm and the side of the bowl to gather into two balls. Turn the dough balls onto a piece of plastic wrap, press them into flat disks, then close them in the wrap. Place the disks of dough in the coldest part of the refrigerator (usually at the back bottom shelf) for at least 30 minutes before rolling out and forming into a crust.

Prepare The Apple Hand Pie Filling: Meanwhile, peel the apples and cut them into small (1/4-inch) dice. Combine the apples with the remaining 2 tablespoons of the measured flour, all the shredded cheese, the remaining 5 tablespoons of the granulated sugar, the 1/4 teaspoon salt, all the thyme, all the lemon juice and zest, the vanilla, and the cinnamon in a large bowl and toss to combine. Set aside.

Assemble The Hand Pies: Divide the dough disk in half and return one half to the refrigerator. On a clean, flat, lightly floured surface, roll the dough into a circle with a 1/8-inch thickness. Use a 4-inch biscuit cutter to cut into rounds. Place rounds on a baking sheet and chill until ready to use.

Chill the remaining dough briefly (about 5 minutes) then reroll and cut dough as needed until you have 12 rounds. Repeat with the remaining half of the dough until you have another 10 rounds (20 total).

Place 1 scant tablespoon of the filling in each dough round and divide softened butter evenly among the dough rounds. Beat the egg whites until smooth, then brush the perimeter of each round with a bit of the egg whites. Fold the round over the filling so the hand pie is in a half-moon shape.

Use your fingers to press down to seal the edge then, using a fork lightly dipped in flour, crimp the edge to make sure the pie is fully closed. Repeat to make all the hand pies. Place on a rimmed baking sheet and freeze at least 20 minutes to set up.

Bake The Hand Pies: When ready to bake the hand pies, heat the oven to 400°F and arrange racks in the upper and the lower third. Meanwhile, combine the remaining egg yolks and cream or milk (it can also be water) in a small bowl and beat with a fork until smooth.

Use a sharp knife to slice three small vents in the top of the pies then brush the tops with egg wash and sprinkle generously with sanding or turbinado sugar.

Bake, rotating baking sheets halfway through, until hand pies are crisp, set, and tops and bottoms of pies are golden brown and the filling is bubbling, about 30 minutes. Set aside for a few minutes to cool slightly before serving.
PERSONAL NOTES
Nutrition
Serving:
1
pie
Calories:
192
kcal
Carbohydrates:
19
g
Protein:
4
g
Fat:
11
g
Saturated Fat:
7
g
Polyunsaturated Fat:
1
g
Monounsaturated Fat:
3
g
Trans Fat:
1
g
Cholesterol:
46
mg
Sodium:
187
mg
Potassium:
57
mg
Fiber:
1
g
Sugar:
6
g
Vitamin A:
380
IU
Vitamin C:
2
mg
Calcium:
48
mg
Iron:
1
mg