You booked your flight, have your travel itinerary planned, and a hit list of what to do in Mexico City. Now all you need to plan? What to pack for your Mexico City trip!
ICYMI, our founder, Aida, has been spending a lot of time in Mexico in prep for the upcoming Salt & Wind Trips. Between hosting group trips to Mexican wine country and hanging in Mexico City, she's clocked in a lot of time south of the border and has learned what to pack.
While you can do resort chic in Tulum or boho babe in the Valle De Guadalupe, Mexico City is distinct. The capital is more like New York in that jeans and a tee is a norm for most ladies (and dressing up for a nice meal or a social event is not out of the question).
Add to it that Mexico City is at a high elevation (so the weather is cooler and more temperate than other tourist spots in Mexico), and well, you'll want to dress more like you're in San Francisco than San Miguel de Allende.
What To Pack For Mexico City
From what to wear to the markets to a high-end restaurant, here's our advice on packing for Mexico City.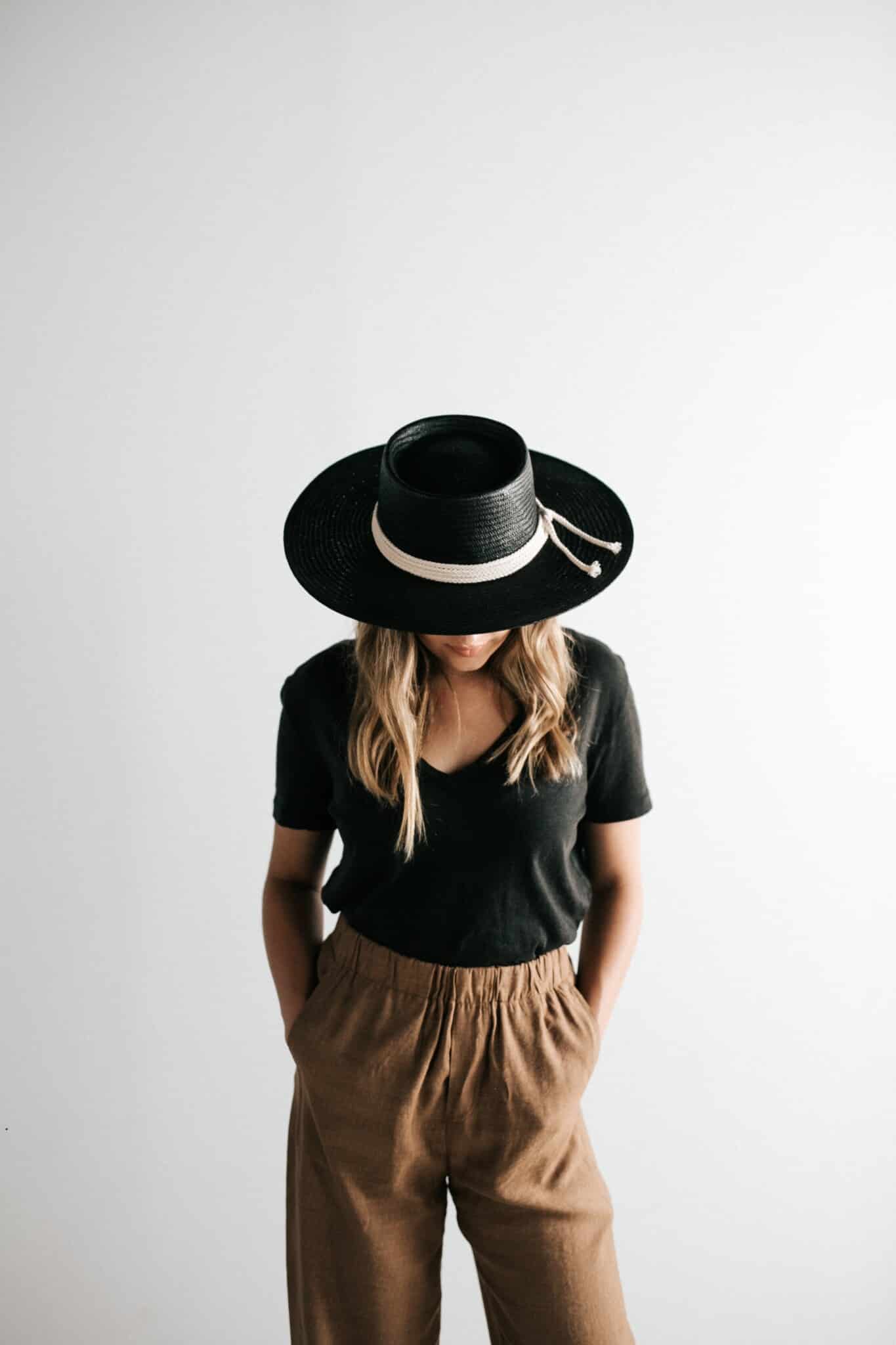 Honestly, this isn't so much a Mexico City packing tip, as a general one: always bring a hat so you can protect your skin from the sun! Yes, we sunscreen like it's the end of days, but you need extra protection in a place that's as high elevation as Mexico City. And, if we're going to bring a hat, it might as well be Instagram-able like this woven hat from Gigi Pip.
Most ladies wear pants when walking around most of Mexico City — yes, it's a bit because it's practical in a big metro area, but also because, like some of our other favorite cities, wearing something more revealing could result in unwanted attention.
Our solution is to pack a pair of classic high-waisted trouser-cut jeans like these from Imogene + Willie so we can be fashionable while on the go.
Chichi events notwithstanding, you can get away with wearing something relatively casual (so long as it's put together) anywhere in Mexico City. But for nicer dinners or nights out, we like to bring a little extra something, something like these Madewell velvet pants, which, of course, have an elastic waist so you can eat your heart out and still be comfortable chic.
For those days when you head out mid morning and stay out all day, you'll want a top that can go seamlessly from a visit to Bellas Artes to cocktail hour. That's when we opt for this form-fitting scooped number by our fellow Angeleno friends, Reformation.
It reasons that a place as colorful and vibrant as Mexico City warrants a colorful and vibrant wardrobe. The key is to do it without being cliché, say, being the non-local girl in the embroidered Mexican folk dress. That's when we opt for a colorful top like this red number by Sea, which goes as well over a mini as it would be tucked into a pair of wide-leg trousers.
Okay, you're right; wearing this bonita (i.e., Spanish for "lovely") top might be a tad too meta in a Spanish-speaking country. But whether it's this by Sol Angeles or another, be sure to pack a tee that works as well over jeans as tucked into a skirt.
During Mexico City's hotter months (especially May), we pretty much live in skirts and dresses. A flouncy, longer skirt like this Anthropologie pleated skirt works perfectly!
It's hard for us to pick just one Christy Dawn dress we'd want to pack because they almost all work for a place like Mexico City. If we had to choose, this rust wrap number would be our number one option as it's packable and chic.
A lot like our hometown of Los Angeles, Mexico City tends to have cooler nights. So, do not even think of packing for Mexico City without including at least one long sleeve top. We like the idea of this knit top from Anthropologie, which would look as good on its own as it would layered.
Along those lines, you'll want one jacket for your trip to Mexico City. During the rainy season, you'll also want an umbrella and a rain slicker. The rest of the year, you can get away with a jacket like this Free People perforated leather piece which can be thrown over a dress or layered with scarves and sweaters in the winter.
One thing we've noticed on our travels: women from the USA are always easy to spot because they tend to have the most enormous bags. When you travel, opt for something smaller that's less showy and, ideally, can be worn crossbody for extra protection. This woven bucket bag from Mar Y Sol is from Mexico, so it's perfect for traveling there.
One of our never-ending shopping missions in life: finding a fashionable flat that's walkable, affordable, and cute. Enter this slingback from Everlane that comes in various colors and works as well for day as night. Another great option would be these pony-print mule flats from Able.
We pretty much always pack a pair of sneakers, and while we love cute slip-on sneakers, we like something a little more interesting and less trendy. Say something in canvas (that's washable) if you're going into fields or anywhere else kinda dirty and something like these stylish leather sneakers by Soludos for a fashionable shoe you can wear with skirts, dresses, or pants.
Have Us Plan Your Mexico Trip
Did you know we're also a boutique travel agency that specializes in Mexico travel planning? If you're looking to plan one of the best trips to Mexico, our Mexico trip planner services are here to help you plan your perfect itinerary.
Photo Credit: Kristen Kellogg