Aida – our professional eater, Editor-In-Chief, and LA native – invites us along as she sets out for her One Perfect Day in West Hollywood, California. As a native Angeleno, I heart my hometown so very very much that it's hard to decide on just One Perfect Day. LA is just too big a city to get it all done in one day so we'll split it up into neighborhoods (yes, we have those here) and, over time, we'll share our favorites in each and every corner of the city.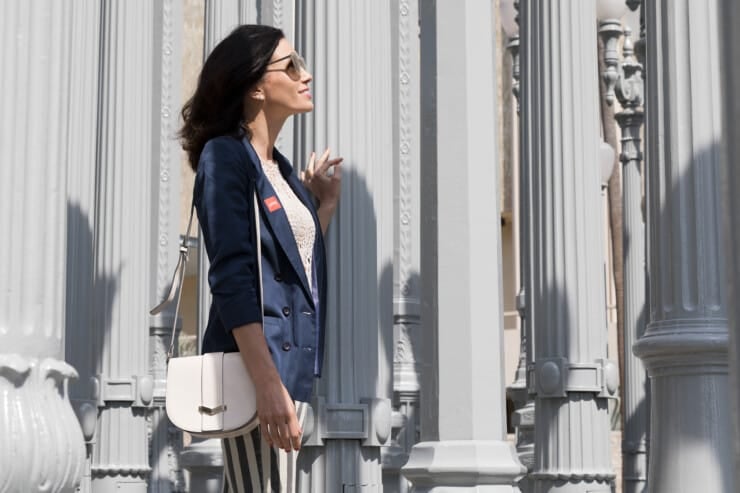 West Hollywood Itinerary
8:00 AM: Alfred Coffee & Kitchen
I've been into pour-over coffees for so long that I couldn't recall the last time I put milk in my coffee. Well, I couldn't recall it until I became smitten with Almond Milk Lattes. At some of my favorite LA places like Alfred, G&B Coffee, and Vosges Chocolate, they've perfected the art of this drink. And, if you find yourself there past 10AM, head down the street to Violet Grey for some swoon-worthy beauty products.
Alfred Tea 8428 Melrose Place A Los Angeles, California
8:15 AM: Hike Runyon Canyon
I'm not gonna lie – this hike gets way too crowded so be sure to do it as early (or late) in the day as possible. But, there's a reason it's popular and it has a lot to do with the fact it's a great (steep) workout, is dog-friendly, and has stellar views — stretching from East LA to the ocean — which are unparalleled on a clear day.
Runyon Canyon
2001 North Fuller Avenue
Los Angeles, California
10:15 AM: Shop La Brea Avenue
La Brea Avenue is one of LA's main north-south drives, but the stretch between Beverly and Wilshire has come out of its shell in the last few years. It seems a new store or restaurant is popping up every two seconds, meaning there's always something new and different to check out. If you need a bite before you shop, head to
Sycamore Kitchen
for outta this world pastries and great
Stumptown coffee
(the salads are also dreamy if you want a lighter lunch). Stroll the street to explore the shops but don't miss my favorites such as
American Rag
Cie
,
A+R
, 
Plantation
,
Lab Art
, and
Landon Cole
.
Shops on La Brea Avenue
La Brea Avenue, between Beverly and Wilshire Los Angeles, California
12:30 PM: Lunch at Republique
I'm kinda not sure how I functioned before Republique came around. Okay, that's a little dramatic, but, honestly, this place is life changing, if not for the gorgeous space it took over from the famed La Brea Bakery then for the creative contemporary take on French food. With a glass of wine in hand and a charcuterie spread in front of me, I can close my eyes and feel instantly transported to Paris.
Republique
624 South La Brea Avenue
Los Angeles, California
1:15 PM: Shop West 3rd Street
I know, I know, we've already talked shopping but you can't really visit this part of LA without hitting up the area on West 3rd Street between Fairfax and Croft. These are some of the best independent boutiques — including kid's boutique Eggy, home wares at Ok, beauty store Credo or Le Labo or FaceHaus, or great menswear at Wittmore. The area is dotted with almost as many restaurants and cafes as shops— a few great food places including Son of a Gun for on-point seafood, Simplethings for my favorite banoffee mini pie, Goldie's or El Carmen for a cocktail, Joan's on Third for amazing cheeses or a Southwest Chicken Salad or a Cloud Cupcake, or Carmela Ice Cream if you, like me, need something sweet after lunch.
Shops on West 3rd Street West 3rd Street, between Fairfax and Croft Los Angeles, California
3:30 PM: LACMA
I'm pretty sure I've been a member of LACMA since I was born, but don't hold me to that. What I do know is that part of my identity of being a native Angeleno is tied to LACMA and it's incredible programs and collection. Be sure to check out what's happening but know that even the permanent collection is worthy of your time. And, if you need a place to toast the day or put up your feet, make sure to head over to Ray's for some seasonal cocktails and a great wine list.
LACMA 5905 Wilshire Boulevard Los Angeles, California
6:00 PM: Palihouse
Watching the sunset in LA is a must because, well, we have pretty awesome sunsets what with the Pacific Ocean at our feet. Rooftops are fully taken advantage of for sunset time and the roof of the Palihouse is no exception. I like going there because it's intimate enough you can pretend for a hot second that it's the rooftop of your penthouse apartment and not a bar. Oh, and make sure to make a reservation by emailing sunset@palihouse.com.
Palihouse 8465 Holloway Drive Los Angeles, CA
8:00 PM: Dinner at A.O.C.
It's really hard for to me to play favorites for dinner in this part of town because there are a lot of amazing options, but, I have to mention AOC because chef Suzanne Goin's food has impressed me and influenced me from the day she opened Lucques, her first L.A restaurant. The setting is amazing but go for the food because it's hard to find an arroz negro or cheese plate that good on this side of the Atlantic.
A.O.C 8700 West 3rd Street Los Angeles, California
Have Us Plan Your California Trip
Did you know we're also a boutique travel agency that specializes in California vacation planning? If you're looking to plan a trip to California, our California trip planner services are here to help you plan your perfect itinerary.