You're heading to the airport — did you pack your healthy travel snacks? Because, depending on where you're flying, they may be near impossible to find. 
Truth is, airport food is getting tastier (and much healthier), but we're planners and we don't like finding ourselves without a plan for healthy eating when we're traveling. So, all of us at Team Salt & Wind shared our favorite healthy travel snacks—all store bought so you no prep required.
Our Top Healthy Travel Snacks Ideas
To make it a little easier, we've come up with a list of our favorite healthy(ish) storebout snacks that travel really, really well. Some are like personal picnics (Hola, chic cheese plate), some faves made portable (like our "Minimalist Guac") and others classics updated to keep up with the times (can you say Maple Almond Butter Date Cracker Apple Bites three times fast?) and they're all top-notch travel buddies. 
Healthy Travel Snack: Grade School Edition
dairy free, vegetarian
Yes, this is a nod to the classic grade school snack of apples and peanut butter but this is artisanal-ified.
It's made more adult thanks to the help of Salty Date and Almond Crackers, Maple Almond Butter, and heirloom apples (our faves being the Arkansas Black, the Winesap, or the Cortland).
---
Justin's Maple Almond Butter
Raincoast Crisps Salty Date and Almond Crackers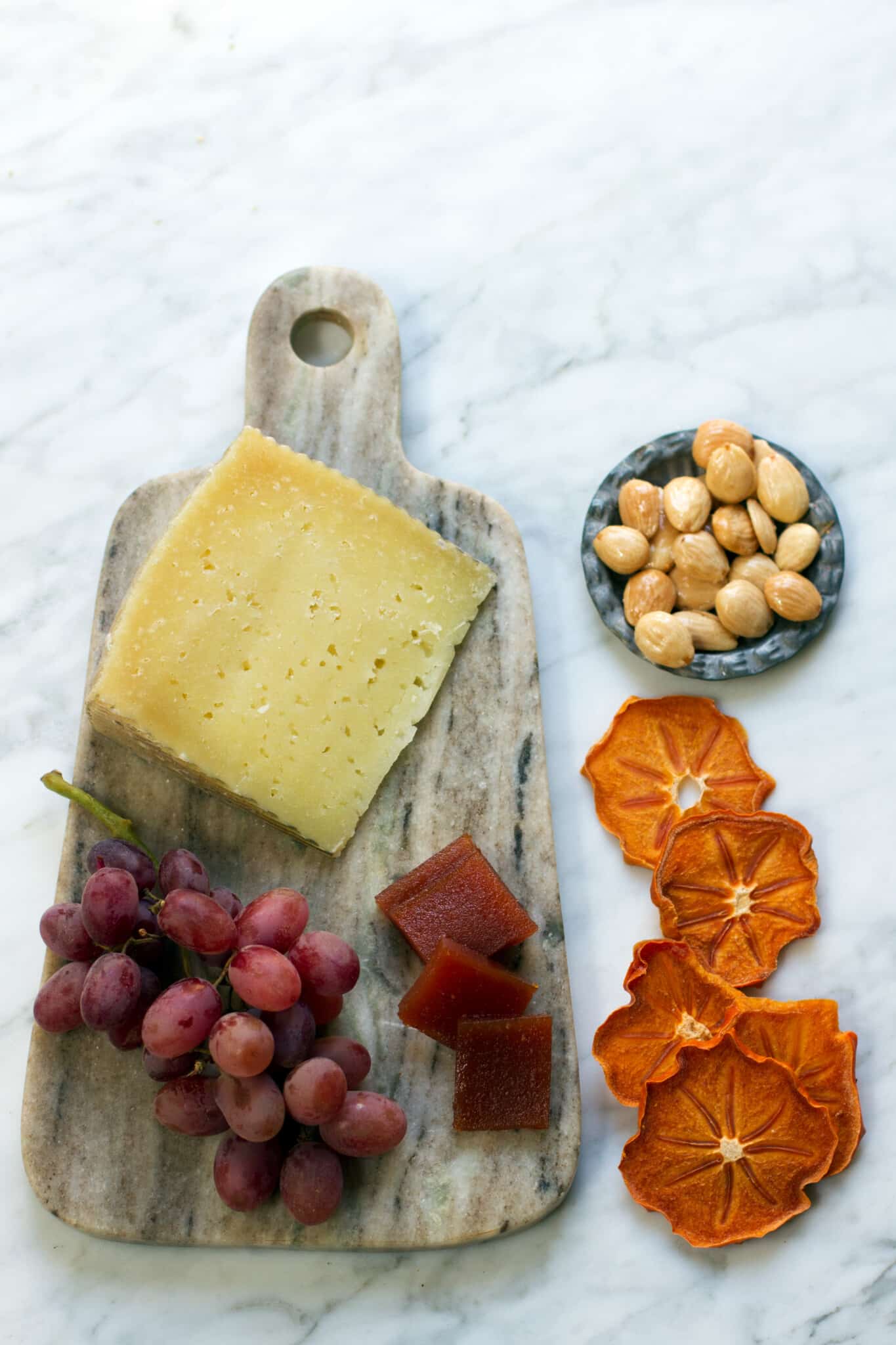 Healthy Travel Snack: Euro Cheese Plate
gluten free, nut free*, vegetarian
Sure, you can get a travel-sized cheese plate a lot of places these days but they're pricey and they're not as good as this (promise)!
Spend your money instead on making your own Spanish-influenced cheese plate made up of: Flame Grapes (one of our of favorite seedless grape varieties), aged Manchego cheese, some membrillo or fig jam, Marcona almonds, and some top dried fruit (we adore dried persimmons).
---
Membrillo (aka Quince) paste
Aged Manchego cheese
Marcona Almonds *not nut free
Dried Persimmons
Healthy Travel Snack: Chips and "Minimalist Guac"
dairy free, gluten free, vegetarian
We're Californians through and through, which means we need our daily dose of avo, even when on the road. Instead of taking some subpar packaged guac along with, we do the following: pack some chips, a ripe avo, a lemon half, and some good sea salt then scoop, sprinkle, and snack at leisure.
---
Lundberg Fiesta Lime Rice Chips
Food Should Taste Good Brown Rice Crackers
The Meadow Lemon Flake Sea Salt
Healthy Travel Snack: The Modern Veggie Tray
dairy free*, gluten free, nut free, vegetarian
When the travel planning stars align just so, we make our own dip and pack it up the night before we leave. But more often we're too busy with last-minute prep to worry about homemade snacks, which is when we turn to one of our favorite storebought red pepper dips and take along some cut up crudites. The clincher is that we always have Maldon Sea Salt tins in our carry on so we can garnish our snacks with panache, even when we're at 30,000 feet.
---
Maldon Sea Salt Tins
Red Pepper Ajvar Spread
Red Pepper and Feta Dip*contains dairy
Healthy Travel Snack: Protein Pack
dairy free, gluten free, nut free
We were jerky fans long before the Paleo movement, but we stopped eating it because it had so many nitrates and sodium. Luckily, a few companies, like Krave, have taken it upon themselves to up the ante in terms of ingredients, quality, and flavor. Our road trip-mates are thankful for it because it's one less chance to get hangry.
---
Krave Sweet Chipotle Beef Jerky
Healthy Travel Snack: A Better Bar
dairy free, gluten free, vegetarian)
There was a time when we thought turning to a bar instead of a meal was a good thing, but now we just use them as road trip snacks. While loads and loads are loaded with sugar, we like the simplicity of the Kind Bars. And the fact they now sell our favorite flavors in mini form means they'll fit in even the smallest carry on.
---
Kind Mini Maple Glazed Pecan Bars
Healthy Travel Snack: Something Sweet
nut free, vegetarian
You didn't think we'd talk travel snacks without including something sweet did you? No matter how much we tame our sweet tooth, we need a little chocolate everyday, especially when travel delays and weather cramp our style.
And, besides, we're opting for whole wheat chocolate chip cookies so that's worth something, right? Just nod your head up and down, even if you don't agree, mkay?
---
Tate's Whole Wheat Chocolate Chip Cookies
Homemade Healthy Travel Snacks
Want to DIY your plane snacks? Check out these 10 healthy make-ahead travel-friendly recipes! ISO of more advice for how to be healthier? Check out these tips:
Have Us Plan Your Next Trip
Did you know we're also a boutique travel agency specializing in vacation planning? If you're looking to plan a trip, our trip planner services are here to help you plan your perfect itinerary.