You may have noticed that we're not the biggest tea people.
Don't get us wrong, we brew up Dandelion Tea for stomach issues, Mango Ginger when we need tropical vibes, and Green Tea for our health.
But, at the end of the day, we're partial to coffee at any and all times. But spending a lot of time in Hawaii over the last few years has changed that. And hot coffee and the humidity of Hawaii don't work that well for me, so we've made all sorts of iced teas, with my favorite being this slightly sweet ginger mint green iced tea.
But now, even when we're home, we've taken to sipping on this iced tea because it's comforting, easy to make, and, don't tell the coffee pot, but a nice change of pace from cup after cup of coffee.
There you have it! Now go stock up on all your cooking essentials then head into the kitchen, make this, and share it with us by tagging @saltandwind and #swsociety on social.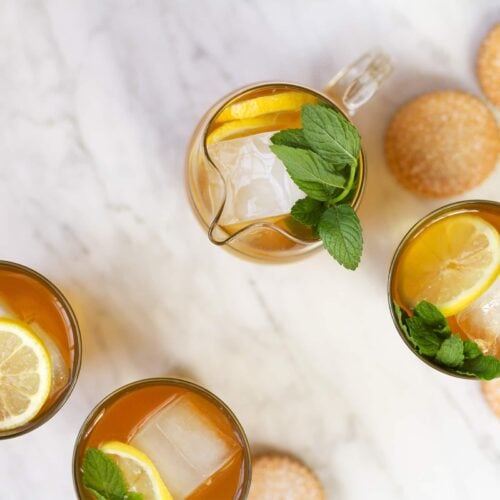 Ginger Mint Green Iced Tea Recipe
This Ginger Mint Green Iced Tea is a recipe for one of our favorite iced teas in the summertime. It's not too sweet, has a good amount of mint and ginger flavor and is made with green tea for tons of antioxidants!
Ingredients
3

inch

piece ginger

unpeeled and thinly sliced

6

cups

water

6

green tea bags

1

1/2 cups

loosely packed fresh mint leaves

plus more for serving

1/3

to 1/2 cup

honey

1

to 2 tablespoons

freshly squeezed lemon juice

or lime juice

Ice

for serving
Instructions
Make The Mint Tea: Combine the ginger and 6 cups of water in a medium saucepan and bring to a boil over high heat. Once it boils, immediately remove it from heat and add the tea bags and mint. Cover and let steep until well flavored, about 15 minutes.

Strain the liquid into a large pitcher or other heatproof container; discard the tea bags, mint, and ginger slices. Chill the tea in the refrigerator until thoroughly chilled, at least 1 hour.

To Serve The Tea: Just before serving, add 1/3 cup of the honey and 1 tablespoon of the lemon or lime juice and stir to combine. Taste and add more honey if you want it sweeter and more lemon juice if you want it more sour or less sweet. Serve in tall glasses over ice cubes and add more mint leaves to garnish.
PERSONAL NOTES