When it comes to classic spots in Paris, the Printemps department store is definitely worth a visit.
Having opened its doors to the public in 1865 and located at the oh-so-chic intersection of Boulevard Haussmann and Le Havre, the age and address alone are impressive.
So Classic It's A Historic Monument
Printemps means "spring," which reflects the founders' desire for the store to rejuvenate, invigorate, and blossom like the season itself.
Situated in the heart of Paris, the store is admired for its Art Nouveau style of architecture (you've probably spotted its beautiful domes on your Instagram feed,) and its façade has been recognized as a Historic Monument by the French State.
Say Bonjour To The Printemps Gourmet Food Hall
But throw in the fact that they unveiled a gourmet food hall a few years back, coined Printemps du Goût, and, well, it may just be our favorite food address in Paris right now.
Taking up nearly 900 square meters across two floors within the Printemps Homme building, this gourmet food shop is a force.
Some would argue that this gourmet shop in Paris was long overdue: competitor high-end department stores Le Bon Marché and Galeries Lafayette have long had impressive food halls. But one look at Printemps du Goût and it's clear that Printemps has been keeping a pretty big ace up its sleeve.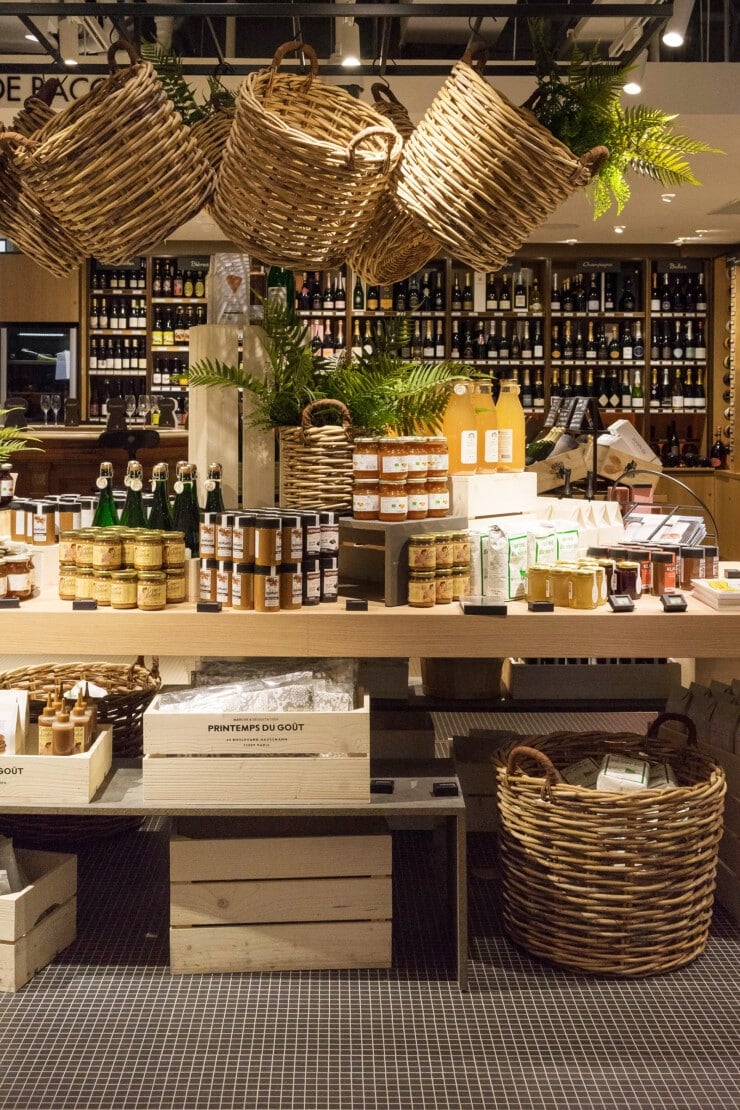 Everything Is From France
This gourmet food store is a welcome addition to the Paris food scene and the fruit of two years' hard work. And Printemps du Goût is on a mission, and that mission is to share a love for French terroir. That means everything available across the store is 100% made in France.
The team tirelessly traveled the country to discover lesser-known French producers, making its final selection of products based on the best results from blind taste tests. Pretty impressive when you consider that there are over two thousand gourmet food products available in store, right?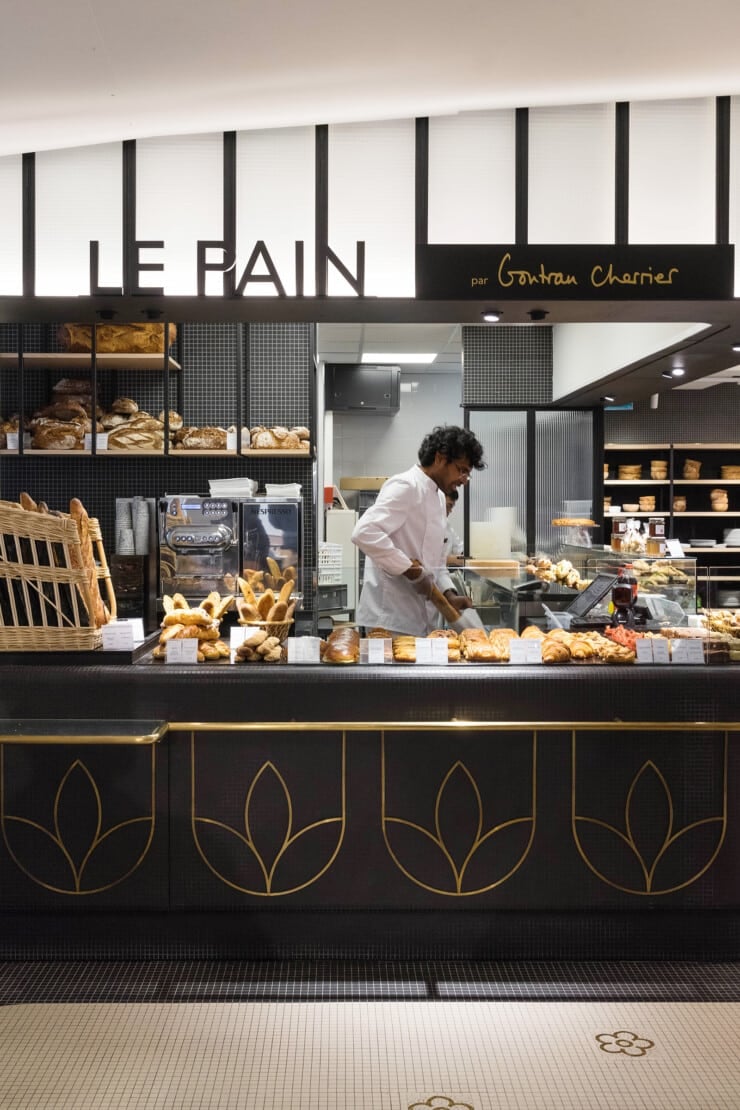 Masters Of French Food Are Represented
It doesn't hurt that Printemps du Goût has teamed up with four titans of the French food scene: Baker Gontran Chérier; cheesemonger Laurent Dubois; pastry chef Christophe Michalak; and chef Akrame Benallal. They dominate the 8th floor of the gourmet shop in Paris, with dining space for fish, meat, and vegetable dishes, pastries, and sweet treats.
The space combines traditional seating with countertops, giving you a window into the hustle and bustle of the kitchen. The setting is chic and understated so everyone is welcome and no one is overdressed. Dining bonus: enjoy a panoramic view of Paris that shows off some of the city's most well-known and beautiful landmarks.
And There Are Modern French Food Brands Too
Head to the deli on the 7th floor and discover some of the best contemporary French brands that would look great in your kitchen cabinet (or in a friend's gift basket.)
There are several stands in this gourmet shop in Paris that you may already be familiar with: Lomi (coffee), Juicerie (fresh salads and juices); Le Palais des Thés (tea); and La Maison du Chocolat, to name but a few. But the fun is in finding new artisan producers among the aisles, and there's some great packaging design to enjoy.
Don't Skip The Champagne Bar
For French wine aficionados, we advise you to drop by the wine cellar – impressive enough to rival Lafayette Gourmand – and celebrate your Parisian holiday with some bubbles in the teeny-tiny Champagne bar. And finally, there's the library, which is Heaven for those of you with some space on your shelf at home for a recipe book or two.  
Bravo to Printemps du Goût for taking an active part in the improvement of the French food scene. We look forward to seeing how the space settles after another month and our taste buds are already tingling at the idea of attending upcoming tasting sessions and meeting with French food and winemakers. To discover more, visit the Printemps website. À bientôt!  
Have Us Plan Your Trip
Looking to travel to Paris? Our travel planning services are here to help make it happen!
After discussing your preferences during a short consultation, we'll plan your perfect itinerary. Whether you're looking for custom travel planning or a small group trip, the Salt & Wind team is here to help. Contact us today to learn more.
---
Photo Credit: Opening photo by Kiev.Victor; gourmet store sign by Alexandros Michailidis; All other photos by Roxanne Matiz