The holidays are the time of year to make roasts and a standing rib roasts are like the Louboutins of roasts. I've been making variations on this rib roast for years, even wrapping it in prosciutto when I'm feeling extra indulgent, so I promise you that the key to this roast is that it's layered with flavor — first with an herb rub and then with the glaze — ensuring that every bite has tons of taste. It's a behemoth piece of meat but don't be intimidated because this simple roasting method results in a meltingly tender roast with sweet, earthy flavor that's sure to steal the holiday spotlight. And this Standing Rib Roast with Port Fig Glaze recipe will make the difference.
Now, go stock up on all your cooking essentials, then head into the kitchen, make this, and share it with us by tagging @saltandwind and #swsociety on social!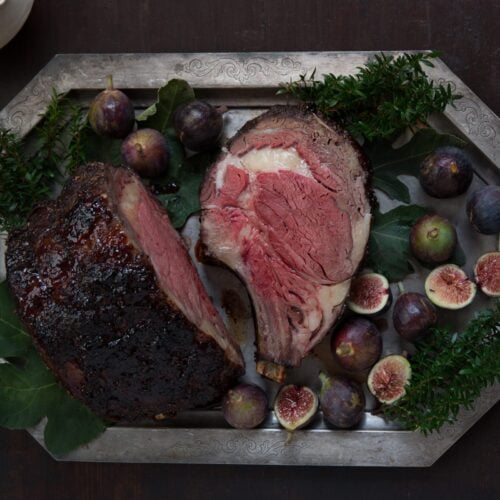 Standing Rib Roast with Port Fig Glaze Recipe
A standing rib roast is like the Louboutin of roasts: stunning, special, and really pricey. So, when you're gonna make it, it better be exceptional. As in fig glazed port wine fabulous exceptional. There is no doubt this Standing Rib Roast with Port Fig Glaze recipe will make it a stand out!
Ingredients
2

tablespoons

extra-virgin olive oil

2

tablespoons

fresh thyme leaves

roughly chopped plus 3 sprigs for roasting

6

medium

garlic cloves

roughly chopped

1

tablespoon

kosher salt

plus more for seasoning

2

teaspoons

freshly ground black pepper

plus more for seasoning

1

(3 to 4) rib

standing rib roast

(about 8 pounds)

2

tablespoons

unsalted butter

1/2

medium

yellow onion

roughly chopped

2

cups

ruby port

1

cup

low-sodium beef broth

1

cup

fig jam
Instructions
Combine the oil, thyme, garlic, salt, and pepper in a bowl and stir to combine. Pat the roast dry with paper towels then rub the herb mixture all over the roast; set aside at room temperature for 1 hour. 

While roast rests, heat oven to 450°F and arrange rack in lower third. Place roast, bone-side down, in a roasting pan, and roast until the meat is browned, about 25 minutes. Meanwhile, make the sauce.

Melt butter in large saucepan over high heat. When it foams, add onion, season with salt, and cook until softened. Add port, broth, jam, thyme, and pepper, and bring to a boil. Boil until reduced to 1 1/4 cups, about 15 to 20 minutes. Strain, pressing on solids to extract as much liquid as possible, and discard solids. Reserve half the reduction for serving and half for the glaze. 

Reduce the oven to 350°F, and continue to cook the roast. Brush the roast with the glaze every 15 minutes and roast until the internal temperature registers 120°F to 125°F for rare or 130°F to 135°F for medium-rare, about 1 more hour. 

Remove roast from oven and transfer to a cutting board. Cover loosely with aluminum foil and rest for 15 minutes. Remove kitchen string, cut meat off the bones, and carve against the grain into slices. Transfer to a platter and serve sauce on the side.
PERSONAL NOTES